A new poll, conducted by the Trafalgar Group, shows former state treasurer Josh Mandel in the lead, and conservative author JD Vance within striking distance in the crowded field.
Mandel, who arguably has the greatest name recognition in the state, garnered the most support among voters with 21.4 percent. Vance came in second with 14.9 percent of support in the poll.  Following behind Vance at 11.9 percent was investment banker Mike Gibbons, and former Ohio Republican Party chair Jane Timken with 10.4 percent.
State Sen. Matt Dolan attracted 5.3 percent support, and auto dealership owner Bernie Moreno garnered 1.7 percent.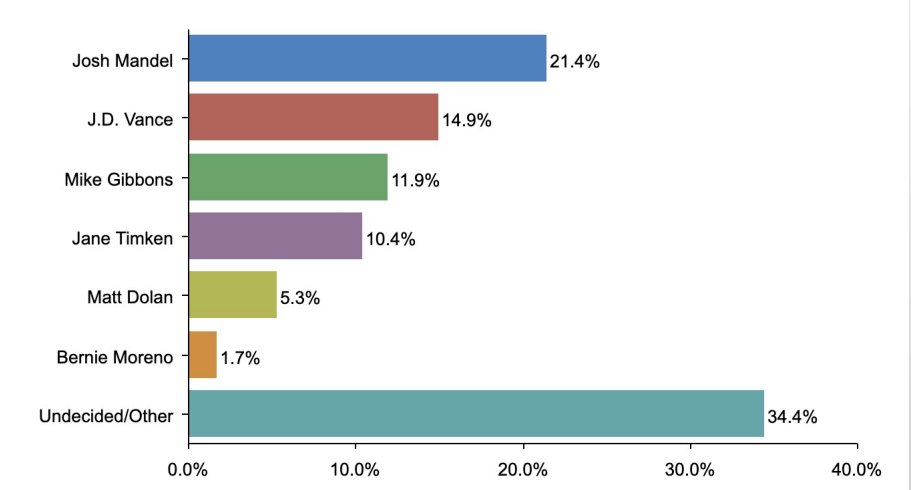 The poll showed that a large number of Ohio voters—34.4 percent—have not yet decided on which candidate they will support in the primary election in May 2022.
Trafalgar conducted the poll of 1053 likely voters from 12/12/21 to 12/15/21.
Former President Donald Trump has not yet weighed in on the highly-competitive race, but several of his allies have endorsed Vance, according to the Ohio Star.
Former Trump National Security Adviser Robert O'Brien, former Trump U.S. Trade Representative Robert Lighthizer, Trump administration's head of the Environmental Protection Agency (EPA) Andrew Wheeler, Senator Josh Hawley (R-MO), and Congressman Jim Banks (R-IN-03) have all endorsed Vance. Similarly, former acting Director of National Intelligence Ric Grenell and Kellyanne Conway are closely aligned with Bernie Moreno's campaign.

As election day draws closer, the contest is expecting to grow increasingly negative and costly.

A pro-Mandel group, the Club For Growth Action Super PAC, recently launched a $500,000 ad campaign, painting Vance as "anti-Trump."

A super PAC connected to Vance's campaign contains a war chest of more than $10 million after donations from billionaire Peter Thiel and conservative donors Robert and Rebekah Mercer.
Trump remains popular in Ohio, having won the state by eight points in both 2016 and 2020.