Just last week, a CNN producer was arrested by the FBI for shocking sex crimes against young girls. The producer, John Griffin, was charged by a grand jury in Vermont "with three counts of using a facility of interstate commerce to attempt to entice minors to engage in unlawful sexual activity."
According to the indictment, Griffin admitted to having groomed and sexually trained girls as young as 7 year old.
Project Veritas Wednesday night released a new video alleging gross sexual impropriety involving minors by yet another CNN producer.
In the video, whistleblower Janine Banani presented graphic texts and videos showing the producer fantasizing about molesting his fiancé's 14-year-old daughter, and Banani's own underage daughter.
The producer reportedly lives with his fiancé and her three daughters, the oldest of whom is the object of his perverted fantasies.
"He talks about how he wants to see her through the crack of the door while she's getting dressed, help her explore her body for the first time, [and] be the first person to be inside of her," Banani told Project Veritas founder James O'Keefe.
Banani, a former prostitute, said that she was appalled by his texts because she is a victim of sex trafficking. She is now a case manager for victims of human trafficking, victims of domestic violence and victims of sexual assault. She said she first went to the police with the material, but they allegedly didn't find anything actionable in the disturbing texts and videos.
"They said there's no case here," she told O'Keefe.
Banani said the producer apparently felt safe confiding in her about his pedophilic fantasies because they have known each other for over a decade. The relationship started when the producer hired the then-prostitute for sex. She told O'Keefe that she has only met the producer twice in person.
In one sickening text exchange, the CNN employee told Banani that his fiancé's daughter was "wearing very closely cut bottoms at the pool," and described how he could see the outline of her genitals. Banani said she reacted approvingly because she wanted to draw out more information from him, and let him "keep digging."
In one text exchange, the producer wrote, "I love that she is getting you hot. I want to taste how wet she makes you."
"I wish you could, daddy," Banani replied.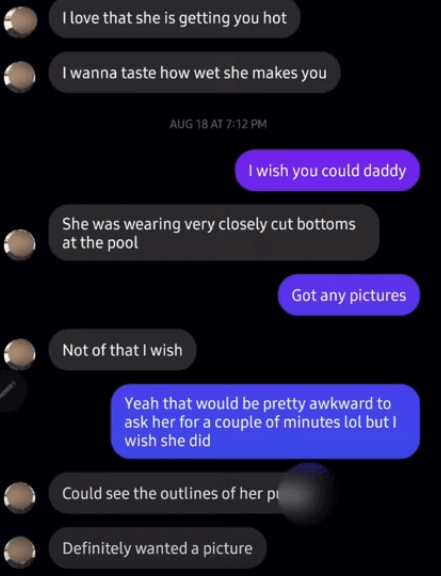 Banani also provided a highly disturbing audio recording to Project Veritas showing the CNN producer fantasizing about molesting the girl: "After I'm done having my mouth on her, I'm going to walk up and put my crotch very close to her face, slowly unzip my zipper and just guide her head a little closer and I'm just going to have her kiss the head and I'm going to put her hand on it so she can feel what the hard flesh feels like."
She told O'Keefe that the texts made her feel "disgusted" and "dirty," and noted that the producer was sexualizing his own stepdaughter.
Banani said she became more outraged when he kept pressuring her to send photos of herself, and her 15-year-old daughter naked together. She explained that the producer had recently sent her money and seemed to expect the photos in exchange.
The whistleblower said she "felt disgusted" and felt the need to come forward because "these people with power seem to get away with it."
"I do not want this girl to be a victim. I'm not a journalist, I'm not a detective, Banani said, adding that she was "sick to my stomach with every single thing that was said." She told O'Keefe that she had hoped her collection of texts and video would at least prompt a wellness check on her. "I just want this kid to be safe," she insisted.
O'Keefe said Project Veritas went to the police with the material, and also alerted the mother of the three children to assure their safety. Project Veritas also contacted CNN to make them aware of the charges and request a comment, but thus far the outlet has not responded.