U.S. Rep. Louie Gohmert (R-Texas) says recent reports in the corporate media accusing him making a donation to an anti-Semitic, homophobic, Holocaust-denying pastor are false, and he has the receipts to prove it.
The Daily Beast falsely reported on Monday that Gohmert dropped "several thousand dollars into the coffers of a vitriolically homophobic and antisemitic pastor," based on inaccurate federal records, while sarcastically noting that Gohmert "swears it's a mistake." Several other news outlets amplified the fake news.
"Disclosures to the FEC show that the Louie Gohmert for Congress Committee sent $5,500, to an entity in Tempe called 'Anderson Ministries.'" Daily Beast "researcher" William Bredderman reported. "There is in fact no organization of this name registered in the Grand Canyon State—but the address in the campaign filing matches that of Anderson's church."
Bredderman added disparagingly that "the pastor happens to embrace a more extreme form of Gohmert's homophobic rhetoric."
In reality, the check went to Steve Amerson, a Christian singer from California whom Gohmert describes as "a sweetheart of a man," and "a wonderful, caring person."
The congressman's office told the Tyler Morning Telegraph on Tuesday that the misunderstanding was the result of his campaign treasurer making a mistake while filing with the Federal Election Commission a payment for music at a campaign event in December.
The Louie Gohmert for Congress Committee wrote a check for $5,500 to Steve Amerson Ministries to have Amerson sing at the December campaign fundraiser, as seen in the picture below.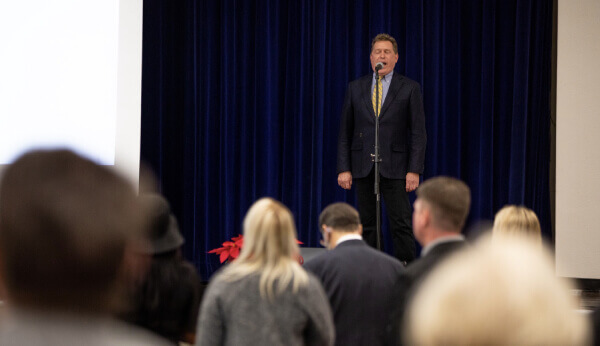 "He's been referred to as America's tenor," Gohmert told the Telegraph. "He is just a sweetheart of a man, a very strong Christian — just a wonderful, wonderful human being. He comes to Capitol Hill a lot. He spends time with Democrats and Republicans. He's just a wonderful, caring person."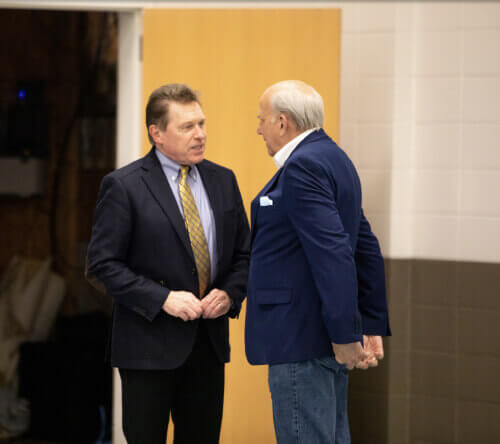 According to Gohmert, his treasurer misread Steve Amerson's name as Steve Anderson when he saw the check go through. The treasurer then looked up the name online and found a pastor named Steve Anderson in Arizona, and assumed it was him. He used that name and address for the election commission filing.
Gohmert's office provided a copy of the check to American Greatness, dated Dec. 17, 2020, and clearly showing the name listed as "Steve Amerson Ministries."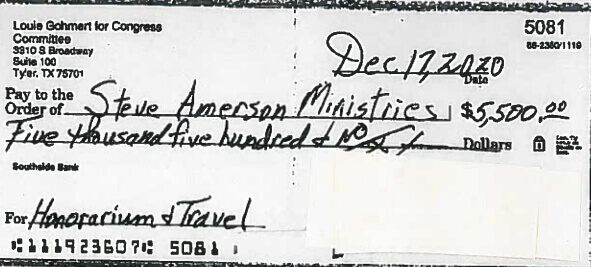 The FEC filing was amended on Wednesday and can be viewed here.
"It wasn't the Holocaust denier Steve Anderson in Arizona," Gohmert told the Telegraph. "I would not be sending him any money. Steve (Amerson) came and performed, and everybody absolutely loved him. He's in California and totally two different people."
Gohmert said The Daily Beast reporter contacted his office before publishing the story, but wasn't interested in hearing the truth.
"When the Daily Beast contacted one of my people last night, they asked me, and I said, 'I've never sent a check to Steve Anderson,' " he said. "I wouldn't do that, but if it was in December it was Steve Amerson. So I went online, got the check, but the Daily Beast was not interested in getting a copy of the check. That was going to ruin their leftist story."
The congressman stressed that he has had zero interaction with Anderson, a person who is abhorrent to him.
"Anybody that knows me knows how strongly I feel about the Holocaust and about our relationship with Israel," he told the Telegraph.
"(Amerson) cashed the check, that's who got the check, and mistakes happen," Gohmert said. "It happened in this case, and the Daily Beast and the several other ankle biter media that just parrot what the far left says like the Daily Beast. They're running with a story that I'm some Holocaust denier. It's just a lie. It's not true. There's no relationship there, and there never will be."
Gohmert's Chief-of Staff Connie Hair told American Greatness that she considered Bredderman, the Daily Beast reporter who wrote the initial story, to be a "propagandist."
In his post, the reporter said, "Hair did not immediately provide invitations or any other materials documenting Amerson's appearance at an event last year." Hair claims he rushed to publish the article before she had time to do so.
"We have all of that now but you preferred to be dishonest and print the lie," Hair said she told him. "You are nothing more than a propaganda outlet."
Business Insider also did a version of the fake news story, as did Salon, Crooks and Liars, and several other "ankle-biting" media outlets. Even though Gohmert denied having anything to do with Anderson, all of the reports delved deeply into the pastor's history of making bizarre, anti-Semitic and homophobic comments, and attempted to link the congressman to him.
To avoid any more mix-ups in the future, Gohmert said his treasurer, if unsure, will check with him instead of looking for names or addresses online.
The congressman also told the Telegraph that he believes he's been "targeted for the Trump treatment," meaning the corporate media is covering everything he does with negative spin.
"I'm starting to get that, and so it's really encouraging to me for the far left to think that I'm that important. I'm really invigorated to know that I matter that much to them," he said. "I'm fired up. I'm ready for more battles."