The Washington D.C. Medical Examiner's office has ruled Trump supporter Ashli Babbitt's death as a homicide, American Greatness learned on Wednesday. Babbitt, an Air Force veteran and small business owner, was shot dead inside the U.S. Capitol by a law enforcement officer on January 6.
In a press release to American Greatness, D.C. Chief Medical Examiner Francisco J. Diaz, M.D., revealed the cause and manner of death of four individuals who died during or after the Capitol riot.
Diaz determined that Babbitt, 35, died as a result of a gunshot wound to her left anterior shoulder, and called the manner of her death a "homicide."
The medical examiner's office defined "homicide" as a "death [that] results from the intentional harm of one person by another, including actions of grossly reckless behavior." The unarmed Babbitt was in the process of climbing through a window near a barricaded door when a plainclothes officer fired the shot without warning. Watch the video of her shooting (warning: graphic images).
Taylor Hansen, a Gateway Pundit reporter who was on the scene, said in an interview that he saw the officer run away after he shot Babbitt.
Two other Trump supporters—Kevin Greeson, 55, and Benjamin Phillips, 50—were determined to have died "natural" causes following the melee. Roseanne Boyland, 34, was found to have died of a drug overdose.
The medical examiner's office defined a "natural death" as "used when a disease alone causes death. If death is hastened by an injury, the manner of death is not considered natural."
The medical examiner said he has not yet been able to determine the cause of death for Officer Brian Sicknick.
"The cause and manner of death for Capitol Police Officer Brian Sicknick are pending," the press release said.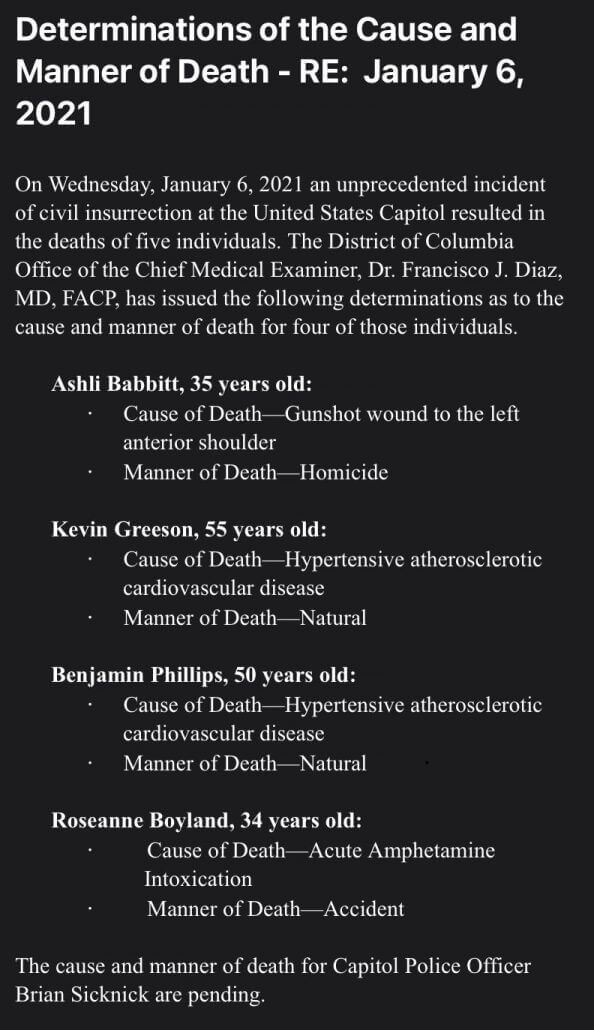 Babbitt's husband, Aaron, released a statement on the death of his wife, last week, thanking everyone for the support and calling for justice.
"We can't begin to express our sincere gratitude for the outpouring of support and generosity that's been received, both from here in America, and honestly from around the world," Babbitt wrote in an update to a GoFundMe account.
"It's been a difficult three months without our Ashli. She's missed in every minute, of every hour, of every day," he continued. "The void is tremendous and overwhelming at times, but the love that's been shown shows us that her name will not be forgotten."
A heartfelt thank you from Aaron Babbitt for the overwhelming support and love Ashli's family has received:
https://t.co/rRC5KekV4x

— Justice For Ashli Babbitt (@ForAshli) April 1, 2021
Some reporters are questioning why the identity of the police officer who shot Babbitt has not yet been released.
Veteran investigative journalist Sharyl Attkisson called the secrecy "unprecedented" in a recent tweet.
"I've never covered a case where a shooter's name has been kept secret for any reason in all my years as a reporter," she noted. "It's considered public record; at least until now."
Who killed Ashli Babbitt and why is the name being kept secret? I've never covered a case where a shooter's name has been kept secret for any reason in all my years as a reporter. It's considered public record; at least until now.

— Sharyl Attkisson🕵️‍♂️ (@SharylAttkisson) March 31, 2021