The Walt Disney Company continues to cancel actress and former MMA fighter Gina Carano over her unwoke views.
Last month, Disney removed her character from the Star Wars series "The Mandalorian," and now the company has reportedly decided to remove an episode of the Discovery Channel series "Running Wild With Bear Grylls" from Disney Plus, apparently because it features the actress.
Disney Shelves Upcoming Episode of Running Wild With Bear Grylls Featuring Gina Carano https://t.co/JWDXclMuLL

— Bounding Into Comics (@BoundingComics) March 16, 2021
After firing Carano last month, Disney also canceled production of Hasbro's production of figures based on her The Mandalorian character, Cara Dune.
The Bear Grylls Twitter account announced Carano's guest appearance on the reality show on February 11th, in a tweet that linked to a "What's On Disney Plus" post which included a list of upcoming celebrity guests on the show's sixth season.
Running Wild With Bear Grylls Returning Soon With A New Season | What's On Disney Plus https://t.co/Eyubq8OOzc

— Bear Grylls (@BearGrylls) February 11, 2021
Carano was listed as one of the show's upcoming guest stars, alongside such personalities as Anthony Mackie (The Falcon and The Winter Soldier), Danica Patrick (2008 Indy Japan 300 Winner), and Terry Crews (Brooklyn Nine-Nine).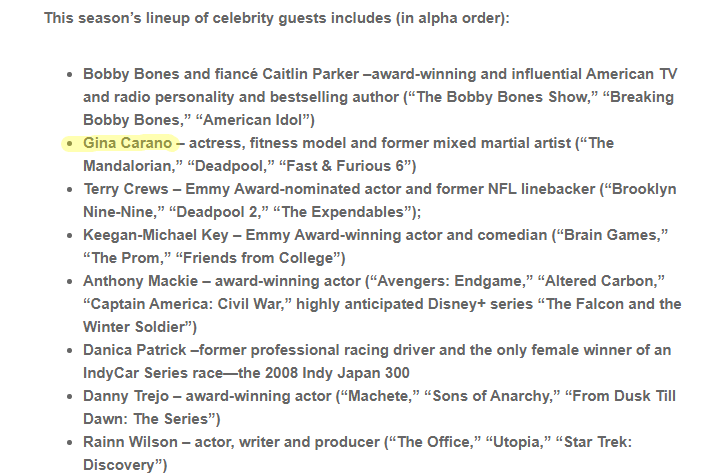 Since then, however, Disney appears to have pulled Carano's episode from the season's line-up.
Carano's show is now missing in episode guides recently uploaded by various websites ahead of Running Wild's March 29th season premiere.
Disney unceremoniously fired the star in February after a left-wing cancel mob agitated for her dismissal for months on end and threatened to "cancel" Disney Plus for keeping her on.
Carano's conservative stances on masks, the rigged 2020 election, and free speech, prompted the leftists to call for Disney Plus to be canceled with the trending hashtag #CancelDisneyPlus.
The cancel mob also accused the actress of antisemitism when she compared Nazi propaganda designed to make citizens hate and distrust their own neighbors, to left-wing propaganda designed to make Americans do the same thing.
"Jews were beaten in the streets, not by Nazi soldiers but by their neighbors…even by children. Because history is edited, most people today don't realize that to get to the point where Nazi soldiers could easily round up thousands of Jews, the government first made their own neighbors hate them simply for being Jews. How is that any different from hating someone for their political views," read Carano's tweet.
In response, Disney released a statement declaring that Carano is "not currently employed" there, and that "there are no plans for" her to be employed again "in the future."
The statement falsely asserted that her posts were "denigrating people based on their cultural and religious identities," without presenting any proof, and called her political views "abhorrent and unacceptable."
On January 2, Carano shared a picture of herself with survivalist Bear Grylls on Twitter, and asserted that her time with him in the Dolemites, a mountain range in northeastern Italy, was "one of the best experiences" of her life.
One of the best experiences of my life & most definitely my 2020 was hanging out with this guy @beargrylls ❤️ in the Dolomites. Definitely faced some fears. 😂 Much love to you Bear! Incredible human being. 🙏 pic.twitter.com/GTSCJQ4h7t

— Gina Carano 🕯 (@ginacarano) January 2, 2021