Twitter on Thursday  locked conservative activist James O'Keefe, out of his account after he tweeted out a video that allegedly violates the platform's rules—the same week the platform allowed a celebrated left-wing activist to dox a conservative journalist.
Meanwhile, O'Keefe's watchdog group Project Veritas appears to have been permanently suspended from Twitter.
Twitter's rule against publishing personal information appears to be enforced unevenly, the Daily Caller pointed out.
New York Times Magazine writer and 1619 Project editor Nikole Hannah-Jones tweeted the phone number of Washington Free Beacon reporter Aaron Sibarium after Sibarium emailed her a request for comment, the Free Beacon reported. Jones left the phone number up for two days, only deleting the tweet after Sibarium published an article mentioning it, according to Free Beacon editors.
After Hannah-Jones posted Sibarium's phone number to her more than 518,000 followers, the journalist received over 20 harassing messages and calls, including one calling him a "racist piece of s—t."
Project Veritas and O'Keefe were briefly suspended after posting a YouTube video showing a Veritas journalist confronting Guy Rosen, Facebook's VP of Integrity, about the platform's hate speech policies in front of his house, briefly showing the house number in the clip.
Project Veritas posted screenshots on Telegram showing that its account and O'Keefe's account had been locked down specifically for posting other people's private information.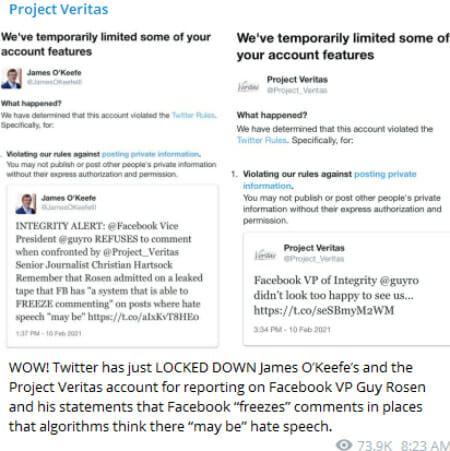 Project Veritas's offending video showed PV journalist Christian Hartsock asking Rosen about remarks he had made about "freezing commenting" on the platform.
"We have a system that is able to freeze commenting on threads in cases where our systems are detecting that there may be a thread that has hate speech or violence," he said in the leaked video.
It should be noted that leftists frequently "detect" "hate speech" and "violence" in peaceful and legitimate political speech with which they disagree.
Rosen explained that Facebook's policies had been designed to protect the "integrity space" of the election.
"These are all things we've built over the past three-four years as part of our investments into the integrity space—our efforts to protect the election," Rosen said.
"You talk about freezing comments containing hate speech—what do you mean by that?" Hartsock asked Rosen as he was heading toward his front door.
Rosen, who was on the phone at the time, had no comment for the journalist.
Project Veritas Media Relations Manager Mario Balaban told the Daily Caller that neither Facebook nor Instagram, who Rosen works for and are the subjects of the video, have flagged the video or suspended the accounts of O'Keefe or Project Veritas. "It's pretty outrageous that Twitter has done this for a harmless video. It shows that Twitter and Facebook are teaming up to censor content that Americans deserve to see," Balaban said.
A Facebook insider last month leaked a treasure trove of material to Project Veritas showing Facebook CEO Mark Zuckerberg admitting he "too much power," and other Facebook execs talking about working with the Biden administration on "their top priorities" and gushing that "we as a company really care quite deeply about" Biden's executive orders.
Twitter is just one of many platforms that consistently single out mainly conservatives for violating rules. In this case, as RT points out, Project Veritas blurred the registration plates of the vehicles parked in Rosen's driveway in its video, but neglected to blur the number on his house. Project Veritas however did not share Rosen's street name, city, state, or zip code.
Update:
O'Keefe posted the following update onto Telegram:
Twitter has asked us to delete a tweet that supposedly violated their rule on positing "private information." The tweet in question arose when asking for comment from Facebook's VP of Integrity about censorship. Project Veritas is appealing this decision, as no privacy was violated. The reporter on the ground never revealed the location, nor were any street signs that would indicate the location visible. Reporters speak with people on the street all the time. Project Veritas stands by our reporting. You can't cancel someone who doesn't want to be canceled.
Editor's note: This report originally stated that O'Keefe's Twitter account had been reinstated based on media reports. That appears to not be the case as O'Keefe himself claims to be appealing the decision.