The endgame for the 2020 post-election counting, recounting, auditing, and litigation is rapidly approaching. With about two weeks to go before the electors officially must be selected, a great many things will happen in the courts between now and December 8. Ultimately, everything must bend to one fundamental reality: the only facts that matter are those that Justices Alito, Thomas, Kavanaugh, Barrett ,and Gorsuch think matter. Everything else is fluff.
This short essay is about Georgia, and Joe Biden's fraudulent "victory" there. I have no special insight into the mechanics of the fraud. The specifics of how Democrats manufactured enough ballots to give Biden a victory there is a matter for the FBI to investigate. I have no doubt that under the fearless and supremely competent leadership of Christopher Wray, teams of FBI agents are already hard at work interviewing witnesses, analyzing the hard-to-believe statistics, collecting videos of poll workers' misconduct and Postal Service employees' misdeeds, nailing down confessions and witness testimony in written affidavits, looking into how Georgia citizens requested, filled out and mailed their ballots despite being dead for decades, and so on.
Right . . . 
In the meantime, let's look at what is staring us in the face. In 2016, Trump won Florida by a little over a single percentage point, and neighboring Georgia by five percentage points. In 2020, Trump won Florida by 3.6 percentage points, and . . . lost Georgia by less than a quarter of a percent. If we are to believe this, Florida moved right by more than two percentage points, and next-door Georgia moved left by five percentage points. Do you buy that? Neither do I.
Consider Georgia as a whole. Did Joe Biden perform spectacularly throughout the state, compared to 2016? Actual county-by-county numbers do not support that theory at all. Georgia has 159 counties. The voting statistics for 2016 and 2020 can be found here. The 2016 data is from Wikipedia, and the 2020 data is from Politico. (I am ignoring third party candidates in the table.) If the reader has enough patience to peruse the table at the link, he'll see that in some counties Biden did a bit better, in some he did a bit worse. 
There is one glaring exception: the eight counties that make up Atlanta and its suburbs, highlighted on the table in red. 
A list of the Georgia counties sorted by Biden's improvement is here. The negative numbers mean that Biden did worse than Hillary Clinton's 2016 performance, and the positive ones mean that Biden improved over Clinton. What can we glean from this?
First, there are 57 Georgia counties where Biden performed worse in 2020 than Hillary did in 2016. So in roughly a third of the counties, Biden couldn't even do as well as Hillary. Some of these are Republican-leaning counties, some are Democratic, but it is abundantly clear that there was no "Joe Biden wave" in Georgia. 
In another 31 counties, Biden's improvement is less than one percentage point—a somewhat arbitrary cutoff, but a number that most people will intuitively accept, without delving deep into statistical analysis and confidence intervals, as the sort of routine county-level variations that happen from election to election. Many of those counties are rural and have relatively small populations—so even a small "extra" handful of people showing up for one or the other candidate can provide for variations within around one percent. But collectively, those 88 counties account for about 15 percent of the total vote—hardly a trivial chunk.
Notice the cluster of red color at the very bottom of the table, where the highest Biden improvements are—that's Atlanta. That's where the fraud is. That's where the FBI, under Wray's leadership, is investigating the Democratic shenanigans, so that the perpetrators may be brought to justice.
Right . . . 
On the night of November 3, Trump was ahead in Georgia by roughly 100,000 votes—even with whatever scams Democrats had going at the time. But then, things changed. Over the next several days, Atlanta counties kept counting, and counting. Biden's entire margin of victory in Georgia, as of this moment, is all of 12,636 votes—out of about 5 million. Let's take those eight deep-blue Atlanta counties and put them in a separate table: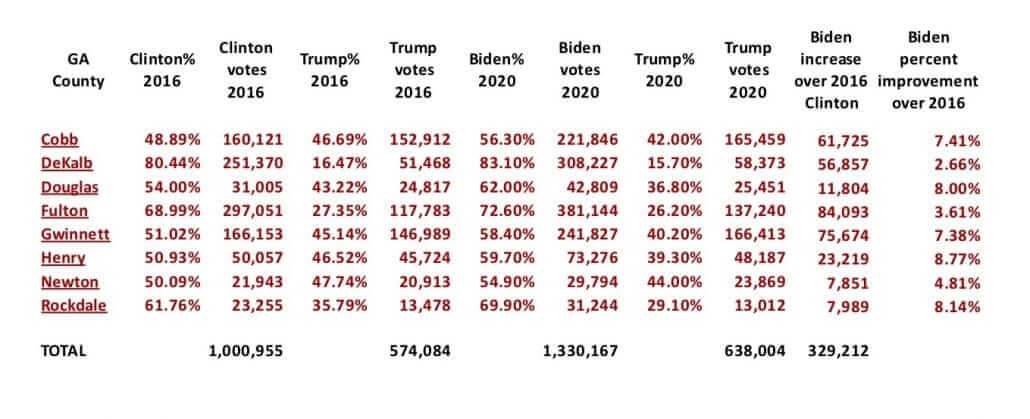 First, consider the rightmost column—Biden's improvement over 2016 in percentage terms is massive—more than 7 percent, and more than 8 percent, respectively. This alone is suspicious—especially since numbers like these are to be found virtually nowhere else in the state.
Second, consider the totals. Hillary Clinton went down to defeat in Georgia despite collecting 1 million votes in Atlanta and its suburbs. But Joe Biden—the corrupt, doddering, confused candidate who yelled at empty parking lots and spoke to empty rooms and empty fields, and many of whose campaign events could fit into a bathroom stall—got 329,212 more votes there. Biden received 32 percent more votes than Hillary Clinton in Atlanta—1,330,167 votes total. Trump also did better in Atlanta than in 2016 in terms of raw numbers (about 64,000 votes better), but the kind of magic that Grandpa Joe could conjure up is not available to Republican candidates.
Third, consider Biden's overall margin of "victory" in Georgia compared to this number—329,212. Biden's statewide margin is tiny—12,636 votes. If his "improvement" in Atlanta were "only" 96 percent of the supposed additional 329,212 votes, Biden would lose Georgia. 
Pause and think about this for a second: even if Biden got an astronomical 316,000 more votes in Atlanta than Hillary, he would still lose. 
But Biden did not get an astronomical 316,000 more votes than Hillary—supposedly he got an even more astronomical 329,212 votes, that just barely put him over the top. This, despite a burst pipe just as the votes were being counted in Fulton County (Atlanta itself), that forced the ballot counting to stop for several hours at just the right moment, even though it turned out that the pipe didn't really burst, but was only slowly leaking, and there is even some doubt about that.
This is what fraud looks like. This is shameless, naked, in-your-face election fraud. Anyone who is not a committed Democratic partisan would look at this, and say: "yes, there is no doubt that something is fishy here." Is it "proof"? Not in the sense of a confession or video. But it is staring straight at us, screaming "Fraud! Fraud!"
Justices Alito, Thomas, Kavanaugh, Barrett, and Gorsuch—what do you say? In your bones, you know Democrats are lying about the numbers. In your bones, you know Biden lost Georgia. In your bones, you know many, if not most, of those 329,212 votes are fraudulent. Maybe you don't like Trump much personally, but in your bones, you know the election is being stolen.
Do you plan to do something about it?