The Great Lakes Justice Law Center (GLJC) announced Monday that it is filing an election crimes lawsuit in Wayne County Circuit Court in Detroit alleging "massive fraud in the election vote-counting procedures." The complaint states that the criminal acts "disenfranchised lawful voters and potentially changed the outcome of the election."
The Great Lakes Justice Center is a non-profit corporation dealing with Constitutional liberties and other civil rights issues.
The Michigan law firm is representing two Detroit area residents who claim that Wayne County elections officials knowingly allowed "illegal, unlawful, and fraudulent processing of votes" cast in the general election.
The lawsuit was filed in Detroit with six affidavits from election observers alleging that election workers processed invalid ballots. The poll watchers allege that election officials backdated ballots that came in past the deadline, counted them even though the voter's name did not appear in the official voter rolls, and accepted ballots with no matching signatures. A city employee also claims that poll workers in Detroit illegally "coached" voters to vote for Biden, and even accompanied them into the voting booth.
Many of the invalid ballots shouldn't be hard to find because, according to the complaint, election workers in Wayne County allegedly inserted the same birthdate of 1/1/1900 for non-existent voters.
Numerous witnesses filed swarm affidavits under oath "attesting to the fraudulent activities they observed directly."
Zachary Larsen, an attorney and former Michigan Assistant Attorney General, was a certified poll challenger at the TCF Center.  Larsen submitted an affidavit accusing poll workers of assigning names and numbers to indicate that a ballot was being counted for a non-eligible voter who was not in either the poll book or the supplemental poll book. He claims that when he tried to get closer to an election official to observe what was going on, they "immediately stopped working and glared at him."
After Larsen observed that potential fraud was taking place and had a confrontation with the supervisor, he left the counting room to consult with another attorney.
"It was at this point that election officials stopped permitting any further poll challengers to enter the counting room, including Mr. Larsen," the complaint states. "Election officials never allowed Mr. Larsen to re-enter the counting room to fulfill his duties as a poll challenger after he had discovered the fraud which was taking place."
Jesse Jacobs, an election employee with the City of Detroit, was working at a polling location for approximately three weeks prior to the election. Jacobs claims she was instructed to pre-date absentee ballots, not to look at signatures, and to never to ask for a driver's license or any photo I.D. when a person was trying to vote.
— Matt Finn (@MattFinnFNC) November 9, 2020
More from Jessy Jacob affidavit claiming she was instructed to improperly pre-date absentee ballots and not to look at signatures. I've reached out to Detroit and Sec. of State for response. pic.twitter.com/5jSk5rTia9

— Matt Finn (@MattFinnFNC) November 9, 2020
Another poll challenger, Andrew Sitto, said that several vehicles with out-of-state license plates delivered a huge batch of ballots at 4:30 in the morning on Nov. 4. Every one of them was a vote for Biden.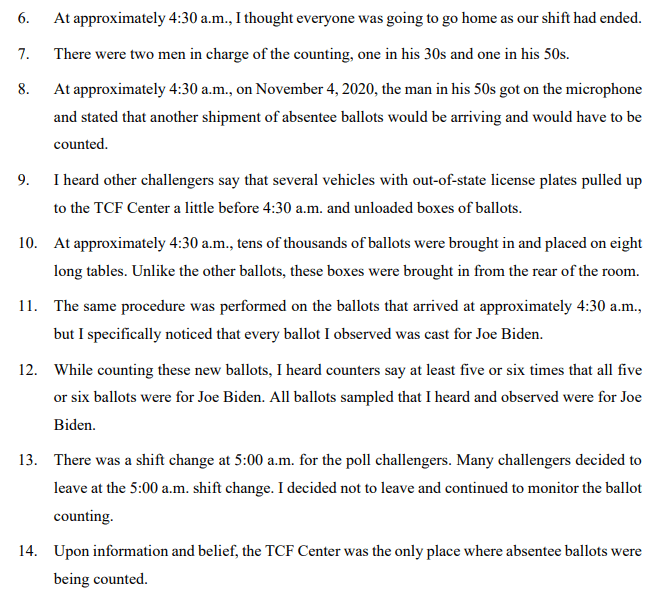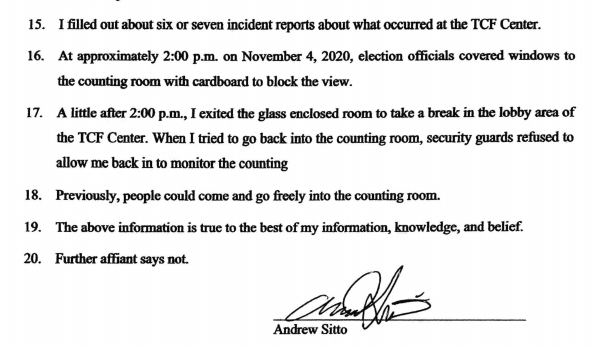 Several other poll challengers submitted sworn affidavits alleging fraud.
The bombshell suit is asking for the results in Wayne County to be voided and an entirely new election to be conducted.
"These acts disenfranchised lawful voters and potentially changed the outcome of the election," The Great Lakes Justice Law Center said in the complaint.
The complaint listed four potential violations of the plaintiffs' rights.
• Violation of Plaintiffs' Constitutional right to Election Accuracy and Integrity.
• Violation of Plaintiffs' Quo Warranto right to a fraud-free Election.
• Violation of Plaintiffs' Constitutional Equal Protection Rights.
• Violation of Statutory Election Laws.
Specifically, the plaintiffs' complaint alleges:
• Election workers were ordered to not verify voters' signatures on absentee ballots, to backdate absentee ballots, and to process such ballots regardless of their validity.
• Election workers processed ballots that appeared after the election deadline and falsely reported that those ballots had been received prior to November 3, 2020 deadline.
• Defendants used false information to process ballots, such as using incorrect or false birthdays. Many times, the election workers inserted new names into the QVF and recorded these new voters as having a birthdate of 1/1/1900.
• Defendants coached voters to vote for Joe Biden and the Democrat party. Election workers would go to the voting booths with voters to watch them vote and coach them for whom to vote.
• Unsecured ballots arrived at the TCF Center loading garage, not in sealed ballot boxes, without any chain of custody, and without envelopes.
Defendants refused to record challenges to their processes and removed challengers from the site if they politely voiced a challenge.
"Based upon the above allegations of fraud, statutory violations, and other misconduct, as stated herein and in the attached affidavits, it is necessary to order appropriate
relief, including, but not limited to, enjoining the certification of the election results pending a full investigation and court hearing, ordering a recount of the election results, or voiding the election and ordering a new election, to remedy the fraud," the complaint states.
The GLJC also called for "an independent and non-partisan audit to determine the accuracy and integrity of the November 3, 2020 election," and requested that the defendants be prevented from certifying the election results.
The GLC also asked the court to issue an order "voiding the November 3, 2020 election results and order a new election to be held."
David A. Kallman, Senior Counsel with the GLJC, stated, "This type of widespread fraud in the counting and processing of voter ballots cannot be allowed to stand. Michigan citizens are entitled to know that their elections are conducted in a fair and legal manner and that every legal vote is properly counted. Such rampant fraud cannot be undone. We ask the Court to enjoin the certification of this fraudulent election, void the election, and order a new vote in Wayne County."
David Fink, the lead counsel for the city defendants, said in statement in response to the lawsuit, that the allegations are based on already debunked "conspiracy theories."