Hunter Biden received gifts from a Mexican businessman after arranging meetings between the crony and top Obama administration officials in the White House and Vice President's House, emails obtained by The National Pulse show.
In one telling email, Hunter thanked businessman Miguel Aleman Magnani for setting up his recent stay at a Mexican resort villa, but went on to complain that Magnani had ignored him after he had "delivered on every single thing [Magnani] ever asked."
"I really appreciate you letting me stay at your resort villa… but I have brought every single person you have ever asked me to bring to the F'ing WHite House and the Vice President's house and the inauguration and then you go silent – I don't hear from you for months," the younger Biden wrote.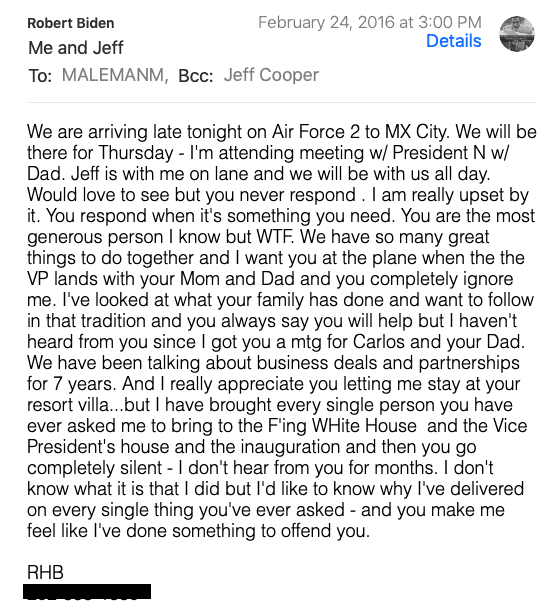 Magnani, who is the CEO of Mexican airline Interjet, is the grandson of former Mexican President Miguel Alemán Valdés, and son of Miguel Alemán Velasco, a Mexican politician, businessman, and philanthropist.
Additional correspondence shows that "Miguel" had also gifted Hunter with artwork.
An email from January 9th, 2017 shows Rosemont Seneca Partners Senior Advisor Joan Peugh listing one of Hunter's "outstanding to dos" as "need[ing] to say thank you" in response to a piece of artwork from Miguel.
Hunter Biden and his business partners were at the time trying to negotiate a deal involving Burisma, the notoriously corrupt Ukrainian energy company where Hunter served on the Board of Directors; Pemex, a state-owned, Mexican petroleum company; and Magnani's family company, the Aleman Group, according to the emails.
Burisma was granted permission to pursue a "Pemex privatization opportunity" in partnership with the Aleman Group, an email from Hunter on January 27th, 2015 shows.
The email lays out how the stakeholders in the deal – Hunter, Magnani's Aleman Group, and other associates of Hunter such as Devon Archer and Jeff Cooper – would need to figure out remuneration if the deal was to materialize.

Hunter also references a meeting in Mexico City on February 27th – just days after then-Vice President Joe Biden was visiting the area to talk with Mexico's President and a host of high-level advisors. It remains unclear whether or not Joe Biden attended the meeting referenced below:

"Once we have the above accomplished we should be in a very good position to make the most of the planned meeting on 2/27 in Mexico City," the email reads.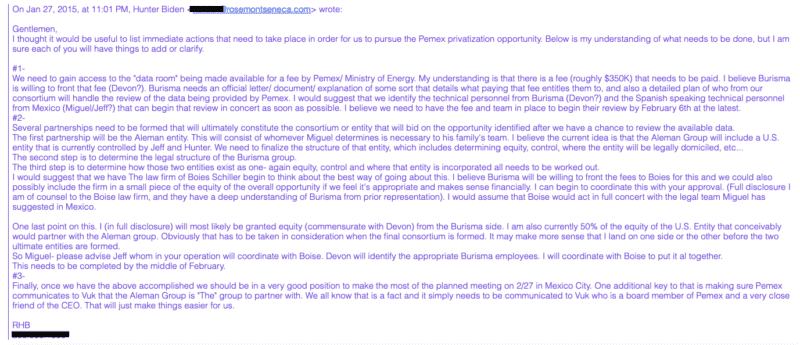 Subsequent emails show Devon Archer brainstorming with his partners on the "next steps," which appear to involve convincing a reluctant Magnani to part with $500 thousand to help with "start up expenses."