San Francisco Police have made an arrest in the brutal assault of a black Trump supporter at a free speech rally in San Francisco over the weekend.
San Francisco Police have arrested a suspect in the assault of conservative activist Philip Anderson. Adora Anderson, 35, has been charged with mayhem & a hate crime enhancement. https://t.co/FYEdV30zTU pic.twitter.com/5MxQe4Q7VO

— Andy Ngô (@MrAndyNgo) October 19, 2020
Adora Anderson, 35, was taken into custody Sunday afternoon and charged with mayhem and a hate crime enhancement, KPIX reported.
On Saturday, a small group of conservative Trump supporters staged a free speech rally in front of Twitter's headquarters to protest the unfair and unequal treatment of conservatives on the social media platform.
The group "Team Save America" organized the protest after the Twitter locked the accounts of The New York Post and many others for posting links The Post's bombshell report on Hunter Biden's emails.
According to the Associated Press, members of the group wore red MAGA hats and carried pro-police "Thin Blue Line" flags, as well as U.S. flags.
Anderson was part of a violent antifa/BLM mob of several hundred agitators who surged the area, outnumbering and attacking the conservatives.
At least two people from the conservative group sustained injuries requiring medical attention—Philip Anderson, the organizer of the event, and Marc Solorzano, who was taken away in an ambulance. Three San Francisco Police officers also sustained non-life-threatening injuries when they were assaulted with pepper spray and caustic chemicals.
Philip Anderson was sucker punched twice in the mouth as he and a fellow demonstrator were making their way through the antifa mob.
Masked violent far-left militants attack conservatives at a small San Francisco gathering yesterday against Big Tech. Philip Anderson (@TeamSaveAmerica) had his teeth knocked out in an unprovoked punch to the mouth. pic.twitter.com/8lX6bLepFd

— Andy Ngô (@MrAndyNgo) October 18, 2020
Anderson lost his two front teeth as a result of being punched in the face by the suspect, who appeared to be wearing a weighted knuckle glove, or "sap glove."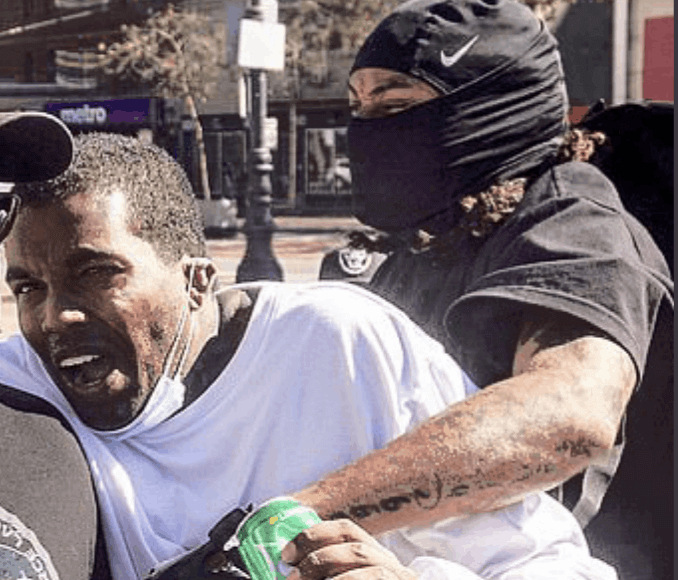 If convicted, Adora Anderson will face a more significant prison sentence because of the hate crime enhancement.
As paramedics were wheeling Solorzano toward an ambulance, he told KPIX, "I'm a Trump supporter. They assaulted me!"
Solorzano, who suffered a leg injury, described what happened to him. "They chased me, they kicked me for no reason," he told KPIX.  "I'm from a Latin home. I married a Mexican woman. They kicked me for running — I was running from them!"
Another Trump supporter said he was hit in the head and knocked to the ground during the melee.
"All dressed in black, I think he might be Black Lives Matter (activist), hit me in the back of the head, knocked me down. I got up. The security guards ran him off and they told us to go over here," Derrick Main told KPIX.
San Francisco police said the investigation remains open, and are asking anyone with information to call their tip line.
Philip Anderson was subsequently deplatformed from Twitter, Facebook and Instagram for sharing his story about being attacked at a free speech rally.
A GoFundMe account was set up for Anderson so he can get his teeth fixed. So far, it has raised over $30,000.
Update:
The Post Millennial has identified the suspect as Androa "Dro" Anderson, of Watsonville, Cal., rather than Adora, as the San Francisco police and KPIX initially reported.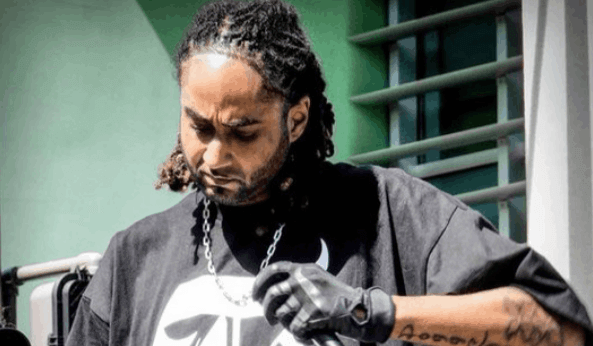 Androa lists himself as an artist and graphic designer on his LinkedIn page. His personal social media posts show him frequenting BLM protests and pan-Africanism rallies in the Bay Area. His Instagram is filled with posts expressing an intense hatred of police.