Never-before-seen emails allegedly from Hunter Biden's laptop reveal how he leveraged his connection to his father Joe Biden while he was the vice president. The blockbuster materials also reportedly include salacious images and video of Hunter smoking crack and engaging in lewd sex acts.
Both the computer and hard drive have been in the FBI's possession since last December.
Democrat presidential nominee Joe Biden has famously denied having anything to do with his son's "overseas business dealings," and has argued that Hunter is a "good" guy who "has done nothing but good things his whole life"—even after he tried to avoid paying child support to a stripper he impregnated out of wedlock.
After this explosive New York Post investigation revealing Joe Biden LIED to the American people about his involvement in Hunter Biden's business deals…

…the Biden campaign has CALLED A LID FOR THE DAY at 9:41 AM.

Biden is back in hiding! https://t.co/HMou7ncDzP

— Trump War Room – Text TRUMP to 88022 (@TrumpWarRoom) October 14, 2020
Hunter Biden joined the board of the notoriously corrupt energy firm Burisma Holdings in the spring of 2014 at a reported salary of  $50,000 a month, even though he had little experience in the energy sector. Almost immediately, an adviser to the board of Burisma,  was emailing Hunter, asking him for "advice on how you could use your influence" on the company's behalf.
In an unpublicized meeting about a year later, the younger Biden introduced his father—then the vice president—to Vadym Pozharskyi, a top executive at Burisma, according to the emails obtained by The  New York Post.
The hush-hush meeting was mentioned in a message of appreciation that Pozharskyi, reportedly Burisma's No. 3 executive, allegedly sent to Hunter Biden on April 17, 2015.
"Dear Hunter, thank you for inviting me to DC and giving an opportunity to meet your father and spent [sic] some time together. It's realty [sic] an honor and pleasure," the email reads.
Vice President Biden would go on to pressure Ukrainian President Petro Poroshenko and Prime Minister Arseniy Yatsenyuk into firing a prosecutor who was investigating the company. During a December 2015 trip to Kiev, Biden told the Ukrainians that the United States would withhold a $1 billion US loan guarantee unless they got rid of Prosecutor General Viktor Shokin.
At the time of his firing, Shokin was allegedly getting ready to investigate Burisma, which "included interrogations and other crime-investigation procedures into all members of the executive board, including Hunter Biden."
"I looked at them and said: I'm leaving in six hours. If the prosecutor is not fired, you're not getting the money," Biden infamously bragged to the Council on Foreign Relations in 2018.
"Well, son of a bitch. He got fired."
Joe Biden told Fox News in September of 2019 that he had never ​talked with his son about his foreign business interests.
"I have never spoken to my son about his overseas business dealings," Biden said.
The bombshell correspondence between Hunter Biden and Pozharskyi, as well as other incriminating information were discovered in a massive trove of data recovered from a laptop computer.
The computer was dropped off at a repair shop in Biden's home state of Delaware in April 2019, according to the store's owner.
Other material extracted from the computer includes a raunchy, 12-minute video that appears to show Hunter, who's admitted struggling with addiction problems, smoking crack while engaged in a sex act with an unidentified woman, as well as numerous other sexually explicit images.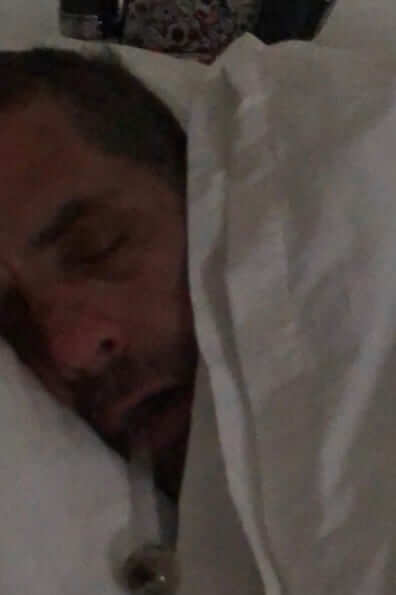 The customer who brought in the water-damaged MacBook Pro for repair never paid for the service or retrieved it or a hard drive on which its contents were stored, according to the shop owner, who said he tried repeatedly to contact the client.
The shop owner couldn't positively identify the customer as Hunter Biden, but said the laptop bore a sticker from the Beau Biden Foundation, named after Hunter's late brother and former Delaware attorney general.
Photos of a Delaware federal subpoena given to The Post show that both the computer and hard drive were seized by the FBI in December, after the shop's owner says he alerted the feds to their existence.
The shop owner told the Post that he made a copy of the hard drive and later gave it to former Mayor Rudy Giuliani's lawyer, Robert Costello before he turned it over the FBI.
Steve Bannon, former adviser to President Trump, tipped off the Post about the existence of the hard drive in late September and Giuliani gave the paper a copy of it on Sunday.
Joe Biden and his defenders have claimed that the US wanted Shokin removed over corruption concerns, but the alleged corruption issues  appear to have been trumped up by the Obama administration.
There were however concerns within the Obama administration about the appearance of corruption surrounding Hunter Biden's position at Burisma.
An email dated May 12, 2014 shows Burisma's Pozharskyi attempting to get him to use his political leverage to help the company.
The message had the subject line "urgent issue" and was also sent to Hunter Biden's business partner, Devon Archer, who also sat on the Burisma board at the time.
Pozharskyi said that "the representatives of new authorities in power tend to quite aggressively approach N. Z. unofficially with the aim to obtain cash from him."
N.Z. isn't identified in the email but appears to be a reference to Burisma founder Mykola Zlochevsky, whose first name is a Ukrainian version of "Nicholas."
When the alleged shakedown failed, "they proceeded with concrete actions" in the form of "one or more pretrial proceedings," Pozharskyi wrote.
"We urgently need your advice on how you could use your influence to convey a message / signal, etc .to stop what we consider to be politically motivated actions," he added.
Joe Biden has repeatedly denied allegations involving his son's influence peddling, insisting that they have all been "debunked."
Last February, he lashed out at NBC's "Today" show co-host Savannah Guthrie when she questioned whether it was "wrong for [Hunter] to take that position, knowing that it was really because that company wanted access to you."
"Well, that's not true. You're saying things you do not know what you're talking about," the elder Biden responded testily.
During the first presidential debate, Biden defended Hunter, saying, "my son did nothing wrong at Burisma," after President Trump brought up the matter.
Biden said various media outlets had already "debunked" Trump's claims and said he did not want to discuss family matters during the debate.
Facebook has already censored the NY Post's story in an attempt to protect the Democrat.
The tech giant's communication's director announced Wednesday that Facebook was "reducing distribution" of Hunter Biden bombshell while it is being "fact checked" by their "fact-checking partners."
While I will intentionally not link to the New York Post, I want be clear that this story is eligible to be fact checked by Facebook's third-party fact checking partners. In the meantime, we are reducing its distribution on our platform.

— Andy Stone (@andymstone) October 14, 2020
Investigative journalist Sharyl Attkisson recently reported that 18 of 20 Facebook "independent" fact checkers have ties to political activist Soros or his foundations.
The Senate Homeland Security Committee launched an investigation into Hunter Biden's emails, Fox News reported.
"We regularly speak with individuals who email the committee's whistleblower account to determine whether we can validate their claims," Committee Chairman Ron Johnson, (R-Wis.) told Fox News.
"Although we consider those communications to be confidential, because the individual in this instance spoke with the media about his contact with the committee, we can confirm receipt of his email complaint, have been in contact with the whistleblower, and are in the process of validating the information he provided," Johnson added.
Senator Josh Hawley (R-Mo.) brought up the bombshell emails while questioning Supreme Court nominee Amy Coney Barrett about "foreign influence" on Wednesday.
Barrett responded that she couldn't comment on "hypotheticals."
"I'm glad you won't because, who knows, that case could come before you," Hawley replied.
Hypothetically speaking… pic.twitter.com/7OuPgVck5g

— Elizabeth Harrington (@LizRNC) October 14, 2020
The Biden Campaign called "a lid" early Wednesday, meaning that the candidate will have no public appearances today.
Update:
The Biden Campaign put out a statement claiming that investigations in the press and in two GOP-led Senate committees have cleared Biden of any wrongdoing regarding Ukraine and that his "official schedule from the time" showed no meeting took place.
Biden campaign says VP Biden did not meet with Burisma executive, as alleged in @nypost story: 'No meeting, as alleged by the New York Post, ever took place.' From @playbookplus: pic.twitter.com/Ca5qFPiilc

— Byron York (@ByronYork) October 14, 2020
Of course, the secret meeting is alleged to have taken place off the books.
Update:
More censorship: Twitter has now flagged the NY Post's tweet sharing the story.
Twitter is now flagging the NY Post about Joe Biden lying to the American people as "unsafe."

Wow. pic.twitter.com/KQcikpX3L9

— Abigail Marone ???????? (@abigailmarone) October 14, 2020