This past weekend saw another round of massive Trump caravans and convoys throughout the nation, underscoring yet again the enormous enthusiasm gap between President Trump and his Democrat opponent Joe Biden.
American Greatness attended a Trump Car Parade in Overland Park, Kansas, on Saturday that had thousands of participants.
Here in Overland Park, Kansas for the big Trump car parade. Looks like thousands of vehicles will be participating. pic.twitter.com/aqUHbhQQvU

— Debra Heine (@NiceDeb) October 10, 2020
YUGE Overland Park Trump Car Parade! pic.twitter.com/yCmPChttk2

— Debra Heine (@NiceDeb) October 10, 2020
Following the Trump car Parade, there was a big Back the Blue rally featuring Mark and Patricia McCloskey, the St. Louis Couple who were indicted for brandishing weapons after a Black Lives Matter mob invaded their property. Nearly 2,000 people attended the rally.
The sight of freedom! pic.twitter.com/JuyTtOblUn

— Mark T. McCloskey (@Mark__McCloskey) October 11, 2020
In his speech, Mark McCloskey explained in detail what happened on that day last June he and his wife found themselves facing down a violent mob with no police to protect them.
A "Ridin' With Biden" parade in Kansas City brought out approximately two dozen supporters, according to KSHB. It's hard to find pictures online of the poorly attended Biden event, so we have to take KSHB's word for it that 24 cars participated. Here is a screenshot from the KSHB story.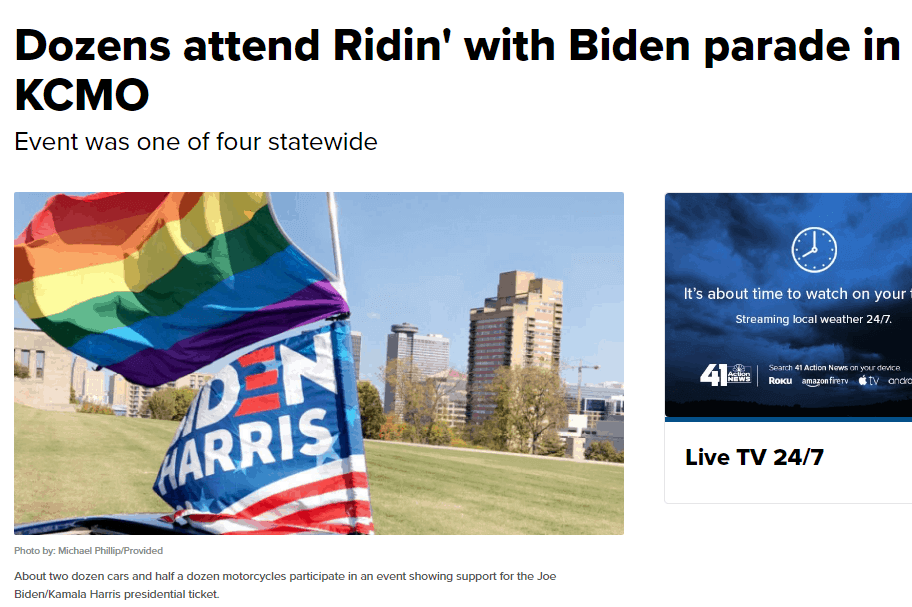 There was a huge, bumper to bumper Trump caravan in Miami with as many as 30,000 vehicles:
The media won't talk about it, but there are THOUSANDS of Miami residents out in a car parade right now for @realDonaldTrump!! Cuban Americans will KEEP FLORIDA RED, help re-elect TRUMP, AND KEEP REPUBLICAN MAJORITIES TO SAVE AMERICA ???????? pic.twitter.com/okYm8kEM5O

— Christian J. Lasval (@christianlasval) October 10, 2020
This is happening in #Miami for @realDonaldTrump right now! ???????? pic.twitter.com/BLPl9kl0D8

— Manny Diaz Jr. (@SenMannyDiazJr) October 10, 2020
translation:

according to @MiamiPD over 30,000 cars participated in today's #AntiCommunist Caravan #KAG ???????????????????????????????????????????? https://t.co/TEKV3HXz4P

— Rey Anthony (@ReyAnthonyFL) October 10, 2020
The "Ridin' with Biden" caravan in Miami over the weekend had as many as 15 vehicles, one observer counted.
Just ran into the Biden Car parade in Miami. All 15 of them ????????????

So pathetic that they try to imitate everything Trump or his supporters do except it's a bootleg and ghetto pic.twitter.com/xKDVIrVQm1

— linda catalina ???????????????? (@madfloridawoman) October 11, 2020
There were also big Trump Car parades in Minnetonka, Minnesota, and Stockholm, Wisconsin.
Cool! Also, this yesterday in the small town of Stockholm, WI (52 miles from Twin Cities). pic.twitter.com/gLOavoZc3Z

— ⭐️Gr8⭐️Awakening⭐️ (@Gr_8Awakening) October 11, 2020
Americans for Trump Big Truck Convoy in Long Island, New York reportedly had thousands of participants.
While the Trump car parades on Saturday were a huge success, Team Biden's "Ridin' With Biden'" events on Sunday fizzled badly, unable to drum up excitement anywhere, even in Democrat strongholds.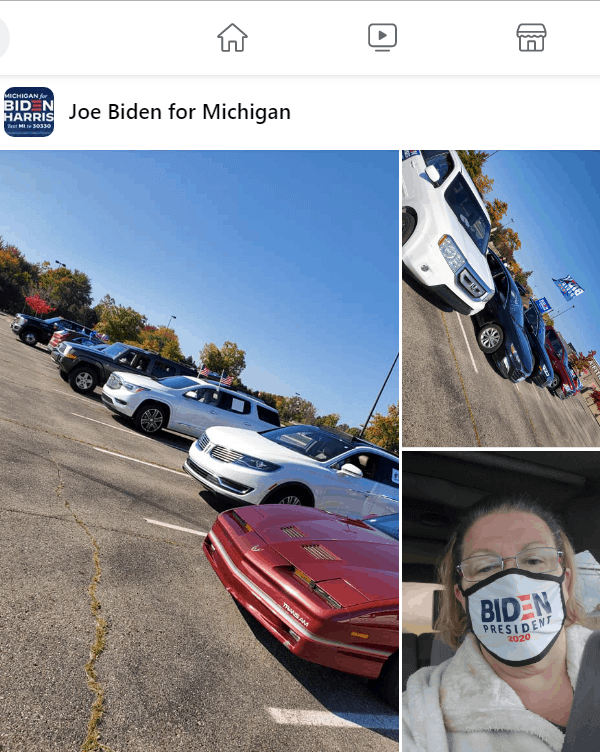 Second stop for the day a Todos Con Biden Parade around the Southshore! #ChairLife #BidenHarris2020 #RidinWithBiden pic.twitter.com/8AfZtWWkt5

— Chris Walton ???????? (@ChrisWaltonMKE) October 11, 2020
This "Ridin' with Biden" event near Plano, Texas attracted less than 30 participants. And they were all wearing masks.
Ridin' with Biden Parade in #TXHD66 today! Ready to flip this district & the TX House. Collin County is ready for change! pic.twitter.com/oBePUwjs89

— Sharon Hirsch (@Sharon4TX) October 11, 2020
A Fox10 reporter in Phoenix, AZ, was perplexed by the total lack of excitement surrounding a Biden/Harris campaign event on October 8.
Reporter Nicole Garcia noted that the only people she saw in the parking lot of the Heard Museum in central Phoenix were members of the Biden Campaign and pool reporters. Part of the reason was that the appearance, like all of Biden's campaign appearances, was kept hush-hush until the last minute.
"I'm told by one of the Biden staffers, local staffers, is that they kind of kept the details about the visit, as far as the timing and the exact locations, they didn't really want to give that out to the public because they want to keep the crowds to a minimum. They realize we are in a pandemic and they don't want a crowd of more than 50 people at any of their events," Garcia said in the report.
"This is a pretty big event for the two of them to be campaigning together for the first time since the Democratic National Convention," she said. "Here in Arizona our state has established itself as a battleground state and so this is technically a big event, but not a lot of fans here," said Garcia.
Shocked reporter says NO one showed in support of Biden and Harris at their in event in Arizona.

No signs. Nothing. ????????

— Go Trump ???????? (@GKeile) October 11, 2020
It's been suggested that Democrat voters are more motivated to vote against Trump than they are to vote for Biden. Moreover, a recent poll found that Democrats are much more fearful of catching Covid-19 than Republicans. However, the lack of enthusiasm for Biden does not bode well for the Democrat ticket.