Speaker of the House Nancy Pelosi (D-Calif.) has vowed to investigate the impeachment of the patently guilty of something President Donald J. Trump "in a way that brings people together, that is healing rather than dividing.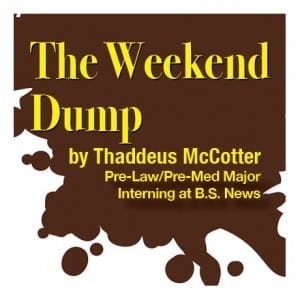 True to her word, the Speaker and House Permanent Select Committee on Intelligence Chair, U.S. Representative Adam Schiff (D-Calif.), are pleased to announce the HPSC's new legal counsel, Andrei Vyshinsky, Esq., the impressively credentialed former Procurator General of the (late) Soviet Union. His chief responsibilities will be divining the high crimes and misdemeanors that were and are being committed by the nation's culprit-in-chief.
Pelosi praised the selection: "As a barrister who could have been the inspiration for Lavrentiy Beria's dictum, 'show me the man and I will show you the crime' who better to investigate the president?"
As for critics who fear that Vyshinsky's courtroom skills might be rusty after having been dead for over six decades, Pelosi had little patience: "Spare me your ageism. He's still voting in Cook County, isn't he? Besides, we've already shown him the man." 
Stressing the need for the impeachment investigation "to protect and defend the Constitution of the United States," Pelosi noted how Vyshinsky had protected and defended Stalin's new Soviet Constitution while conducting the 1936 show trials during the Great Purge. There, Vyshinsky's euphonious oratory swept away all who heard it:
Shoot these rabid dogs. Death to this gang who hide their ferocious teeth, their eagle claws, from the people! . . . Down with these abject animals! Let's put an end once and for all to these miserable hybrids of foxes and pigs, these stinking corpses! . . . Let's push the bestial hatred they bear our leaders back down their own throats!
By bringing such nuanced legal subtlety to the impeachment investigation, Vyshinsky is exactly what Pelosi believes the times demand.
"What is at stake is our democracy," she said. "What are we fighting for? Defending our democracy for the people. Well, Vyshinsky protected his country's democracy and, with my party's help, he'll do the same for ours. I mean, this time for God's sake, we're only asking him to purge one person—well maybe Pence, too."
On his part, Schiff parroted Speaker Pelosi's praise of Vyshinsky, and downplayed his Russian ties: "He worked for Stalin, not Putin."
Schiff averred there would be no daylight between Vyshinsky and himself. "It's a dream to have him on my staff," he said. "So much of our work has necessarily occurred behind closed doors, and so had Vyshinksy's work, like when he'd sit outside the cells at Lubyanka prison and politely listen as the enemies of the state voluntarily confessed."
One cannot refute Schiff's logic, given how lockstep the House Democrats' impeachment investigation has been in following Vyshinsky's novel legal techniques, which as historian Arkady Vaksberg explained was "a hitherto unknown type of trial where there was not the slightest need for evidence: what evidence did you need when you were dealing with 'stinking carrion' and 'mad dogs'?"
Still, it is Vyshinsky's rhetoric regarding the guilty—"human waste," "dregs of society," "decayed people," "terrorist thugs and degenerates," and "accursed vermin"—that has caused concern in Pelosi's caucus over the new intelligence committee legal counsel.
According to one freshman Democrat, "Given what 'the squad' and others have said about that [expletives deleted] Trump, Vyshinsky'd better up his game."
Let the healing begin.
© B.S. News 2019