Wishful thinking among many libertarian and socialist idealists is that an alliance might form between them. After all, members of both ideological camps believe that anything goes when it comes to sex and drugs, neither of them believe in national borders, and both are repelled by conservative ideologues.
The problem with such an alliance of idealists, of course, is that at the core, the socialist believes in big government and the libertarian believes in no government. No matter how you further define those core beliefs, they are incompatible. But the powerful special interests behind the libertarian and progressive movements, respectively, are not idealists, they are pragmatists. And in the dirty realm of real-world politics, socialist and libertarian elites have formed a powerful alliance.
Underscoring issues of personal liberty while ignoring the ultimate collision their worldviews portend, socialist and libertarian mega-donors back candidates and causes that share common immediate policy goals: the densification of American cities, mass immigration, alleged "free" trade, and a hands-off policy with respect to Big Tech monopolies.
Urban "densification" is one of the most transformative—and cruel—epic policy trends in American history. And hardly anyone is talking about it.
In a recent article by Joel Kotkin, a moderate Democrat, he refers to "conservative free-market fundamentalists" as the group that's "advancing plans that would divorce capitalism from the small property owners whose pieces of property secure the system's popular support." Kotkin is referring to libertarians who favor "densification" of cities because they support the property rights of those who own the land and choose to build high-density housing.
What these libertarians are supporting, while ideologically pure, is absurd. Just because you own a half-acre property, you're not necessarily allowed to demolish the single-family home on that property in order to build a 20 story building. For the same reason, you can't demolish that home and build a rent-subsidized fourplex. In the real world, there are zoning laws that restrict property rights to protect the neighbors and the community at large. These zoning laws are what people rely on when they purchase a home in a neighborhood filled with similar homes.
Kotkin writes: 
That [densification] includes California State Senator Scott Wiener's effort to force high-density on residential areas by allowing fourplexes on virtually any parcel, which produced one of the strangest alliances in recent political history. Free market advocates—many of them funded by the Koch brothers—linked arms with left-wing and green activists reprising the arguments made in the Soviet Bloc against middle-class single-family neighborhoods.
Densification is going to destroy tranquil residential neighborhoods, everywhere, and it is backed by socialists in the name of providing affordable housing, by environmentalists in order to prevent "sprawl," and by powerful financial special interests that benefit from an ongoing real estate bubble. 
Libertarians support densification on principle, without even recognizing that they are ignoring—much less opposing—the flip side of densification, which are new policies to suppress land development outside of the "urban containment boundary." Densification, also known as in-fill, or "smart growth," will never provide sufficient new housing to make homes affordable unless it is balanced by similarly relaxed approval processes for homebuilding on open land.
The topic of "smart growth" exposes another special interest favoring densification, the Silicon Valley high tech industry. California's Silicon Valley is an epicenter not only of concentrated political and economic power, but it is also one of the world's largest ideological fermentation tanks containing potent strains of socialism, progressivism, and libertarianism. 
And in this "do no evil" caldron of visions, plans, and stupefying power, innovators are building the "internet of things," so that not only shall we live in stack-and-pack housing, we will survive on algorithmically managed micro sips of water and energy. And depending on what time we run our clothes dryer, we will pay a bit more or a bit less depending on the spot market price for electricity and water—such a libertarian concept!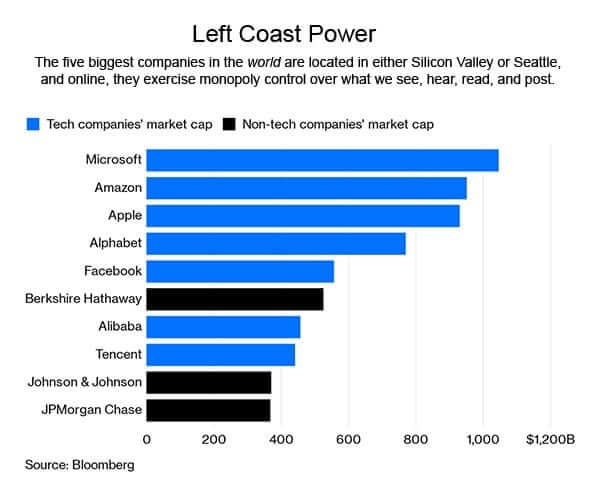 More immediately visible is Silicon Valley's control over the online universe—search results, video suggestions, remarks on Twitter, posts on Facebook—where two salient facts elude libertarians. First, the companies that now control the online universe are monopolies, and the big five—Microsoft, Amazon, Apple, Google, and Facebook—are the five biggest companies in the world based on their stock market capitalization. 
Equally important, these companies have been having their cake and eating it, too, insofar as they receive an exemption from liability due to their status as a "platform," yet exercise biased censorship on platform contributors as if they were a publisher. 
Each of these facts has consequences. Monopolies do not make for healthy market economies. Platforms cannot be publishers. But where are the libertarians?
The vision shared by socialist and libertarian oligarchs alike is what Kotkin calls a "Wall Street-dominated rentership society . . ." where "people remain renters for life, enjoying their video games or houseplants when not coding or doing gig jobs."
This vision is not only furthered in densification policies that are fruitless in terms of making housing affordable but dazzlingly effective in turning nearly everyone into apartment renters, but also in the internet of things. In the future, you will not own your clothes dryer or any other major appliance, nor will you own your car, much less video games and software services. Instead, you will "subscribe" to these gadgets, so you can receive the latest updates and services. "Subscriptions" will replace lease payments, loan payments, and warranties. Owning anything will become increasingly impossible. Green conservation mandates will ensure compliance. But, hey—you'll be able to watch algorithmically curated videos on your refrigerator!
It is a fatal misconception to consider pragmatic socialists as indistinguishable from communists. Socialist nations, particularly those in Northern Europe that are frequently cited by defenders of socialism as exemplars distinct from hellholes like Venezuela, are not ruled by politburos. These socialist nations are ruled by an influential cadre of extremely wealthy, propertied elites, who manage public opinion through their ownership of the primary media sources and through their donations to effective politicians, regardless of party. Does this sound familiar?
It is also a fatal misconception to overstate the differences between America's elite socialist oligarchy and America's elite libertarian oligarchy. In both cases, they subscribe to the policy of mass immigration, at the same time as they support environmentalist conventional wisdom that condemns Americans to pay taxes to fund the settlement of these tens of millions in rent-subsidized apartments crammed on to every lot that flips, in every neighborhood where people aren't wealthy enough to hire attorneys to stop it.
Is it even possible for a populist libertarian movement to offer meaningful support to a conservative American political agenda? Or will their "thought leaders" continue to please the donor class, writing predictably bland justifications for free trade, open borders, urban densification, and out-of-control communications monopolies? Will libertarians support privatization to the point where a meter runs every time anyone steps onto a public road, and perpetual subscriptions replace ownership? Why not?
Where do libertarians draw the line? Will they accept Libra, the new cyber-currency that Facebook is about to launch? Will they squawk when cyber-currencies issued by mega-corporations dominate commerce? Will they care when monopolistic "private" companies erase not only the speech platforms of dissidents but their ability to use their proprietary cyber currency? Why not?
Libertarians don't have a fully realized political ideology, they have a perspective. As a perspective—smaller government—they are a useful part of the mix. But libertarians aren't recognizing the real-world limitations on libertarianism; if they did, they would choose sides. They would rebel against the donor fueled socialist-libertarian axis. They would ask: Will you fight to preserve your nation and your culture, or won't you? 
The libertarian and socialist elites have made their choice, and they are working together under the assumption that nations and culture don't matter, only profit and power do.
The only viable, real-world version of a libertarian ideology ought to be unrecognizable and troubling to the idealist. It is corporate-controlled feudalism that incorporates just enough socialist populist demands to avoid an unpleasant conflagration. The beneficiaries of this political economy are the super-rich and the myriad poor. In this world, nationality means nothing, heritage is irrelevant, and the middle class and mid-sized companies alike are exterminated. Tradition and culture become a commercialized and sanitized afterthought, micro-marketed to the various vestigial niches along with soap and virtual reality.
Idealists do not govern America today. Rather it is a pragmatic axis of socialist and libertarian oligarchs, each with their own gullible constituency, moving together towards a futuristic version of feudalism.
Content created by the Center for American Greatness, Inc. is available without charge to any eligible news publisher that can provide a significant audience. For licensing opportunities for our original content, please contact licensing@centerforamericangreatness.com.'
Photo credit: iStock/Getty Images