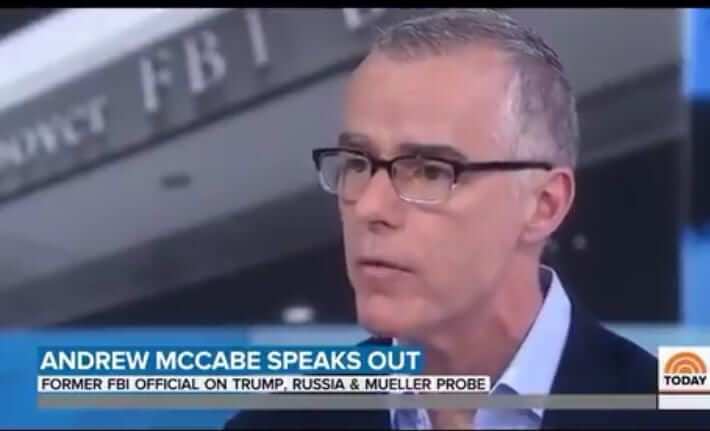 It's hard to track all the falsehoods coming from disgraced ex-FBI chief Andrew McCabe during his book blitz this week. But one glaring and intentional distortion must be clarified and, in my dreams, scrutinized in future interviews.
McCabe claims that one of the chief reasons the FBI opened up a counterintelligence probe to determine whether the sitting U.S. president was a Russian asset was because Trump allegedly asked then-FBI Director James Comey to drop an investigation into former National Security Advisor Michael Flynn. "The president approaches the director of the FBI and asks him to stop investigating Michael Flynn, a part of our investigation into Russian interference, he asks him to turn off that investigation," McCabe told NBC's Savannah Guthrie on Monday. He's made that same accusation several times over the past few days.
Set aside there's no evidence that the Flynn matter had anything to do with Comey's dismissal; Trump, in fact, asked for Flynn's resignation after details of his calls with the Russian ambassador to the U.S. were illegally leaked to the media and seemed to contradict his public statements.
The only evidence that Trump made any suggestion to Comey about the Flynn "investigation" is Comey's own memos. According to Comey's notes, during a meeting on February 14, 2017 – the day after Flynn resigned – Trump allegedly discussed the FBI's inquiry into Flynn's calls with the ambassador, which some Justice Department officials suggested were in violation of the never-used Logan Act.
Comey's memo claimed that Trump said, "I hope you can see your way clear to letting this go, to letting Flynn go. He is a good guy." Comey responded by agreeing that Flynn, who he had been investigating for months as a possible Russian agent, "is a good guy."
It was clear the discussion had nothing to do with the FBI's investigation into Flynn's suspected ties to the Kremlin, which Comey had launched in July 2016. Further, Trump's offhanded comment could not have pertained to the Russia investigation because, at the time, neither Trump nor his staff nor the rest of the world knew that Comey's FBI was investigating the Trump campaign.
That bombshell wasn't made public until March 2017, a fact Comey confirmed in his congressional testimony last December. In fact, Crossfire Hurricane, the code name for the counterintelligence probe into the Trump campaign, was so secret that Comey violated protocol by concealing from congressional leaders the existence of the investigation for eight months. It wasn't until he was confronted by the House Intelligence Committee that Comey acknowledged the overarching investigation, and consequently, the investigation into Flynn.
That was a month after Trump's alleged comments to Comey. The FBI hadn't directly informed Trump that his campaign was under investigation.
McCabe's accusation solely is based on Comey's memo; Trump repeatedly has denied it. Even if Trump said it, the comment had nothing to do with the FBI's probe into Flynn because Trump was unaware the investigation was underway.
Let's hope someone asks McCabe to clear this up….soon.