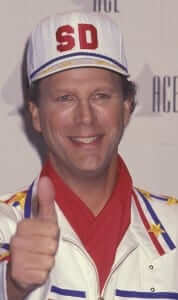 Albert Einstein made a fortune in physics, according to Al Czervik, but Bob Einstein, a.k.a. Super Dave Osborne, mined comedic gold. He was a great straight man. As for his private life, I know nothing. What I do know is this: If good movies are memorable because they have great moments, Einstein was a genius—the comic, not the one with comical hair—because he played it straighter than Mitt Romney at the Continental Baths during a performance by The Divine Miss M, with Barry Manilow on piano. He played it to perfection as a shoe salesman in "Modern Romance," co-written and directed by his younger brother, Albert Brooks (né Einstein).
If he had done nothing else, if he had left show business to sell shoes, this scene in which Bob plays Albert—in which Albert plays a dupe, whom Bob robs by selling him stuff he does not need—is brilliant. It is a model of timing and delivery, a moment of hilarity from beginning to end, based on a punchline in the form of a question, where, after having sold him a pair of $50 running shoes, two $75 sweatsuits, socks, salt tablets (bottle of 50), a headband, ankle weights, sweatbands, supporters (package of three), he adds a wrist wallet.
Brooks asks: "What's a wrist wallet?" Comes the reply: "Where are you gonna carry your money? You gonna run broke?"
If Willy Loman had been half the salesman Bob Einstein was—one of the actors who played him is (almost) half the man Einstein was—maybe he would not have been a suicidal schizophrenic with a son named Happy.
Then again, even the best salesman is no Einstein.
Photo credit: Photo by Ron Galella, Ltd./WireImage via Getty Images