Facebook spends more money to protect Mark Zuckerberg than it does to safeguard your personal data. Do the math, or have Google do it for you, as your hand may cramp, your pencil may break, or you may not have enough space to write so many zeros on behalf of such a zero.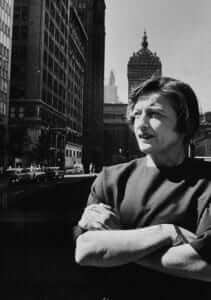 Take what Facebook spent in 2017 on Zuckerberg's home and travel security, and multiply that number by the number of people who are active on Facebook: (7 million x 1 billion = 7e+15). What you get is a product so preposterous that it is easier to picture Zuckerberg as a benevolent dictator than it is to believe his source code—with its many glitches concerning truth and empathy—is a man of inherent goodwill.
Less preposterous is the rational number of irrational thinkers among Zuckerberg's community of the preposterously rich and the intellectually poor: the Silicon Valley billionaires who worship Ayn Rand.
Either they believe life is a simulation in which they can bend if not break some of the rules of this program, as if they neither need nor want a safety net, fiscal or physical, because they can stop time and do a crouch jump in mid-air, despite their outward appearance as a collection of schlubs riding the bench in an endless game of wheelchair basketball, or they think Rand's novels are in fact a series of economics textbooks. Either way, what they believe or think is nonsense; dangerous nonsense, because these welfare capitalists are hypocrites.
They are hypocrites because they fancy themselves as the world's creative leaders, on the one hand, while they seek and accept subsidies or favors from the government, on the other. And yes, I know: To believe life is an illusion, no matter our ability to name and enumerate the nature of matter, is, according to Rand, a crime against reason and a form of savagery.
We should be so lucky—to know what we know is not real—so we may know that none of this is real.

Thus we would not have to read or listen to a speech whose length is a test of continence and a trial of the strongest constitution, whose content is an attack against the character of assorted parasites, sluts, leeches, and morons, whose content speaks to the character (or lack thereof) of its principal character: a cult-like figure of physical perfection whose eyes are as green as bismuth and whose skin glistens like bronze, whose body is as taut as metal and whose hair glimmers like gold, whose being belies any suggestion of arrogance, tension, or scorn.
That welfare capitalists see no contradiction between the ideology they profess—and the prophet they worship—while their profits are more fictional than one of the most turgid works of fiction; that they model themselves after a nonexistent character whose creator believed in the totality of existence; that they (presumably) believe there is nothing more to existence than existence itself; that these men are the alleged champions of reason is all the more reason for us to go back to sleep.
Photo credit: New York Times Co./Getty Images