The federal judge who sentenced James Wolfe to prison on Thursday delivered a needed rebuke not only to the Senate Intelligence Committee's longtime chief of security but also to his enablers in the U.S. Senate. Thursday also ought to have been a terrible, horrible, no-good, very bad day for James Comey, James Clapper, and the Pulitzer Prize committee.
U.S. District Judge Ketanji Brown Jackson, a Barack Obama appointee, ordered Wolfe to serve two months behind bars. Earlier, he had been allowed to plead guilty to charges of lying to federal investigators.
Senator Richard Burr (R-N.C.), the intelligence committee's chairman; vice-chairman Mark Warner (D-Va.) and former chairman Dianne Feinstein (D-Calif.) had co-signed a letter to the judge asking for no jail time for their longtime aide. "We do not believe there is any public utility in depriving him of his freedom," the senators wrote.
Judge Jackson rebuffed the senators. "This court routinely sentences people who come from nothing, who have nothing, and whose life circumstances are such that they really don't have a realistic shot of doing anything other than committing crimes," she said. "The unfortunate life circumstances of those defendants don't result in a lower penalty, so why should someone who had every chance of doing the right thing, a person who society rightly expects to live up to high moral and ethical standards and who has no excuse for breaking the law, be treated any better in this regard?"
Wolfe had managed to avoid trial and possible jeopardy for higher penalties earlier this year when his lawyers threatened to subpoena every senator on the intelligence panel.
One wonders, what was it that Senator Burr and the others did not want to be asked under oath in open court? Was it anything North Carolina Republican voters would like to be made public?
Obama's director of national intelligence James Clapper and former FBI director James Comey also pleaded with the court for leniency for Wolfe. They said their motivation was that the convicted criminal had led an exemplary life of public service. But it is no mere coincidence that Wolfe's crime was intimately entwined with the leaking of highly sensitive Federal Intelligence Surveillance Court (FISA) information derogatory to Trump campaign adviser Carter Page—a still unresolved affair in which Comey and Clapper themselves are under fire for suspected abuse of their former public offices.
A lesser-known person who probably is drawing no comfort from Wolfe's sentencing is Terry Albury, a former FBI agent. Albury's unease would ensue from how light Wolfe's sentence was. Earlier this year, a federal judge sentenced Albury to four years in prison for leaking classified information to a reporter in a much lower-profile case. No doubt the disgraced G-Man wishes he had spent his career working for a U.S. Senate committee.
Wolfe was arrested after investigators became concerned about his behavior as he was carrying on an affair with a college journalism student. Ali Watkins was a 21-year-old college senior and journalism intern in a Washington news bureau when she became Wolfe's mistress.  Wolfe was 53 years old and married when he began his romance with the aspiring Nellie Bly.
Prosecutors said Wolfe violated Senate rules through his regular contact not only with his inamorata but also with three other reporters who covered the committee. But, hey, on Capitol Hill why should that be anything the committee leadership takes into consideration?
The Justice Department's sentencing memo said Wolfe repeatedly lied about his relationship with Watkins until he was "confronted with photographs of himself together with [her], some of them during foreign travel."
A person with Wolfe's access to the nation's most sensitive security secrets needs to be kept under a certain amount of surveillance by employers and counterintelligence authorities, especially in cases of foreign travel. Wolfe's conduct either was not known or was of no great concern to Senators Burr and Warner, who were responsible for the integrity of the sensitive information handled by their top security aide. What did they know and when did they know it? What would have been disclosed had they and other senators been forced to testify at trial?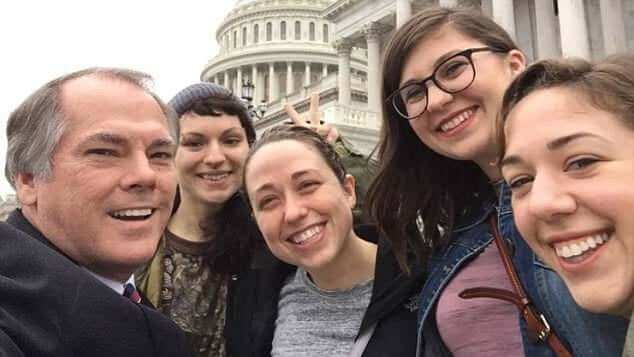 For her part, young Ali Watkins was honored as a finalist for the 2015 Pulitzer Prize in national reporting. The Pulitzer Board conferred the high honor on the young reporter "for timely coverage of the Senate Intelligence Committee's report on CIA torture, demonstrating initiative and perseverance in overcoming government efforts to hide the details."
After her Pulitzer honor, the Wunderkind was hired as a national security correspondent for the New York Times. The young lady provided the Gray Lady's coverage of the Senate Intelligence Committee until Wolfe's arrest earlier this year, when they reassigned her to a beat at the Mothership in Manhattan. Investigators say the Watkins-Wolfe amour continued through 2017. Suggestions are that the affair of the heart was put under strain by a feeling that law enforcement was becoming wise to it.
Both Harry Truman and Ronald Reagan liked to say: "It is amazing what you can accomplish if you don't care who gets the credit."
At the peak of his passion for his college girl crush, James Wolfe shared the same magnanimous sentiment. "I've watched your career take off even before you ever had a career in journalism," he wrote in a text message to Watkins presented as evidence by prosecutors. " . . . I always tried to give you as much Information [sic] that I could and to do the right thing with it so you could get that scoop before anyone else . . . I always enjoyed the way that you would pursue a story, like nobody else was doing in my hallway (sic). I felt like I was part of your excitement and was always very supportive of your career and the tenacity that you exhibited to chase down a good story."
One would have to have a heart of stone not to want that cherished memory to sustain James Wolfe while he sits for two months in a federal slammer.
But shouldn't the Pulitzer Board members take into account the recent disclosures and consider modifying their previous decision? It would not be in character for them to rescind the honor they bestowed on Ali Watkins, but shouldn't they at least offer honorable mention laurels to James Wolfe?
Doesn't James Wolfe deserve his own Pulitzer Prize citation for "initiative and perseverance in overcoming government efforts to hide" vital national security secrets?