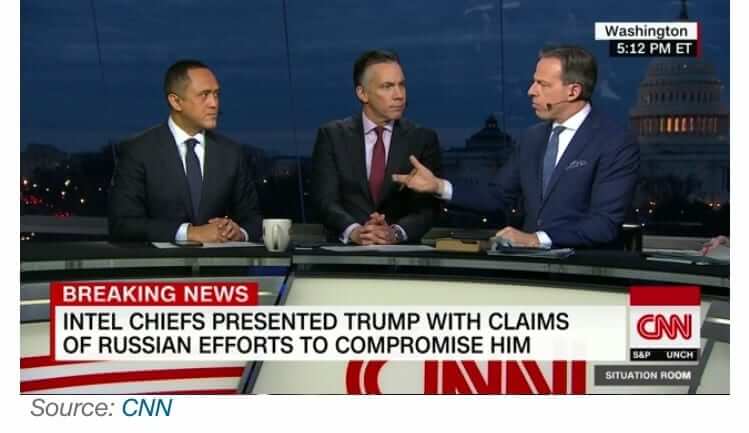 Let's set aside the crudeness on display at Saturday night's White House Correspondents' Dinner because the farce is justifiably being blasted by both sides today.
The real folly is that at the same time sanctimonious journalists were congratulating themselves as defenders of the First Amendment, the Washington press corps really revealed itself (again) as the fawning, uncritical lapdogs for the Obama presidency that they always have been—and still are.
The White House Correspondents' Association presented one of its most prestigious awards to CNN for the network's January 10, 2017 coverage about the classified briefing that top intelligence officials gave Obama and Donald Trump on the so-called Steele dossier. The segment featured Jake Tapper, Evan Perez, Jim Sciutto, and Carl Bernstein, and was accompanied by an article, "Intel chiefs presented Trump with claims of Russian efforts to compromise him." The quartet revealed details of the January 6, 2017 meeting between Trump and Obama's intelligence inner-circle—FBI Director James Comey, CIA Director John Brennan, DNI Director James Clapper, and NSA Director Admiral Mike Rogers—to discuss a two-page synopsis of the dossier attached to official IC assessment about Russian interference in the 2016 election.
Tapper went out of his way to offer as much dramatic flair to the story as he could. He admitted the dossier information, "has been floating around in Washington for a while, but something has changed here that has made this more credible." Claims about Steele's solid credibility were repeated several times; Perez admitted he knew the "FBI is investigating people who are perhaps surrogates for the Trump campaign and whether there was any effort to communicate with anyone associated with the Kremlin."
The coverage included many Fusion GPS talking points: The information proved that Russia wanted to help Trump and hurt Hillary Clinton; the dossier was originally funded by Republicans opposed to Trump; Senator John McCain (R-Ariz.) was so concerned about the dossier's contents that he handed it to the FBI in late 2016.
Thus was born the Trump-Russia collusion hoax.
But as we know now, and as The Federalist's Mollie Hemingway wrote last week, the whole thing was a set-up. We also know that Clapper was the leaker, and then lied to Congress about it. For that, he was given a job as a CNN analyst. And we know that Steele was far from a credible source; he was a paid political operative who was fired by the FBI before the election for lying about his contacts with the media, and top lawmakers have asked the Justice Department to investigate his actions.
The entire CNN story has fallen apart in an embarrassing way. The reporters, including Tapper, were snookered by Obama's intelligence apparatchiks who are still out to get the president. CNN deserves mockery, not praise.