Among Nevada likely primary voters, President Donald Trump holds a 30-point lead over Florida Governor Ron DeSantis. Trump leads DeSantis 52%-22% in the multi-candidate ballot, statistically the same as last month's poll.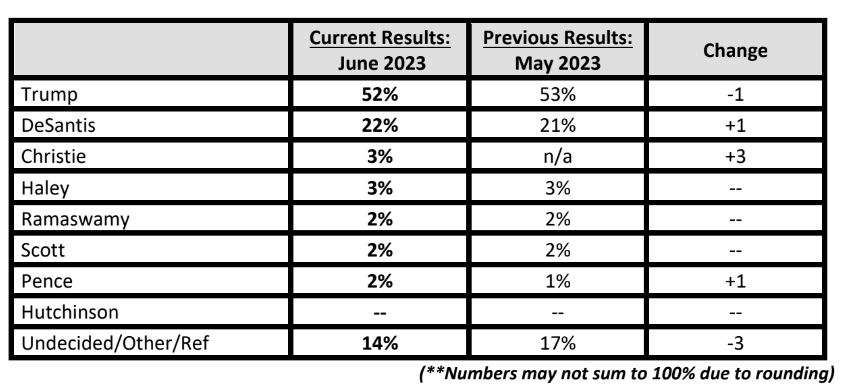 The other candidates trail far behind Trump and DeSantis with former New Jersey Governor Chris Christie and South Carolina Governor Nikki Haley tied for third at 3% each.
DeSantis continues to lose among voters who view him favorably. Half of the voters with a favorable impression of DeSantis choose Trump. In comparison, 19% of voters who view Trump favorably choose DeSantis.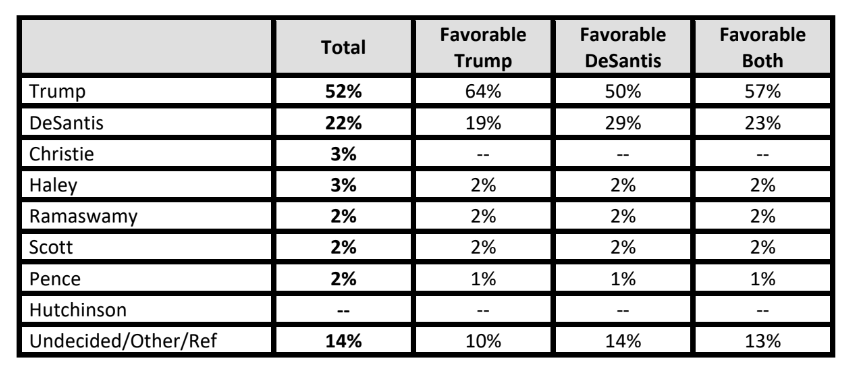 Voters prefer Trump over DeSantis to fix the economy, fight progressives in Washington D.C. and sharing the concerns that voters have.  Confidence in Trump's ability to beat Biden has increased over last month, up 5% points compared with DeSantis.
The following memo is based on a National Research Inc. survey of 500 likely Nevada Republican
Primary voters. The survey was conducted on June 26-28, 2023. The margin of error for this survey is +/- 4.38% at the 95% confidence interval. The survey was commissioned by American Greatness.