Record numbers of violent fugitives are confirmed to be among the surge of aliens entering the United States illegally. All the while, the Biden Administration steadfastly refuses to use existing federal programs that have already been funded by American taxpayers to track aliens and ensure they comply with mandatory immigration proceedings. Something has to change.
Last month, U.S. Immigrations and Customs Enforcement touted their success in arresting a Brazilian fugitive in Somerville, Massachusetts, who was convicted of murder, robbery, and aggravated assault in Brazil. The illegal alien, who was also an active member of Brazil's largest gang, Primeiro Comando da Capital, was initially apprehended and released by U.S. Border Patrol near San Luis, Arizona. To the surprise of no one, he did not disclose his conviction status to Border Patrol agents and was allowed to enter the county with little concern for his background.
Under the current failure-ridden Biden Administration policies, illegal immigrants who come to America are trusted to tell the truth about their criminal past before being released with essentially no monitoring. That means that more than a few wanted killers are likely part of the more than 2 million illegal aliens currently estimated to have crossed the southern border since Biden assumed office—and the situation is unlikely to improve any time soon. 
The administration insists it is vetting illegal immigrants at the border. But when that "vetting" amounts to simply asking a fugitive murderer if he has committed crimes in other countries, it's a farce. Additionally, these fugitives are given court dates—sometimes a year or more from their initial apprehension—to which they basically pinky promise to appear.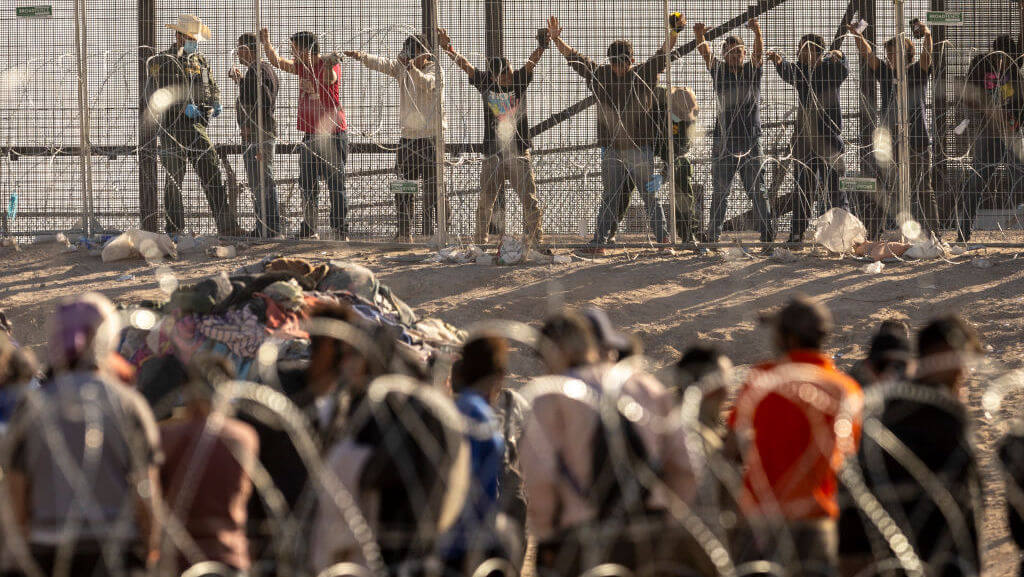 Imagine trusting murderers or criminals of any kind to tell the truth about their status and then expecting them to show up, on their word, before an immigration judge.
The story out of Somerville is just one of many confirmed stories of violent fugitives wandering freely in the United States thanks to the current administration's refusal to enforce the law. A little over a week ago, an illegal alien was arrested on suspicion of murdering a woman in El Paso, Texas. In response, the Border Patrol stated, "migrants with a criminal history or an active warrant will not be released after they're processed, and they're usually returned to their countries."
In this specific instance, Border Patrol officials claim they ran the man's name but found no prior criminal history—in America. The problem, obviously, is that Border Patrol officials do not have access to illegal immigrants' criminal histories in other countries.
The solution to this is as simple as you would think it would be—outside of shutting down our border, ICE and Border Patrol need to detain and monitor illegal immigrants to the extent that our country has the capability to do so. 
There are extensive detention facilities in our country that currently have thousands of beds sitting empty. How long would it take to work with countries throughout Central America and South America to locate information on immigrants as they enter our country? The answer is not long.
Countries will typically share information on fugitive migrants with violent criminal records either directly with the United States or with Interpol, so the data isn't that difficult to obtain. Detaining illegal immigrants for a week should give our law enforcement more than enough time to determine if they are wanted or convicted of violent crimes in another country. So why aren't we doing it?
On top of having the ability and resources to detain potentially violent fugitives, our country absolutely has the ability and technology to monitor where illegal immigrants are at all times. A massive infrastructure already exists through the federal government's Intensive Supervision Appearance Program (ISAP) to keep tabs on immigrants with monitors they are given upon entering the country. This shouldn't be an issue—this should be done as a matter of course to ensure aliens appear in court on the appointed day and time. But again, the Biden Administration isn't fully using these capabilities.
Our border is completely out of control, and our law enforcement officials on the border can only do so much when their hands are tied by the White House. But there is infrastructure in place that, if used, would make America safer. The very least we can do is keep convicted murderers out.
Our taxpayer dollars are supposed to help protect us. Shouldn't what we've already been paying for be put to good use?