CHATTAHOOCHEE NATIONAL FOREST (via Zoom)—It's seemed an endless stream of dreamless eves, fretting the existential question of whether Hollywood can save the world and turn a profit?
Today—well, OK, this afternoon—I awoke to hope.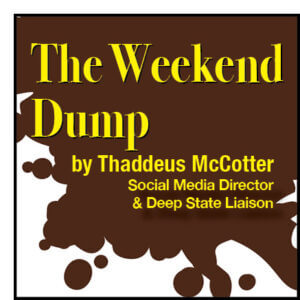 The science is settled: Start the Oscar watch!
"Cocaine Bear" has raised his bloody paw and growled from the depths of his human meat-bloated bowels, "Why not?"
To the uninitiated, "Cocaine Bear"—replete with children dropping F-bombs and the slimy veneer of Hollywood permissiveness and in-jokes about drug use—may appear as just another tawdry, tongue-in-cheek exploitation flick with a drug-addled ursine carnivore eviscerating a slew of luckless laggards to sate the low brow tastes of Philistine audiences.
As Dostoevsky would have noted if he were still alive and had written this script: "Haters gonna hate."
But to the enlightened mind, "Cocaine Bear" is a cinematic masterstroke, bringing to the world the underrepresented voices of bears, especially those struggling with substance abuse issues. Yet, more than merely an iconic imprint upon the mass pop consciousness, "Cocaine Bear" is a moment and a message; and the hope we—and our planet—need.
As reported by Valerie Edwards in the U.K.'s Daily Mail, "Cocaine Bear" is no screenwriter's flight of fancy. It is based on a true story, which makes it essentially a biopic, like "Rambo" but with fur. [Spoiler Alert! Maybe…?] 
Pablo EscoBEAR! . . . News of Elizabeth Banks directing a movie based on the true story of a bear that ate 70 pounds of cocaine dropped by drug smugglers three decades ago . . . Authorities said the duffel bag was part of a 300-pound shipment of Colombian cocaine that had been dropped out of a plane across eastern Tennessee and northern Georgia . . . 'It was an unusual case,' DEA agent Tony Acri said in a 1988 interview with the Associated Press.
"Unusual," indeed. To Banks' eternal credit, she has paid homage to the case's unusual nature and crafted a unique and necessarily subversive message—a climate change parable for deplorables.
The antihero protagonist, the bear, represents Goddess Gaia. Cocaine is humanity's carbon emissions and other environmental depredations. Poisoned by humanity's pollutants and capitalistic exploitations (the cocaine is part of a drug deal for profit), an injured Goddess Gaia unleashes the devastating effects of climate change. Mull the trailer's prescient forewarning about "Cocaine Bear": "Apex predator high on cocaine, out of his mind." Doesn't this equally apply to Goddess Gaia and explain her impending climate apocalypse?
Thus, the hope: The gore will attract the climate deniers, and, hope against hope, the allegory may sink into their thick skulls as deeply as Cocaine Bear's fangs delve into his bipedal prey. 
Since I cannot force you to see "Cocaine Bear" (yet, anyway), I am compelled to inform you that per the settled scientific consensus shaped at an alleged CDC sneak preview screening during Anthony Fauci's going away party: This movie will save lives! 
And because I can't entirely censor you (yet, anyway), I do hear the harmful and hurtful catcalls (I'm looking at you, Emina Melonic) that I need to watch more than merely "Cocaine Bear's" trailer before I can laud him as a champion of climate science and demand this educational film be shown in every preschool. Spare me. This accountability journalist isn't made of money (until Congress passes the Journalism Competition and Preservation Act). And, no, I don't need to watch the entirety of this resplendent artistic homage to the healing power of nature as it defends itself from environmental decimation by devouring a venal, craven human race.
You are the ones destroying the planet.
"Cocaine Bear," bon appetit!
© B.S. News 2022