Joe Biden has announced his pick for the U.S. Supreme Court, Judge Ketanji Brown Jackson, and has received widespread acclaim and praise for nominating the first African-American woman to the highest court of the land.
Few have mentioned that in 2005, then-Senator Joe Biden almost single-handedly destroyed the career and reputation of an accomplished, brilliant jurist who also happened to be an African-American woman. Judge Janice Rogers Brown was nominated by George W. Bush first to the D.C. Court of Appeals and was in line to be the first black woman nominated to the Supreme Court. Until Joe Biden intervened.
Biden and his Democratic friends in the Senate, including Dick Durbin (D-Ill.) and other current members, concocted a plan to stop any judicial nominee of color nominated by then President George W. Bush. First, it was Miguel Estrada, a Honduran American who was the first court of appeals nominee to be filibustered in the Senate.
Is that the same "Jim Crow filibuster" that Biden now wants to destroy in the United States Senate? 
Ironically, Judge Brown grew up in the Jim Crow South. The daughter of sharecroppers in the deep south of Alabama, Judge Brown attended segregated, blacks-only schools and had to deal with disgusting racist attitudes throughout her youth. She experienced the segregationist policies of Democrats like Alabama Governor George Wallace, who tried to prevent blacks from attending the University of Alabama during the height of the civil rights movement in 1962.
But, Judge Brown overcame these obstacles, excelling in school and attending law school at UCLA. She served on the California Supreme Court, winning the support and admiration of her colleagues on the California appellate courts with whom she served. The evidence of this was clear when she was reelected to the California Supreme Court with 76 percent of the vote. After being nominated to the D.C. Circuit Court of Appeals where she would have been in line for the next SCOTUS opening, Judge Brown was vilified and skewered by Joe Biden and the Left.
Wikipedia describes Biden's hand in preventing it in Judge Brown's bio: "Her 2005 nomination to the Supreme Court was prevented by Joe Biden, where she would have been the first black woman. He said the filibuster would be used if President Bush persisted."
At the time, there was a lot of talk about a collegial and smooth confirmation hearing. Senator Joe Biden made sure that didn't happen, going as far as to use parliamentary tactics to prevent the nomination of Janice Rogers Brown. In fact, only two Democratic Senators had the decency to meet with her, Zell Miller (D-Ga.), who later became a Republican, and Dianne Feinstein (D-Calif.), out of respect for a home state California Supreme Court Judge.
Judge Brown was right back where she started, facing racist attitudes but this time, shockingly, in the United States Senate. Clarence Thomas faced the same at his confirmation hearings in 1991. Over and over again, Democrats, who claim superiority of achieving diversity, don't want diversity at all if it comes from the other side of the aisle. Look at the disgusting caricature of Judge Brown and the distinguished black Americans: Thomas, former Chairman of the Joint Chiefs Colonel Colin Powell, and former Secretary of State Condoleezza Rice shown in a political cartoon from the time. The Washington Post should apologize today for the racist trope it promoted against Judge Brown.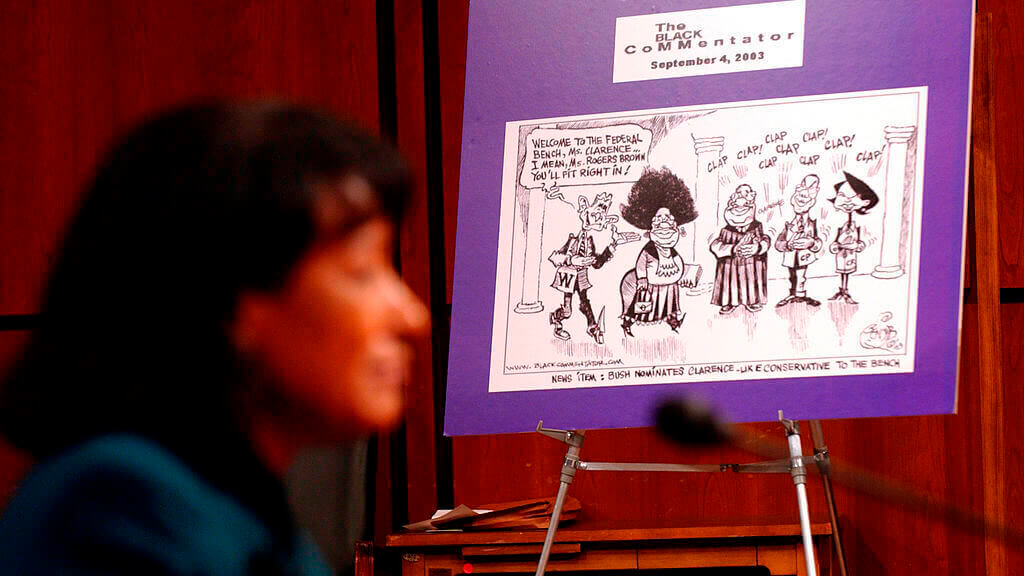 Democrats don't care about diversity at all. They don't want diversity of thought. They don't want people of color—like Estrada, Brown, and Thomas, who don't align with their radical left-wing political views—to excel and succeed.
I have been blessed over the years to host Judge Brown in my home and to get to know her and her now deceased husband Dewey Parker, a jazz musician. I can honestly say she is one of the brightest, most principled, and most inspiring women I have ever met. Her fidelity to the Constitution is indisputable. Now in retirement, the last time I saw her she was off to climb Mt. Kilimanjaro. She would have been a great Supreme Court Justice. Joe Biden made sure that didn't happen. His "commitment" to diversity is only lip service.