Something feels different now. 
A specter sprawls, transparent and gaping and immense, through everything. You can feel its chill, its hunger, its malevolent glee.
It is invisible, itself; but in flashes, you glimpse it in those rocks and shouts and curses, the shattered windows, the infinity of lies, the dimming consciousness, the murderous rage, the decline of everything.
No force combats it. That's the wonder. Nature beams as always, but it doesn't fight the specter. Nor do we. Nothing does. And so, it continues weakening and destroying everything we cherish most.
Something is missing within us. Some spirit animated our ancestors which we no longer possess. It drove and spurred them. It worked through their imperfections. As a result, they created what required creation, conserved what required conservation, and destroyed what required destruction.
They built great cathedrals and tiny chapels. They built mansions and log homes. They raised families and built towns, cities, states, and nations. They sang, danced, wrote, composed, farmed, forged, hammered, sawed, laughed, mourned, sacrificed, and overcame. They believed, and fought for what they believed. Above them all, a great God presided.
But that spirit is gone now. We are weak, and I'm not entirely sure why. The regime expresses open contempt for us, but we have no idea what to do, and likely wouldn't have enough courage to act even if we did. For the most part, we keep our heads low and our mouths shut. We accept what our ancestors never would have accepted.
Americans have now become the servants of a ruling class comprised of short-circuiting dementia patients, sociopathic former prosecutors, double-talking garden gnomes, "doctors" who think amputating their penises can transform them into women, obscure small-town mayors who skyrocket into presidential administrations because they're 1000 percent definitely not CIA stooges, and dozens of CEOs eager to begin subsuming their companies into America's new post-constitutional, faux-democratic, state-capitalist, media-controlling, CCP-style totalitarian regime, safeguarded by panoptical surveillance and a lawless federal police force which frames the innocent, protects the guilty, and (through proxies) punishes anti-regime "wrongthink."
And when I think about all this, my mind flies back to a different time and place: Lynden, Washington, 1980. Population 4,000. I was in middle school. Ronald Reagan had just been elected.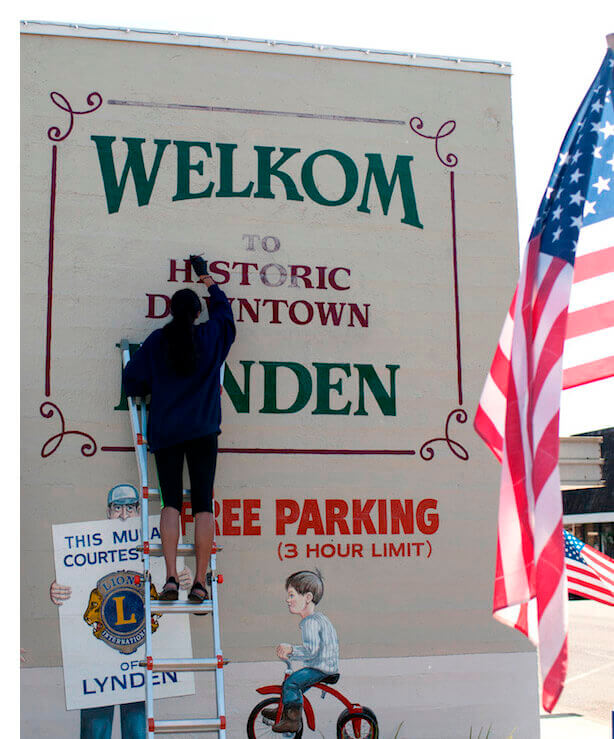 That America was not this America. Schools were different, families were different, men were different, women were different, laws were different, attitudes were different. I'm saying different; I mean better. Divorce was rare. Church attendance went without saying. Civic activities occurred all the time: fishing derbies, community Christmas caroling, parades, etc.
Of course, there was still plenty to complain about when it came to government, but nothing like today. Government back then didn't wildly inflate disease numbers, illegally place millions of Americans under house arrest for a year, or torpedo millions of livelihoods just because it could.
Kids still played outside, unsupervised, every day after school: baseball, Nerf football, kick the can, water fights, tree fort building, anything and everything anyone could come up with. Current practices like helicopter parenting, arranging "playdates," and forbidding kids to roughhouse on the grounds they might get hurt, had never occurred to most of our parents.
Maybe it's my imagination, but it seems like the Lynden of my youth was still coasting on that original Toquevillian spirit I mentioned. I haven't been back in a few years now, but maybe it still is.
But if it is, it must be in increasingly rare company. Seeing the changes over the past few decades during my travels has been tough. Once clean, thriving communities, often centered around one or two industries, have lapsed into seemingly terminal decline, sometimes just in the space of a few years. Drug addiction, deteriorating buildings, vandalism, jobs exported to Latin America or China: before Trump, few even mentioned that malaise, or tried to reverse it. Now that Trump's gone, the federal government seems intent on resuming its utter indifference to the welfare of America's working and middle classes.
Yes, something has gone wrong in the land of the free and the home of the brave. A lot is still going wrong. But maybe there's a way back.
For my money, the first three steps look like this:
1) Ensure election integrity at every level of government—from school board elections up to presidential elections.
Ensuring election integrity would entail, among many other things, eradication of vote-counting machines (since at best, voters don't trust them, and at worst, they are in fact manipulable); replacing the machines with hand vote-counting and verification, as is practiced in most other English-speaking countries; passing laws to require voter ID; and organizing election day poll-watching both by volunteers, law enforcement, and media;
2) Find a 2024 presidential candidate who will forge and run a top-level leadership team; seize control of the Republican Party; implement an economic nationalist program; directly recruit union members by exploiting the gap between rank-and-file members and their fat-cat union bosses; reject the corporate mega donor agenda; combine positive, effective communication and appropriate decorum with necessary power moves behind the scenes; and conduct a full inventory and purge of the vast federal bureaucracy, including the military.
For various reasons, that candidate can't be Donald Trump. Trump can be an ally to the nominee; he can't be that nominee himself.
At this point, Noem's taken herself out of the running after caving to the Chamber of Commerce on the transgender destruction of women's sports. That leaves Ron De Santis as the frontrunner.
3) Purge the Republican Party of its weasels. That means either primarying, or outrightly ejecting from the party, people like Asa Hutchinson, Mitt Romney, and Liz Cheney. They can still run for office, of course; they just won't be running as Republicans anymore. Along the way, the RNC should be aggressively recruiting top-notch potential candidates to run, instead of waiting around for opportunists to sign up.
Secure vote counting, draft De Santis, and whip Republican politicians into shape, and you've got a good thing going. Keep taking steps, and who knows—we might be looking at a President De Santis a few years from now, and an America back on track.
And if that happens, then surely there's a chance that something missing I began by mentioning—that fighting, driving spirit toward greatness, with all the clarity and courage it gives, and which seemed everywhere back when I was a kid—could come back again.
May it be so.