Imagine my surprise when I showed up to participate in my local Women's March, only to find the streets empty and a lone dog sniffing a trash canister. I expected hordes of women (and the men who stand behind them!), eager to make their opinions known to the world about how downtrodden we are today in America.
Perplexed, I checked the screenshot I had taken of the details. No, I was in the correct city. I was in the proper location. The time? I was a little early, but not too much.
I searched the internet and found out that the march had been canceled days ago. It never occurred to me that a march organized by women wouldn't run as scheduled. I was disappointed to say the least. I had planned it as an outing, traveling over an hour to get there. I was going to rub shoulders with other gals! I was going to find out what our problems are! I was going to sympathize, murmur sorrow at the sad state of affairs, and find out why, exactly, I should be so pissed off to be a female in America today.
This was to be the local chapter's third-annual march, so why on earth would it be canceled this year, amidst all the hype and promotion?
Here is the statement issued by the local leadership: "The impression of the national Women's March this year is that it is 'overwhelmingly white,' and that is not the impression or perception that needs to exist. To ensure that the women of ****** continue to grow stronger as a community, we believe it is important for us to support our friends, who because of various intersecting identities, do not feel represented by our march by taking a different direction this year."
The march was too white! Too white! Can you imagine, that in this day when many are so quick to shout "racism" that a march organized by women for the women would dare call out one race and tell them they were canceling it because there were too many of them? Scratch your head with me a moment and wonder at this.
Contradictions Aplenty
Curious and confused, I read more: "For a lot of women in our community, it set a standard for speaking up about convictions and not being ashamed. For other women in our community, especially Women of Color, this was not a new concept. Women of Color have historically shown up and spoken up when it comes to equality, resistance, and women's rights."
But . . .  but . . . the march was supposed to protest the election of 2016 and to solidify Women of Color. But they apparently don't want such a thing, or they don't want this thing, or there weren't enough of them to show up to march with others.
So this didn't seem like the root of the issue, then, or the folks with the problem would be doing something about it, particularly since they have "historically shown up and spoken up."
I decided to investigate further, as it seemed like I was missing the words behind the words. Maybe I should be upset, too, at being condescended to or mistreated or generally abused and I missed it somehow in my walk through life.
From the Women's March homepage, this is their stated purpose: "The 2017 Women's March inspired hundreds of women to run, millions more to vote, and dozens to win elected office. The 2019 Women's March marks two years of resistance to the Trump presidency, two years of training new activists, and two years of building power. And this time, we're coming back with an agenda."
A powerful statement, to be sure, but it lacked the reasons I was searching for.
Many Complaints, Little Focus
Still unsure of what the problems are, I referenced videos and newspaper articles from the past couple of years. What I gleaned from these sources is that women are honked off that Donald Trump sits behind the Resolute Desk, that women don't earn as much as their male counterparts, that Trump is president, that minority women don't have the same opportunities as white women, and, oh, yes, Trump won the election in 2016. I watched some woman declare herself a "nasty woman" and another overly Botoxed, aging pop star confess she thought often of "blowing up the White House."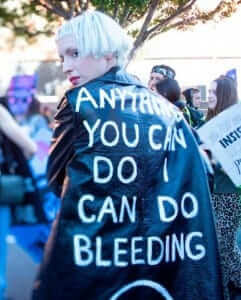 Well, that was a couple of years ago, so maybe the gals have found some more focus and reason since then? Since I couldn't participate in a mini march, I could watch the maxi. And, yes, we are still upset! Very upset! Now we're irritable about the potential wall dividing the United States from Mexico, white supremacy, and deportations. And we want to "defund hate."
We don't like rape, bigotry is bad, we hate genocide, we are really upset about Islamophobia. Fake news will ruin the country, healthcare is a mess, and political prisoners need to be freed. People need more compassion, there ought not to be a cap on refugees, and wars that are funded by our tax dollars are a bad thing (the alternative to that really leaves me wondering). Gender assumption is a sin that will send you to hell (am I the only one laughing at the irony of someone complaining of this at an event titled with an assumption?).
Goodness, now I was starting to get grouchy.
Toxic Feminists Have an Anti-Semitism Problem
Of course this year, the organization has been thrown into chaos as heavy hitters from the Democratic National Committee to the Southern Poverty Law Center have withdrawn support amidst charges of anti-Semitism. Two of the four national organizers, Linda Sarsour and Tamika Mallory, have denounced U.S. support for Israel and refused to denounce Louis Farrakhan, respectively. Teresa Shook, one of the movement's founders, claimed in a Facebook post that Sarsour and Mallory, along with the other organizers, had "steered the Movement away from its true course" and called for all four to step down. All denied the claim, but maybe a little too late, as an alternate march was planned to compete with the original.
As the organization devolves into chaos, lacking direction and focus in every aspect, it seems appropriate to ask more questions.
Could the fact that a bunch of hens are gathering in the Capitol and complaining loudly and contentiously about every single thing under the sun be leading to the demise of the Women's March? Could the #MeToo movement be gasping its last breaths? Could the lack of focus and reason be causing the whole body to die a natural death? One could only hope, as the fanatical, toxic feminists march for the third year in a row for reasons that are exceedingly unclear, except for their maniacal, inner need to topple Trump.
Go home, women. Go home and be good sisters, neighbors, employees, wives, girlfriends, and mothers. Figure out how to be kind to others, to spread love and patience, to work hard and play sweetly. Raise good children, donate some time to someone who might need it, look for ways to help others. For this march that you're participating in is not about women's rights at all. This is all a malevolent attempt to rid the Oval Office of its current resident.
Photo credits: John Lamparski/Getty Images (top); Valerie Macon/AFP/Getty Images (bottom)