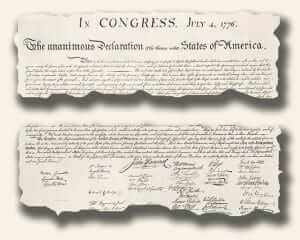 Democrats, looking to burnish their patriotic bona fides—a high priority for them, what with a new Gallup poll indicating only 32 percent of their flock are "extremely proud" to be Americans—are using the week's Independence Day festivities as a backdrop for displaying their revolutionary spirit.
Led by Schumer and Pelosi, affectionately known as Benedict and Arnold, Democrats are offering a new and improved Declaration of Independence. This one, they claim, will better reflect the sensibilities of the times. More relevant than the original, this new Declaration expresses the values and goals of the United States, as they see it, in 2018:  A government of the Democrats, by the Democrats, for the Democrats.
Here are some of the more important excerpts:
We hold these truths to be self-evident, that all species are created equal, that they have evolved with certain unalienable Rights, and with the Liberty to protect our beautiful and spacious skies and non-GMO amber waves of grain, purple mountain majesties above the local and sustainably farmed fruited plain. And endowed by womankind―it is her body, it is her choice―with Life to begin a Pursuit of Happiness, and to identify with a gender beyond what is assigned at birth.

That to secure these rights, a diverse government is instituted, reflecting, in a proportionate manner, the makeup of the people, with a minimum of white heterosexual males; deriving their just powers from career employees, public service unions, and judges appointed for life by Democratic Presidents.

That whenever any other Form of Government comes to power, often by an Undemocratic Electoral College, and becomes destructive of these ends, and refuses to abolish gun ownership, insists on having borders policed by family-separating deviants, and resists government control of health and education, and leaves the country vulnerable to catastrophic climate change, it is the Right of the People to #Resist, #Impeach, #Alter or #Abolish it, and to throw off such Government, so to provide a new Equality and Social Justice for future security.
Like the original, this Declaration is signed by those troubled with the status quo: a veritable Who's Who in the Democratic party.
So of course, Bernie Sanders was on hand, as was Elizabeth Warren, the Senator with Cherokee-envy, who used Indian war paint to sign her name.
Senator Kamala Harris, who with each day makes Californians long for Barbara Boxer, also jockeyed for recognition, and inserted an emoji alongside her name, reminding everyone of her one and only qualification for president: she's a "woman of color."
New York's Mayor Bill De Blasio, whose BFF's include numerous Sandinista terrorists, couldn't contain his enthusiasm, and with a nod and a wink, signed his name "Che."
Not to be undone, the Democrats' latest shooting star, Alexandria Ocasio-Cortez, used her own name, but her signature was very large and eye-catching. "Trump won't be able to miss it," she said. "Even without his glasses."
The assembled Democrats chuckled, and someone pointed out how clever of her to reference John Hancock.
Perplexed, Ocasio-Cortez asked. "Who? You mean the guy who sells insurance?"