On Tuesday, former President Donald Trump was indicted on four counts related to the Special Counsel investigation into Jan. 6: Conspiracy to Defraud the United States, Conspiracy to Obstruct an Official Proceeding, Obstruction, and Attempt to Obstruct an Official Proceeding, and Conspiracy Against Rights.
The 45-page federal indictment, filed in the United States District Court For the District of Columbia, begins by alleging that despite losing the rigged 2020 election, Trump "spread lies" for two months that there had been "outcome-determinative fraud in the election and that he had actually won."
"These claims were false and the defendant knew they were false," the indictment continues.
Special Counsel Jack Smith accused Trump of pursuing unlawful means to discount legitimate votes, perpetrating three criminal conspiracies in doing so.
The indictment also lists six unnamed and unindicted co-conspirators.
"The Defendant and co-conspirators used knowingly false claims of election fraud to get state legislators and election officials to subvert the legitimate election results and change electoral votes for the Defendant's opponent, Joseph R. Biden, Jr., to electoral votes for the Defendant," the indictment says.
The federal grand jury investigating election interference convened earlier Tuesday in Washington D.C., leading to speculation that the indictment was coming, Fox news reported.
Just before 4:45 p.m., Trump posted on Truth Social that another indictment against him was imminent.
"I hear that Deranged Jack Smith, in order to interfere with the Presidential Election of 2024, will be putting out yet another Fake Indictment of your favorite President, me, at 5:00 P.M. Why didn't they do this 2.5 years ago? Why did they wait so long? Because they wanted to put it right in the middle of my campaign. Prosecutorial Misconduct!" he wrote. "Also, why are they putting out another Fake Indictment the day after the Crooked Joe Biden SCANDAL, one of the biggest in American history, broke out in the Halls of Congress??? A Nation In Decline!," Trump added.
According to Fox, an indictment today was not expected by Trump and his legal team.
Trump's legal team met with Special Counsel Jack Smith and his team in Washington D.C. last week. Sources told Fox News that Trump's legal team was not given any specific timing about a possible indictment, but that they heard nothing suggesting an indictment would not happen at some point.
After the meeting ended last Thursday, Trump posted on Truth Social:
"My attorneys had a productive meeting with the DOJ this morning, explaining in detail that I did nothing wrong, was advised by many lawyers, and that an Indictment of me would only further destroy our Country," Trump wrote. "No indication of notice was given during the meeting — Do not trust the Fake News on anything!"
The former president announced on July 18 that he had received a target letter from the Justice Department, which also asked that he report to the federal grand jury. Trump said he anticipated "an arrest and indictment."
"They're in a rush because they want to interfere. It's interference with the election — it's election interference," Trump said during a town hall on Fox News with Sean Hannity. "Never been done like this in the history of our country, and it is a disgrace what's happening to our country — whether it is the borders or the elections or kinds of things like this, where the DOJ has become a weapon for the Democrats."
Today's federal indictment is Trump's third indictment this year.
He was first indicted in April on 34 counts by Manhattan District Attorney Alvin Bragg for allegedly falsifying business records.
The second indictment in June related to Trump's retention of classified documents after his presidency. The former president faces 37 counts of mishandling classified documents in that case.
A state grand jury in Fulton County, Ga., is also considering whether to file charges against Trump and his lawyers, and aides over their efforts to expose the fraud in the 2020 election. A decision on that front is expected soon. Additionally, Michigan and Arizona are investigating aspects of Trump's efforts to uncover the election fraud in their states.
Smith delivered a brief statement on the new indictment.
"The attack on our nation's Capitol on January 6, 2021 was an unprecedented assault on the seat of American Democracy," the Special Counsel declared. "As described in the indictment, it was fueled by lies—lies by the defendant targeted at obstructing a bedrock function of the U.S. government, the nation's process of collecting, counting, and certifying the results of the presidential election."
During the Obama years, Smith prosecuted former Virginia Republican Gov. Robert McDonnell for violating federal bribery law only to see his conviction unanimously overturned later on by the U.S. Supreme Court.
"It's official," wrote lawyer and conservative talk show host Mark Levin on X (formerly Twitter). "Unelected reckless prosecutors and unelected Democrat DC grand jurors are trying to decide the presidential election. Democrat DAs and the earlier indictment, same thing. Talk about attempting to deny voters the right to choose the next president — that IS what this is all about."
It's official. Unelected reckless prosecutors and unelected Democrat DC grand jurors are trying to decide the presidential election. Democrat DAs and the earlier indictment, same thing. Talk about attempting to deny voters the right to choose the next president — that IS what…

— Mark R. Levin (@marklevinshow) August 1, 2023
In a campaign statement, Trump called the latest charges "nothing more than the latest corrupt chapter in the continued pathetic attempt by the Biden Crime Family and their weaponized Department of Justice to interfere with the 2024 Presidential election, in which President Trump is the undisputed frontrunner, and leading by substantial margins."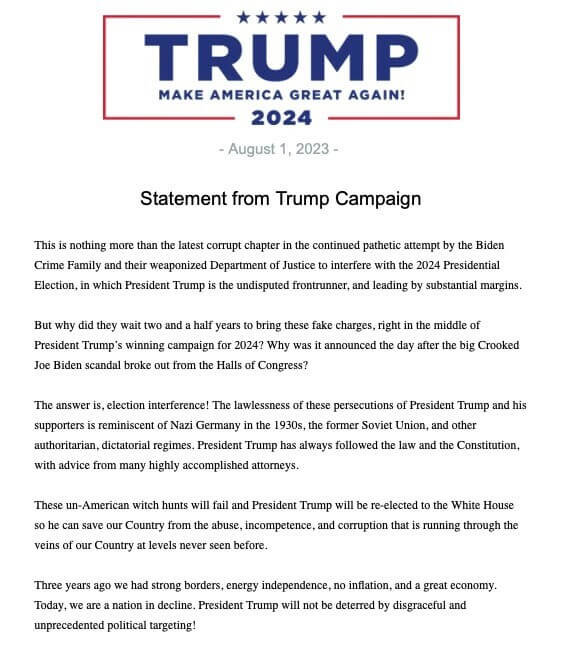 Trump is expected to be arraigned at the D.C. district court on Thursday, Aug. 3 before Magistrate Judge Moxila A. Upadhyaya.