In a communication to a Chinese business associate in 2017, Hunter Biden pitched his family's influence-peddling operation as "the best" choice for doing "exactly" what the Chinese Communist Party-linked Energy Company wanted. The Republican-controlled House Oversight Committee released the newly uncovered WhatsApp exchange onto Twitter Tuesday.
In the 8/3/2017 exchange, Hunter Biden told Gongwen (Kevin) Dong, an associate with the now defunct Chinese energy company CEFC, that "the Biden's[sic] are the best I know at doing exactly what the Chairman wants from this [partnership]."

The very next day, one of Hunter's shell companies, OWASCO PC, received $100,000 from CEFC, the Oversight Committee revealed.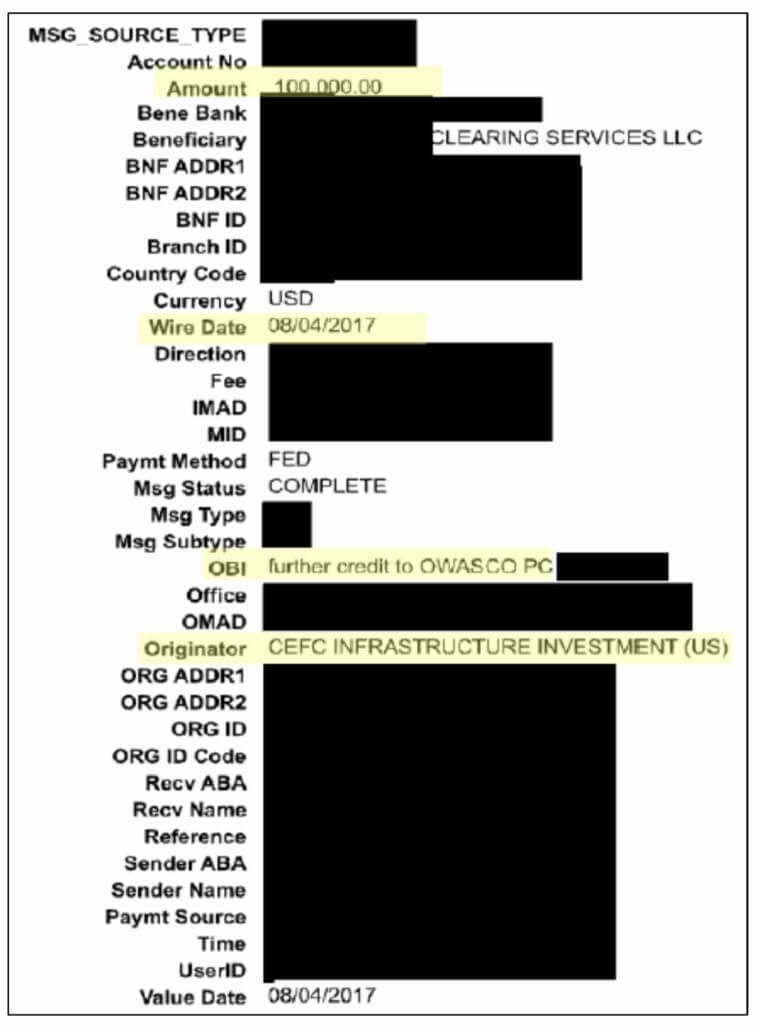 The Chairman of CEFC at the time was Ye Jianming, a Chinese billionaire who is also tied to a CCP-intelligence gathering agency. Jianming was detained and placed under investigation in China in March 2018 on suspicion of economic crimes, including alleged fraud and bribery. He hasn't been seen in public since.
According to the Oversight Committee, Ye's stated goal for the CCP-linked company was "to obtain overseas resources and serve the national strategy"  and he reached out to the Bidens to help him "expand China's reach and influence around the world."
Dr. Gal Luff, the Israeli whistleblower who went missing in Cyprus after claiming the Biden administration was out to "bury" him, reportedly worked with CEFC-USA—the nonprofit arm of the Chinese energy conglomerate CEFC China—between 2015 and 2018, the same period CEFC-China began its influence operations with the Biden family.
Luft reportedly organized conferences in the United States, Hong Kong and China and developed close personal ties with several CEFC-USA senior officials, including Jianming and his deputy Patrick Ho. Jianming and Ho reportedly began their outreach to the Bidens in 2015, while Joe Biden was serving as vice president.
In March 2019, Luft met with four FBI officials and two DOJ prosecutors at the US Embassy in Brussels to provide information that CEFC had paid $100,000 a month to Hunter Biden and $65,000 to his uncle Jim, in exchange for their FBI connections and use of the Biden name to promote China's Belt and Road Initiative around the world.
Luft, who had a business relationship with a nonprofit think tank associated with CEFC, also told the FBI that Hunter had an FBI mole named "One Eye" who had tipped off his CEFC business partners Patrick Ho and Ye Jianming that they were under investigation; he said CEFC officials and one other person had been named in a sealed indictment.
Soon after the tip-off, Ye reportedly offered Hunter $1 million to be his "private counsel" and flew to China, leaving his wife, daughter, son, mother and nanny in his $50 million Central Park West penthouse.
He was detained in Shanghai three months later and disappeared. Ho told Luft that Hunter and Jim Biden flew to Hong Kong in the fall of 2017 to meet him.
"They were behaving very suspiciously and changing phones," according to the whistleblower. "Ye said send a million dollars and those guys will take care of you."
Luft was preparing to testify about the Biden family's shady international business exploits to Congress in February when the Biden Department of Justice had him arrested in Cyprus on multiple charges, including international weapon trafficking charges.
The whistleblower vanished in April while on bail awaiting extradition to the US on seven charges.
According to the New York Post's Miranda Devine, Luft "is alive and living as a fugitive in an undisclosed location."
"As more facts come to light, it becomes even more evident that the Bidens put China and their interests first and America last," the House Oversight Committee tweeted.