Joe Biden has tapped an avid COVID lockdown and child masking advocate to become the next director of the Centers for Disease Control and Prevention (CDC).
Mandy Cohen, the former head of the North Carolina Department of Health and Human Services, will reportedly replace current CDC director Rochelle Walensky, when she steps down  on June 30.
Cohen is "a three-time Ivy League graduate," according to Axios, and "was the face of Gov. Roy Cooper's administration's response to the COVID-19 pandemic, leading more than 100 press conferences to guide the state through weekly updates on the virus."
In a speech last month, Cohen took credit for increasing public confidence in the state's health information and services. "Trust was not built at the national level, but I know trust was built in North Carolina," she said. It's not clear, however, that her performance as N.C.'s HHS chief actually increased public confidence in the state's public health system.
In March of 2021, Cohen was asked how decisions were made to lift the unprecedented restrictions. Cohen told the interviewer that her "scientific team" made the determinations on which venues would be allowed to reopen based on CDC recommendations and their understanding of how the virus spreads. She also strongly recommended that people continued wear masks and stay six feet apart while out in public.
In an interview about a year later, however, Cohen was less reserved when explainng how she made her public health decisions.  Cohen recalled talking to her counterpart in Massachusetts about allowing the public to attend football games. "She was like, are you gonna let them have professional football? And I was like, no. And she's like, OK neither are we."
Regarding her decision to finally lift the state's mask mandate, she said: "I would be like, 'when are you gonna think about lightening up on masks, and they're like next Monday. And I'm like 'okay, next Monday!'"
When asked how she made decisions about which venues were allowed to open in March 2021, Cohen claimed they resulted from her "scientific team" reviewing the data. A year later she admitted she would just call her friends in other states and do whatever they were doing. pic.twitter.com/T2NGERsaOM

— Laura Powell (@LauraPowellEsq) June 2, 2023
In June of 2021, Cohen falsely claimed that the COVID shots prevented recipients from getting or transmitting COVID-19, according to "definitive" CDC data.
"Everyone makes mistakes, but failing to acknowledge colossal ones like this is disqualifying," tweeted Laura Powell, a lawyer with the nonpartisan group, Californians for Good Governance.
Mandy Cohen, Biden's pick for new CDC Director in June 2021 discussing the "definitive data" from CDC showing vaccines prevent you from getting or transmitting Covid.

Everyone makes mistakes, but failing to acknowledge colossal ones like this is disqualifying. pic.twitter.com/KDrRrTpdQJ

— Laura Powell (@LauraPowellEsq) June 1, 2023
In June of 2021, Cohen said North Carolina would require face masks be worn in schools because most students were unvaccinated. A month later, she said schools would impose mask mandates for all schoolchildren (K-12) regardless of vaccine status.
Schools with students in K-8th grade should require all children and staff to wear masks indoors, regardless of vaccination status. Schools with students in 9th-12th grades should ensure that anyone who isn't fully vaccinated, including students, wear a mask indoors.

— Mandy Cohen (@DrMandyCohen) July 26, 2021
As it is with the mRNA injections, it is clear that the risks associated with masks-wearing far outweighed the benefits.
Studies of CSC data show "no significant differences were found in COVID-19 case growth between states with or without mask mandates, during periods of low or high transmission," Children's Health Defense reported. And multiple risks have been associated with prolonged mask usage, including psychological harm to children, delayed speech development, bacterial infections, long COVID, and even an increase in COVID-19 deaths.
Other reported adverse effects include:
• Increase in headaches and sweating
• Association with medical errors.
• Obscured nonverbal communication.
• Removal of visual cues, which is detrimental to people with hearing loss.
• Decreased cognitive precision.
• Interference with social learning in children.
• Distorted verbal speech.
In a letter to the Union County School Board , dated Wednesday, September 15, 2021,  Cohen threatened legal action against the school district if the board did not follow her contact tracing and quarantine protocols.
"I respectfully request that you rescind the motion passed by the Union County School Board on September 13, 2021. I urge the Union County Public Schools to adopt all of the recommendations in the Toolkit and, at the very least, to reimpose the requirements to cooperate with local public health officials in identifying individuals exposed to COVID-19 as well as exclude students subject to isolation and quarantine measures described in the Toolkit no later 5:00 pm Friday, September 17, 2021. If Union County public schools do not take such steps by September 17th, legal action may be required to protect the public's health," Cohen wrote at the end of the letter.
Cohen left NCDHHS in late 2021. As the next CDC director, she "will face the enormous task of reforming the department so it can more adequately respond to the next pandemic," and will also "be responsible for communicating the latest science to Americans at a moment when trust in government is declining," Axios wrote.
In August of 2020, Cohen shared on social media a photo of herself sporting a cloth mask embroidered with a portrait of Anthony Fauci, former director of the National Institute of Allergy and Infectious Diseases (NIAID). "Face coverings are one of our strongest tools to slow the spread of #COVID19 in our communities," she wrote. "And I like my Dr. Fauci mask, they can be fun too!"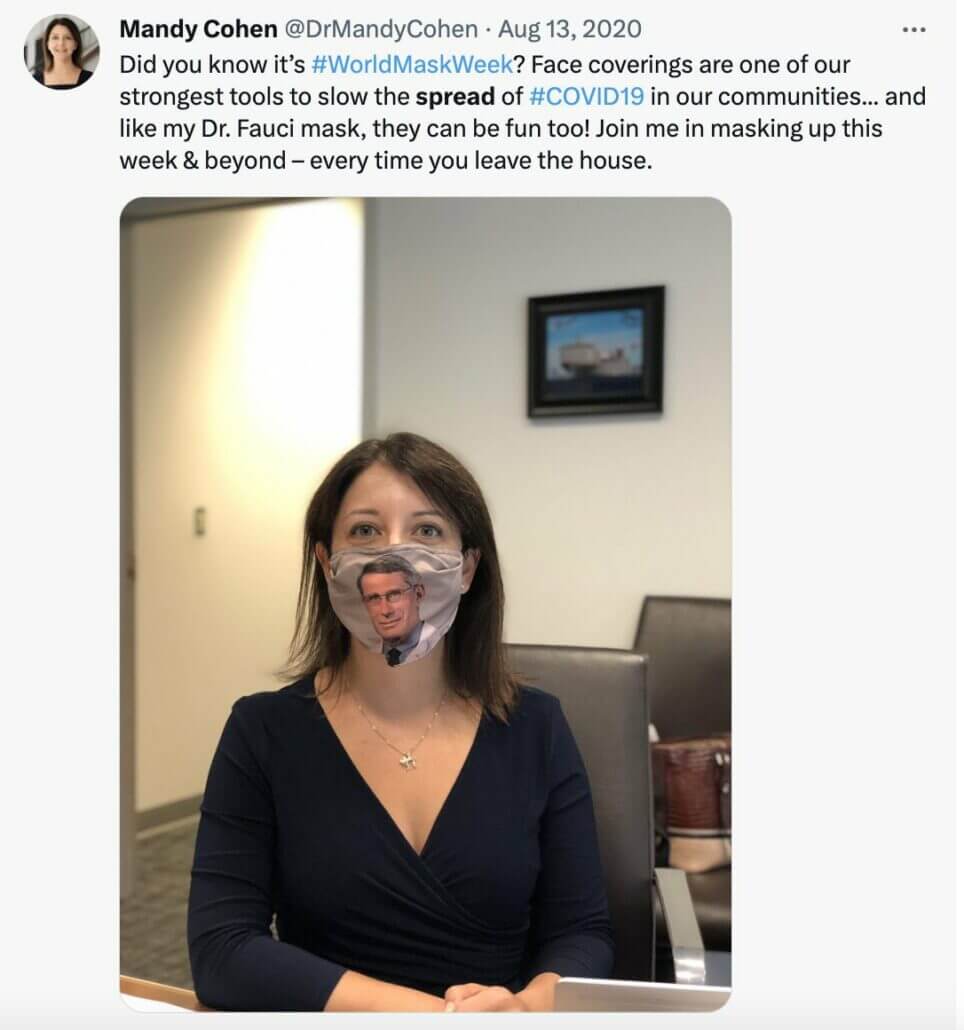 In April of 2020, Dr. Anthony Fauci, then-director of the National Institute of Allergy and Infectious Diseases (NIAID), was riding high in the polls with the highest approval rating among public officials for his handling of the response to the coronavirus. By October of that same year, however, the majority of Americans said he had "lost credibility" and wanted him to step down from his post.
Biden is expected to formally announce his selection of Cohen as his CDC director later this month.