Target has reportedly lost $9 billion in market value since its 2023 "PRIDE" collection featuring LGBTQ-friendly products for children and babies sparked a backlash on social media.
On May 17, Target's stock closed at $160.96 a share, giving the Minneapolis-based retailer a market cap of $74.3 billion, the New York Post reported.
As of early trading on Thursday, however, shares of the company were trading off 1% at $141.76 — capping a weeklong tumble that has shrunk the "cheap chic" discount retailer's value to $65.3 billion. That amounts to a 12% drop that has shaved a whopping $9 billion off the company's market capitalization.
Shares had slipped into the 130s—139.34— by press time.
Bud Light has seen sales plummet for the past six weeks, since its ill-fated marketing campaign with transgender social media influencer Dylan Mulvaney.
American Greatness visited a Target in a Kansas City suburb, and found its PRIDE display right in the front of the store, complete with LGBTQ+-friendly onesies for infants, tuck-friendly bathing suits, and an LGBTQ+ coloring book for kids.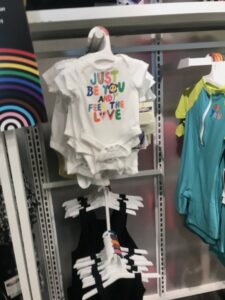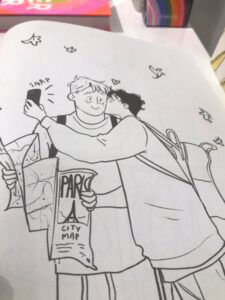 Target treats PRIDE month like a major holiday, offering gay pride greeting cards, as well as gingerbread house and cookie decorating kits.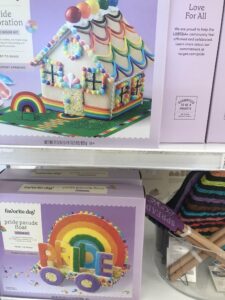 "Queer Joy!" one of the greeting cards proclaims.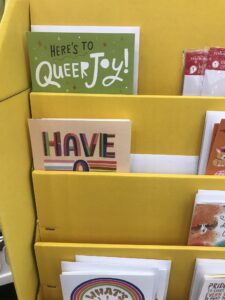 The store was even selling "Queer Tarot Cards" in the toy section next to the LQBTQ coloring books. Target also hawked a "Kidd Kenn doll,"  based on a homosexual, cross-dressing rapper.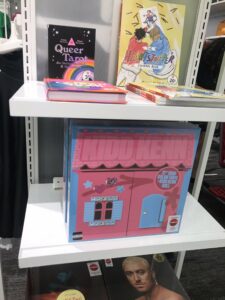 Target's partnership with Trans-Satanist designer Abprallen, a London-based clothing and accessories company run by Erik Carnell, has further inflamed conservative shoppers.  Abprallen's designs features occult imagery and messages like "Satan respects pronouns" and "Burn down the cis-tem" on its merchandise.
Earlier this week, Target reportedly removed some of the products from its Pride collection, and in some areas, moved their LGBTQ+ "PRIDE" display to the back of the store. The company said in a statement that those actions were taken to keep their employees safe from "confrontational" customers.
"For more than a decade, Target has offered an assortment of products aimed at celebrating Pride Month," a Target spokesperson told Fox News Digital. "Since introducing this year's collection, we've experienced threats impacting our team members' sense of safety and well-being while at work. Given these volatile circumstances, we are making adjustments to our plans, including removing items that have been at the center of the most significant confrontational behavior. Our focus now is on moving forward with our continuing commitment to the LGBTQIA+ community and standing with them as we celebrate Pride Month and throughout the year."
Last week, Target CEO Brian Cornell dismissed the growing backlash to "woke" capitalism, saying that marketing LGBTQ+ products is good for business and "the right thing for society."
"I think those are just good business decisions, and it's the right thing for society, and it's the great thing for our brand," Cornell said during an appearance on Fortune's "Leadership Next" podcast.
The retail giant claims that customers are knocking down Pride displays at some stores, angrily confronting employees, and posting "threatening videos on social media from inside the stores."
Target declined to specify Wednesday which items it was removing but among the ones that garnered the most attention were "tuck friendly" women's swimsuits that allow trans women who have not had gender-affirming operations to conceal their private parts.
Conservative comedian and provocateur Alex Stein 99 filmed himself modeling one of Target's "tuck-friendly" bathing suits after trying it on in the store's dressing room.
"I love the tuck-friendly bathing suit, it hides all of it!" gushed Stein to the female employees working outside the dressing room.