Jerry Springer shuffled off his mortal coil on Thursday. We should all throw a chair in his honor. 
Springer was a protean figure. Among other things, he was a lawyer, a candidate for Congress at the age of 25, an army reservist, an advisor to Robert F. Kennedy, and even was once mayor of Cincinnati.
Most importantly and most memorably, of course, Jerry Springer was the host of "The Jerry Springer Show." 
"The Jerry Springer Show" was produced for 27 years in various venues, including the NBC Tower in Chicago, Times Square, and, for almost a decade, the Stamford Center for the Arts in Stamford, Connecticut. At the height of its reign in 1998, "The Jerry Springer Show" was bigger than "The Oprah Winfrey Show," boasting 12 million viewers. He was bigger even than Tucker Carlson.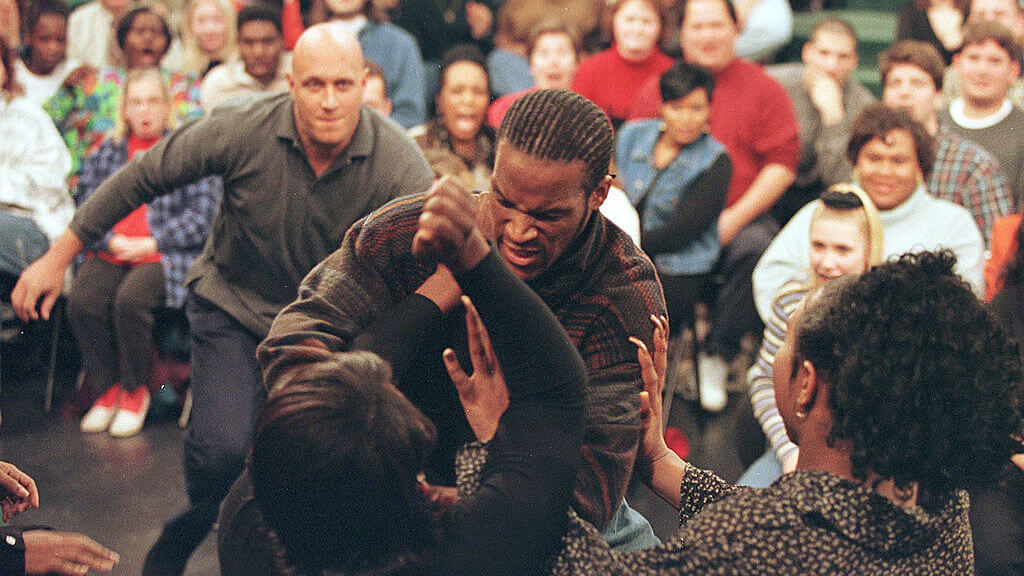 Springer's program, for those who don't know, was a salacious talk show, which brought guests together for discussions about their real or purported experiences with incest, adultery, trespasses, thievery, ungovernability, truancy, slovenliness, scheming, diablerie, exhibitionism, peccancy, incorrigibility, and practiced unwholesomeness. As if such topics were not titillating enough, episodes of "The Jerry Springer Show" often tipped into profanity, nudity, and fistfights.
Jerry Springer may not have been a great man, but he was, in a way, a great American.
Springer was among the very best in a field of exceptionally skilled celebrity con artists. Springer is a stock character on the American scene.
The inventor of the American language, Mark Twain, populated his stories with such characters. The most memorable of these are the fraudsters who Jim and Huck meet as they make their way to freedom on the way up the Mississippi River to Cairo, Illinois.
'Bilgewater, I am the late Dauphin!' You bet you, Jim and me stared this time. Then the duke says: 'You are what?' 'Yes, my friend, it is too true your eyes is lookin' at this very moment on the pore disappeared Dauphin, Loy the Seventeen, son of Looy the Sixteen and Marry Antonette.'
America has no class of nobility, by design of course. Having expelled the king of England from our portion of America, we cast out all the minor princes that go along with royalty. For good measure, the Constitution banned the granting of titles of nobility, should anyone get ideas.
If there ever has been a classless society, it is America. Springer's show had no class, in every sense of the word. Watching "The Jerry Springer Show" you would learn nothing. Nor would you be elevated in any way . . . except in endorphins from laughing, and cringing, and laughing, and cringing, like a redlined two cylinder combustion engine.
The absence of a nobility makes the idea of it at once alien and utterly fascinating. Every respectable con man finds out what fascinates his mark and then exploits it until it is monetized to exhaustion. A mark may fetishize games of chance or the safety of affinity with people similar to himself. But above all, in America, people are fascinated by aspirations to an unattainable nobility, and in its unattainability they are likewise fascinated with its opposite, a very attainable ignobility. 
There is no similar stock character in Europe. There's Til Eulenspiegel, Shakespeare's Puck and Shakespeare's Falstaff. They are impish and poseurs. But none of them are the American fraudster with his penchant for twisting the ignorance of his audience into submission to a fabulist's account of the distinction between being well born and being ordinary. Fake nobility and ignobility are very different in a place where there are no actual nobles.
As the Waco Kid said in "Blazing Saddles," "You've got to remember, these are simple farmers. These are people of the land. The common clay of the new West. You know . . . morons."
Jerry Springer filled his audience and his stage with morons. And it was awesome. 
Jer-ry! Jer-ry! Jer-ry!
So Jerry Springer has taken his final bow. Let's remember him as an important feature of the American landscape. If not a Mount McKinley, then at least a Grand Teton.