The coronation of King Charles III is set to occur at Westminster Abbey in London on May 6. Like the coronation of his mother Queen Elizabeth II in 1953, it will be a state occasion attended by monarchs, world leaders, and guests from around Great Britain and the world to witness what will be the first coronation of a British sovereign in 70 years.
No American president has ever attended a British coronation, which seems right and proper. Celebrating the installation of an English monarch would be more than a little awkward after the American Revolution, the War of 1812 and all that. But in recognition of the "special relationship" that exists between the two countries, American presidents have sent delegations to represent them at the coronation. President Eisenhower named four members of the Special Delegation to the Coronation of Queen Elizabeth II: George Marshall, Omar N. Bradley, Earl Warren, and Fleur F. Cowles, each designated with the rank of "special ambassador." A couple of five-star generals, a Supreme Court chief justice, and an iconic journalist, author, artist, and fashionista. Not too shabby.
And who do we get? Jill Biden. And mark my words: Jill Biden on the world stage is going to embarrass us once again.
As if having Joe Biden as our elected leader wasn't already embarrassing enough. The last time Joe went to Great Britain for the U.N. Climate Change Conference in Glasgow, he broke wind in front of Camilla, the duchess of Cornwall, who will be installed as queen consort, as they made polite small talk. According to the Daily Mail, it was "long and loud and impossible to ignore," an informed source said. "Camilla hasn't stopped talking about it." When he met with the late queen, he broke protocol first by failing to remove his much-loved signature Aviator sunglasses and second by revealing the details of their conversation, a major breach of royal etiquette. 
And then there's his penchant for bragging about his Irish roots and revealing how much his mother hated the queen. Biden has publicly recalled how his mother, Catherine Finnegan, so disliked England that she chose to sleep on the floor rather than in a bed in a hotel where, she was told, the queen had once stayed. Probably should have kept that little anecdote to himself, but that's not Old Joe.
As for Dr. Jill, she is a serial violator of protocol, too. She and Joe arrived 30 minutes late for Queen Elizabeth II's funeral. This was an event that had been rehearsed for years and was choreographed down to the minute, but the president and first lady did not arrive in the requested window of time. Whether it was because of a last-minute diaper change or London traffic, it was inexcusable. As a result, they were told to stand and wait at the entrance of the abbey, making awkward small talk as a procession of George and Victoria Cross-holders went ahead of them down the nave. They were eventually ushered to seats 14 rows back behind the president of Poland and next to the prime minister of the Czech Republic.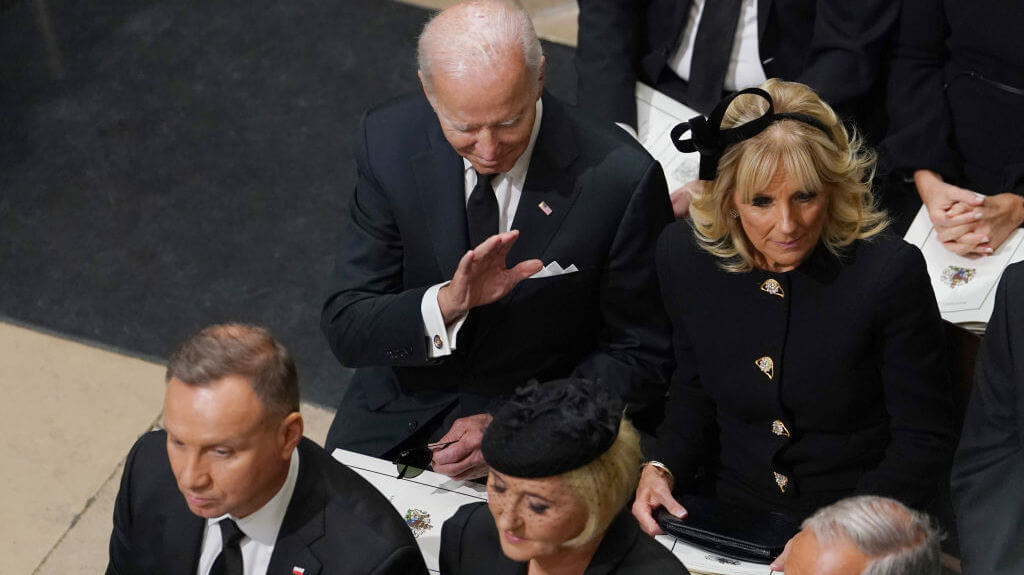 And then there's that tacky black velvet hair bow "fascinator" thing Jill wore. It is difficult for Americans to comprehend what a breach of etiquette that ridiculous ill-considered floppy little headband represented. According to protocol, royal women are expected to wear hats at all royal formal events. It's considered improper for royal women and upper-class ladies to show their hair in public. According to famed milliner Philip Treacy, "England is the home of the hat. Hats are part of the social fabric of special occasions in British society." 
A fascinator, in contrast, is less formal than a hat, more youthful and frivolous, a caprice, a deliberate thumbing of one's nose at tradition. Fascinators are worn at joyous events, such as weddings, but not at a somber event like a funeral where the more accepted etiquette would be to wear a hat as a sign of respect. 
At Royal Ascot, the horseracing world's most prestigious event, the dress code was revised in 2012 to ban fascinators from the Royal Enclosure. They're seen on the same sartorial level as miniskirts and spaghetti straps. Not our class, dear.
That sad little fascinator was shockingly out of place at a formal occasion such as the state funeral of a reigning monarch. Leave it to Dr. Jill either to flout or to be completely in ignorance of the rules of protocol. Are there a lot of onerous rules at these royal events? Yes—even the queen had 12 dressers to help with her wardrobe. 
Does the question of what kind of head covering one wears to different events seem silly to us Americans? Yes, but rules of propriety in all things, including wardrobe, and the intentions they convey are important in diplomacy. Queen Elizabeth was known for her careful wardrobe choices and her concern for the messages they sent. From her choices of fabric and color, to wearing a dress embroidered with a host country's flowers, the Queen's wardrobe was a central part of representing Britain overseas.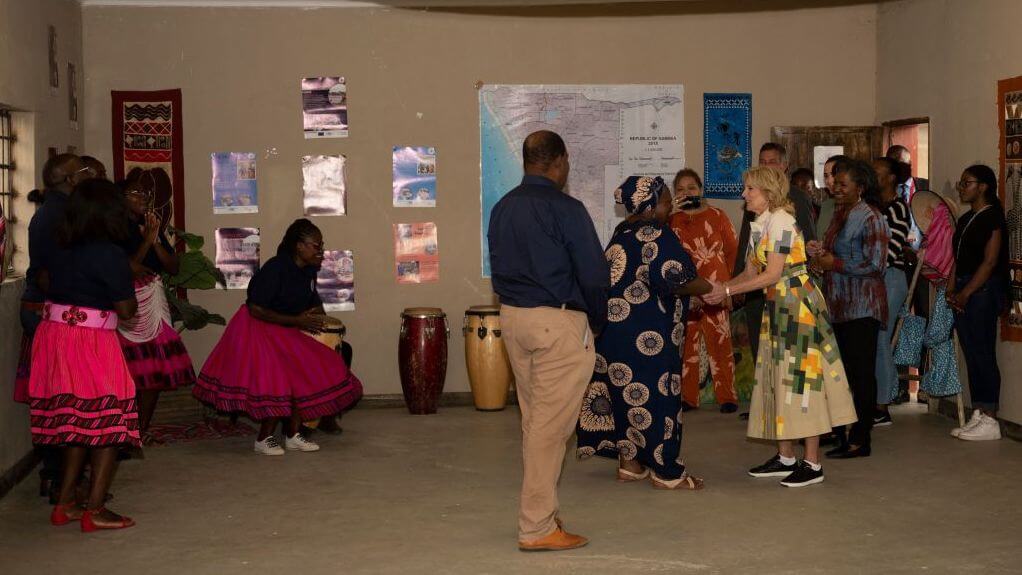 Our first lady is not a queen, but she nevertheless represents the United States of America and what she wears abroad matters. Anyone who has been paying attention to the first lady's fashion choices over the past two years is right to be apprehensive. Will she be decked out in another lumpy sofa patterned floral, something too shiny and sequined, her pixelated "Minecraft" dress with sneakers, or patterned hooker tights? Jill has proudly stated she does not work with a stylist ("it's all her"), which means she will doubtless bring her very own Scranton Chic ™️ style to the coronation. But on behalf of the country she will represent, I'm begging her: seek professional help.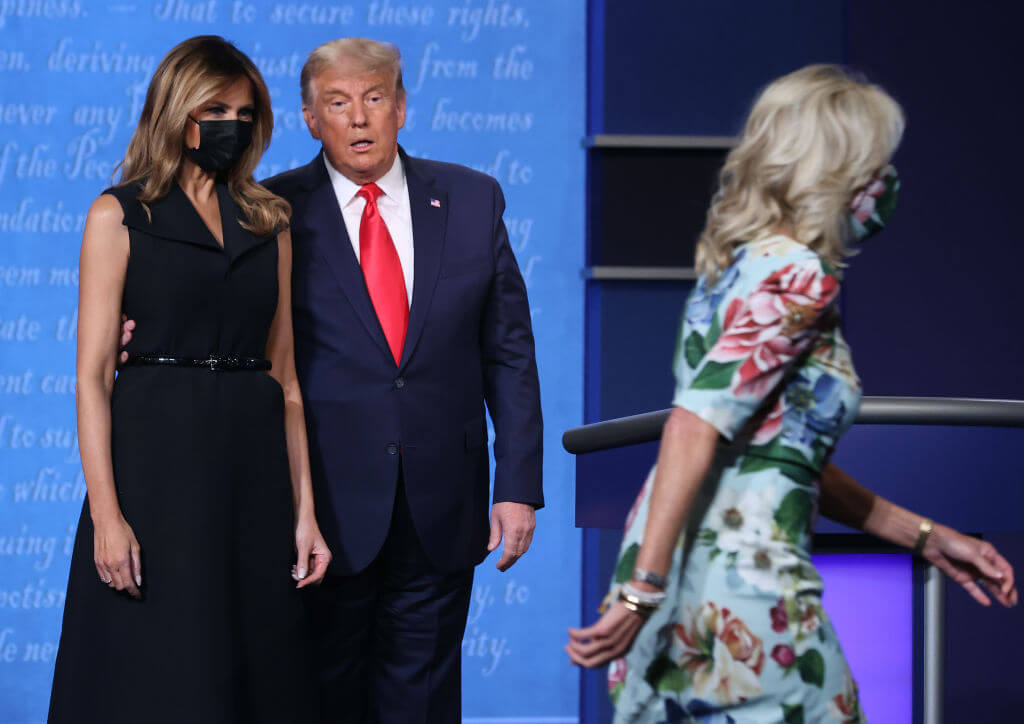 The staff of the State Department Office of Protocol exists to advise. Or perhaps Anna Wintour, who was happy to put her on the cover of Vogue, or any number of the fashion designers who refused to dress First Lady Melania Trump would be willing to provide Dr. Jill with something appropriate and stylish. A tasteful day suit in pale lilac or dove grey, for example. And for the love of God, please wear a proper foundational undergarment. And even though King Charles has reportedly issued a more relaxed dress code for guests attending the coronation—members of Parliament may wear their usual parliamentary ermine-trimmed robes or standard business dress—please don't wear sneakers.
I don't have high hopes, but it could always be worse. Dr. Jill could drape herself all over the person of the queen consort as Michelle Obama did with Queen Elizabeth. She could offer some of her trademark University of Iowa women's basketball diplomacy to settle the rift between Princes William and Harry ("you can both be the heir!"). She could bring stepson Hunter Biden as her guest to the coronation from which scandal-ridden Prince Andrew has been excluded for cavorting with underage girls and dirty foreign money deals.  
But at a bare minimum, dressing appropriately, showing up on time, and not breaking wind in front of the monarch do not seem like too much to ask.