February's shocking electoral defeat of incumbent Chicago Mayor Lori Lightfoot in the first round of that city's mayoral election, sent shockwaves throughout the entire Democratic Party establishment. Lightfoot's pro-criminal policies and the failure of her inept police superintendent resulted in a record crime surge, out-of-control violence, unconstrained chaos, rampaging mobs—and an ignominious end to her short political career. 
Lightfoot, an openly anti-police partisan and anti-white racist, was rejected by 83 percent of Chicago voters. Her policies decimated the Chicago Police Department (CPD). Veteran officers left the department at an unprecedented rate. CPD is now 1,700 officers short.
Democratic politicians learned the lesson. No matter what you really believe—lose the anti-police and pro-criminal rhetoric. "Soft on crime" is not the message you want to convey to average people.
Biden's "Fund The Police" Hoax
Joe Biden has been running this hoax for a while. After years of leading the Democrat Big Lie chorus, falsely claiming that American policing is systemically racist, supporting the 2020 Black Lives Matter (BLM) race-riots, and enabling the BLM Defund the police craze—Biden turned on a dime. In his 2022 State of the Union speech, after the irreparable damage had been done, he began making calls to "fund the police." He had to. Voters were angry after almost every major Democrat-run city had been devastated by record increases in violent crime. Most Democratic candidates followed Biden's lead.
The Chicago April 4 runoff election is between two Democrats—Paul Vallas, the former CEO of the Chicago Public Schools, and Brandon Johnson, a fulltime operative of the Chicago Teachers Union. 
Brandon Johnson got the party memo—but didn't want it. A militant leftist, Johnson doesn't even pretend to support the police. Consequently, the differences between Vallas' and Johnson's positions on crime, policing, and law and order are extreme.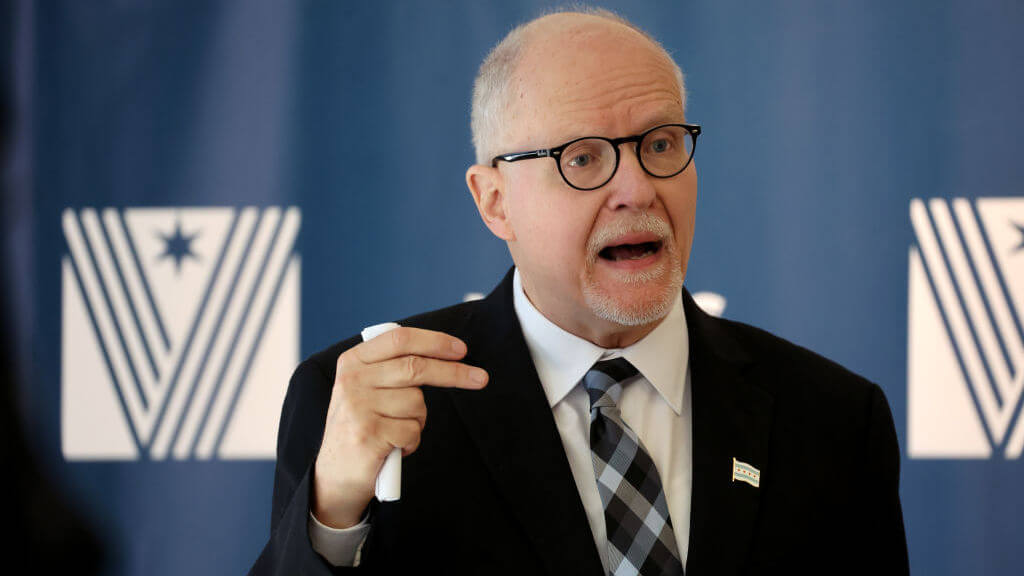 Opposing Views On Crime and Policing
Vallas, in contrast, strongly supports the police and has slammed States Attorney Kim Foxx. Foxx is Cook County's George Soros-financed prosecutor, notorious for subverting the rule of law in Chicago. Foxx has kept criminals out of jail, released criminals from jail, and instigated rampant criminality by refusing to prosecute crime.
Paul Vallas' public safety plan focuses on rebuilding the Chicago Police Department, restoring department morale, ending CPD's disastrous practice of patronage and diversity-based promotions, reinstituting community policing, and enforcing the law.
In stark contrast to Vallas' call for law and order, Brandon Johnson has unveiled a full-blown woke, pro-criminal, and anti-police leftist program—protecting criminal offenders by treating them as victims and marginalizing the police.
Johnson's public safety plan disregards the hiring of any new police officers and completely ignores the necessity of arresting and prosecuting criminal offenders.
Johnson would also erase CPD's gang database, an essential tool for fighting organized street gangs and protecting communities from these most violent criminal predators.
Brandon Johnson is fully on-board with the Black Lives Matter agenda. As a member of the Cook County Board of Commissioners, he voted to defund the police. Reaffirming his defund the police philosophy in a WGN interview, Johnson defended BLM rioters and declared that looting is a justified response to "systemic racism."
Johnson would implement the leftist scheme to "reinvent" the police—including replacing police officers with social workers.
Johnson also fully supports pro-criminal States Attorney Kim Foxx whose non-prosecution and "decarceration" policies have resulted in a violent crime explosion—particularly in Chicago's black community.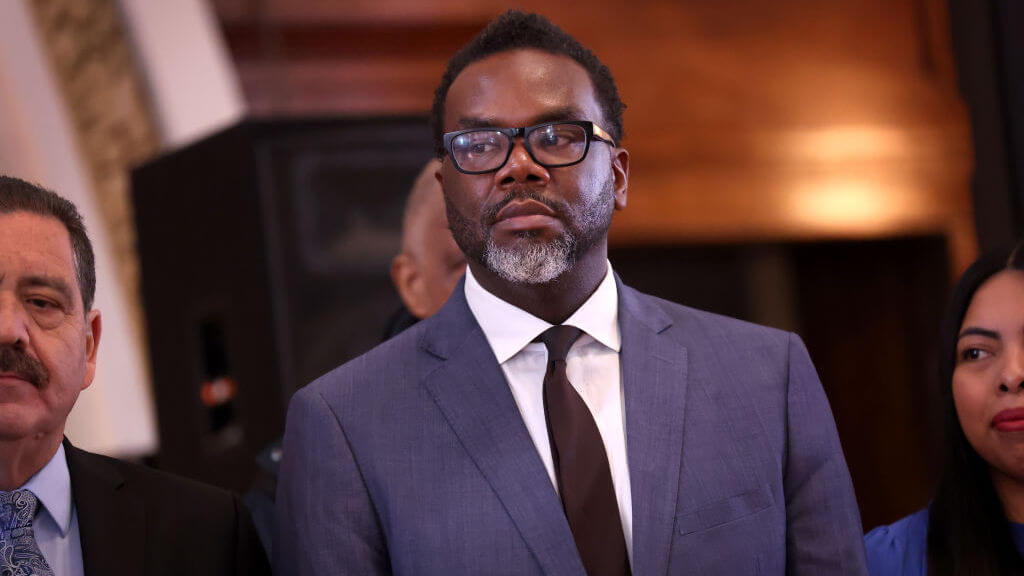 On the statewide level, Brandon Johnson supports Illinois' SAFE-T (Safety, Accountability, Fairness, and Equity—Today) Act. The newly enacted SAFE-T Act is the most radical, pro-criminal law in America. Inspired by fighting the myth of "systemic racism," it will enable criminals and make communities less safe. 
The new law slaps unparalleled restrictions on the police, provides offenders with a vast array of privileges, and prohibits custodial arrests for all class B misdemeanor crimes including criminal trespass and window peeping.
The radical statute also establishes one of the ultimate pro-criminal objectives—eliminating cash bail to make pre-trial detention of offenders almost impossible. Eliminating bail has been tried in New York and failed—resulting in increased crime. The bail elimination provision has been challenged and is currently under appeal in the Illinois Supreme Court.
Leftist-Elite Ideology vs. Chicago Reality
Chicago is a loyal Democratic Party stronghold. In the 2020 election, Joe Biden, despite running on a pro-criminal platform that included pledging to cut the number of incarcerated criminals by more than 50 percent—won 82 percent of the Chicago vote.
But that was then. After three years of suffering the reality of leftist crime policies, average Chicagoans are fed up. A recent Schoen Cooperman Research/Manhattan Institute poll provides a deep insight into the new reality.
Fifty-four percent of all Chicagoans listed crime/public safety as their top issue. Nothing else came close.
Fear of crime is sky-high across the board. Fifty-seven percent of all Chicagoans feel unsafe in their city. Among black residents it's even higher. Sixty-one percent of black Chicagoans reported that they fear crime—which comes as no surprise. In Democrat-run big cities, the Left's crime wave has hit blacks the hardest. Twenty-nine percent of Chicago is black, but blacks account for 80 percent of all Chicago homicide victims.
Seventy-eight percent of all residents believe crime is increasing, and 71 percent want more police.
Crime and punishment? Fifty-five percent of all Chicagoans believe that punishment for criminals is too lenient. Seventy-nine percent want to see stronger punishment for repeat offenders.
Sixty-three percent of Chicago residents believe that shoplifting is a serious problem that hurts the community. Eighty percent want to see more arrests and prosecutions of shoplifters.
Sixty-four percent of all Chicagoans believe that vehicle thefts affect their neighborhoods. Eighty-nine percent want to see more vehicle theft arrests and prosecutions.
Out-of-control violence, fear of crime, and collapse of the rule of law has cracked the city's foundation. Significantly, within the last few years, 55 percent of Chicagoans have considered leaving the city.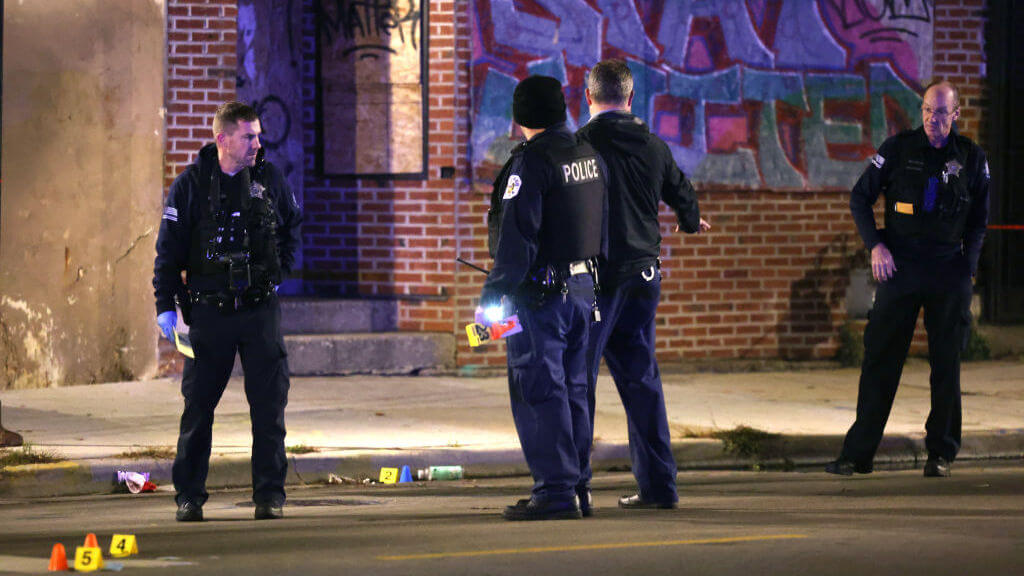 Why Is the Race Even Close?
Chicago is being destroyed by crime and disorder. A majority of its citizens live in fear. Eight out of 10 believe that crime is getting worse.
Voters have a clear choice. Paul Vallas represents a return to law and order that will reduce crime. Brandon Johnson represents institutionalizing the ideology and processes which created the crisis to begin with and will increase crime.
It would appear that a vote for Vallas should be an easy one. But that has not been the case—the race remains close. The latest WGN poll shows Vallas holding only a five-point lead, with 13 percent still undecided. 
A big reason why it has been difficult for Vallas to take a decisive lead is the political power of the ultraradical, 35,000-member, Chicago Teachers Union (CTU). CTU militants are the driving force behind Brandon Johnson's mayoral campaign. CTU has already contributed $2 million (with more on the way) and fields an army of campaign workers. 
CTU has transformed into an organization of woke militant activists, not educators. The union helps bankroll radical politicians, including Kim Foxx, and has successfully elected socialist aldermen to the Chicago City Council.
Chicago Will Not Survive Without Order  
If Brandon Johnson is elected mayor on April 4, Chicago is finished. Under Johnson, rampant crime, chronic disorder, and every other social dysfunction enabled by Lori Lightfoot will magnify. The Chicago Police Department will collapse. The rule of law will be replaced by the rule of the mob. The anti-white racism of critical race theory will be institutionalized throughout Chicago's schools, government, and businesses. The exodus of people and companies fleeing Chicago will accelerate.
Decent Chicagoans deserve safe communities, a city where their families can live without fear, and a world-class police department. For too long, these virtues have been lost in Chicago. On April 4, its citizens will have the chance—maybe their last chance, to take them back.