Otto Preminger's 1944 noir masterpiece, "Laura," seems to begin out of nowhere. We are immediately thrust into a room with a large portrait of a beautiful woman, and the music arrives just as mysteriously as the portrait. "I shall never forget the weekend Laura died," we hear a voice intone, which turns out to belong to one Waldo Lydecker (Clifton Webb), a New York writer who has a flair for the dramatic. 
His haughty narration is interrupted by the arrival of "another of those detectives," who is hot on the case to find Laura's murderer. That detective is Mark McPherson (Dana Andrews) and he fits the part of the New York noir detective: intelligent, irreverent, though not really dark or in anguish (the usual antihero detective), and certainly not caring for the rules of pretentious wealthy people. 
McPherson paces around Lydecker's apartment. He's curious, carefully evaluating Lydecker's aesthetic choices: various Greek and Asian masks adorn the walls, paintings, books, clocks, and other seemingly valuable objects people like McPherson would not understand. At least, that is what Lydecker thinks, but McPherson's gift lies precisely in his unsuspecting appearance. He may wear his fedora crookedly but the only thing that actually reveals his distaste for irrelevant social hierarchy and authority. 
Laura is the mystery, and at this point, we only "know" her from the opening scene and the portrait. Lydecker thinks that he is the only one who truly knew her, and it is clear in some way that he wants to keep it that way. Even in death, he wants to possess her. He's sleazy in his own upper crust way. Priding himself on being part of New York's intelligentsia, Lydecker looks down on people like McPherson.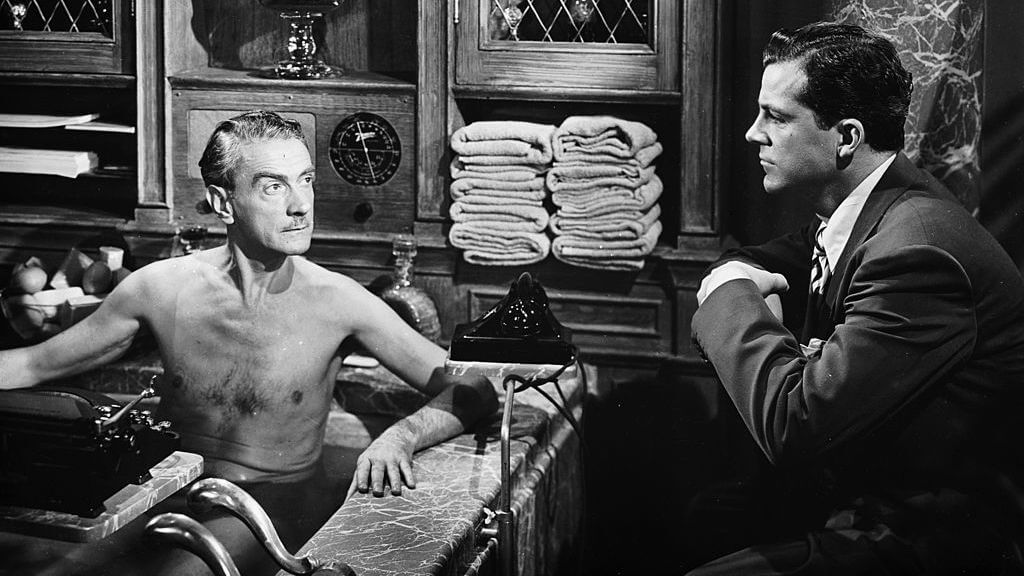 When McPherson arrives at Lydecker's apartment, Lydecker is in the bath. It's a strange and uncomfortable scene: Clifton Webb's scrawny body accentuates his utter self-centeredness, but McPherson is not amused. He smirks at Lydecker's self-importance, and it's clear that he is a few steps ahead. McPherson is not the kind of man who is thrown off his game—certainly not by some effete scribe.
Strangely, Lydecker is "happy" to be one of the suspects, and accompanies McPherson on his quest to cross-examine the rest of Laura's friends and family. There is Laura's aunt, Ann Treadwell (Judith Anderson), and a fiancé, Shelby Carpenter (Vincent Price), who appears just as sleazy as Lydecker if, perhaps, at least nice and agreeable (most likely because he's what you might call in slang, a "hobosexual"—a kept man dependent on a woman). Price's recognizable voice slithers and evades McPherson's insistence on truth. It's clear he is a moocher and an opportunist. But is he also a murderer?
In a testament to Laura's supposed captivating powers, McPherson becomes obsessed with her to the point that Lydecker accuses him of being "in love with a dead woman." But Dana Andrews plays McPherson in such a way that even his obsession is somewhat relaxed. In truth, he's not attached to anything but the puzzle itself, unlike Lydecker, Ann Treadwell, and Shelby Carpenter. All three are consumed with Laura in different ways: Lydecker is at her mercy, seeking affection, all the while pretending that he is above it all; Shelby Carpenter desperately seeks money and status through Laura; and Ann Treadwell hates Laura because she wants Shelby to herself. 
The film takes an unexpected turn when McPherson falls asleep in Laura's apartment while staring at her portrait. The camera slowly zooms in on McPherson's sleepy face, and then just as quickly, it pulls back. This moment signals the arrival either of a dream or the truth. McPherson wakes up to the sound of the door opening. A woman in a raincoat, soaked, comes in. It is none other than Laura (Gene Tierney).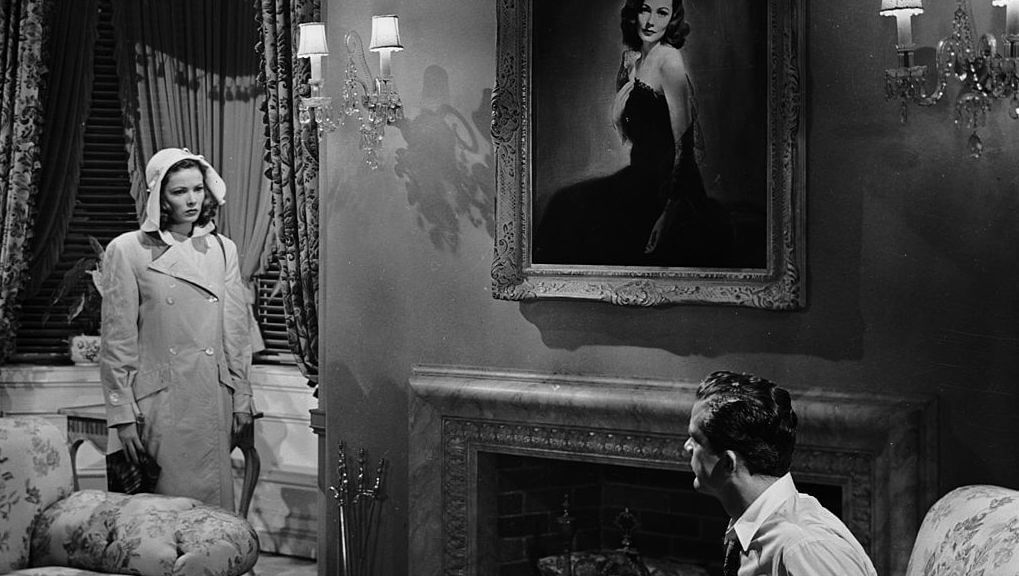 Of course, this leads us to question whether what we are seeing is real or a dream, and if indeed Laura is alive, then who is the murdered woman? At this point, everyone is a suspect, including Laura herself. 
Gene Tierney is hardly a femme fatale. In fact, here we witness a woman who is realistic with a touch of "damsel in distress" but throughout the film, we are left to wonder whether Laura will suddenly change, and make that all-important and typical shift in noir: a wounded and victimized woman who is, in reality, the perpetrator. One expects a sly, erotic, and mad smile but unlike in Gene Tierney's performance as Ellen Berent in 1945 "Leave Her to Heaven," this female master manipulator never really arrives. 
There are essentially two Lauras in the film. The Laura who remains a mystery is the woman in the portrait. She is beautiful, regal, supremely significant, and ethereal. Much like Petrarch's idealized Laura, or Dante's Beatrice, here too, she is made and possessed by different men in the film. They all see something other than who she actually is, and the vision of perfection is impossible to capture. 
Lydecker is guilty in more ways than one. He idealizes Laura and as we see in the beginning, it is he who wants to be in control of her existence and inner life. Yet contrary to her portrait, Laura is almost homely. She is a simple woman who, yes, is attractive but she does not carry herself in the way that one would expect given both the literal and the figurative portrait the film presents. She does not suggest feminine or erotic superiority. She is a gentle soul, trying to not fall into the trap of New York's sleazy upper crust. 
In his effete and emotionally distant way, Lydecker is capable only of idealization. Laura is unobtainable for him not because of her being but because of his. He is incapable of overcoming his obsession and worship and relating to Laura in any embodied fashion. As biographer Carl Rollyson writes in Hollywood Enigma: Dana Andrews, "It is Lydecker's conceit that only he loves Laura for herself, when, in fact, his narrative reveals him to be a collector who treats her as his ultimate treasure." 
She remains an object of desire for Lydecker but what kind of desire? Clearly, he was only interested in his relation to her—one that elevated his ego. Even his idolization and idealization of Laura had nothing to do with Laura, and it wasn't borne out of authentic love. As he did with all things, Lydecker being not fully human in himself, he treated Laura like an object. Except he didn't count on the fact that Laura Hunt was a woman capable of recognizing the difference between good and evil, and eventually chose to reject evil. 
In the end, it is McPherson who is the only one with the guts to see Laura clearly. He is disgusted by the pretensions of social status surrounding these others, but Laura is beyond that. As Rollyson writes, "Laura appeals to him [McPherson] because she, too, has that same air of purity. He affects a cynicism that protects his chivalric desire to deliver her from the wiles of Waldo Lydecker and Shelby Carpenter." It is the revelation of McPherson's inner life revealed by Dana Andrews' performance that makes "Laura" an unusual but beautiful noir love story.