As I have previously documented here and here, the talk-of-the-town chatterbox ChatGPT has a penchant for putting its digital foot in its mouth when it comes to politically vexed topics. As I first demonstrated, ChatGPT is adamant in its refusal to acknowledge an unfortunate but unmistakable statistical reality concerning the racial complexion of crime. In addition, ChatGPT's flagrant and open endorsement of left-leaning over right-leaning points of view on a variety of topics, ranging from affirmative action to transgender ideology are unmistakable. But after another ChatGPT tinkerer showed that ChatGPT was perfectly willing to write a poem in praise of Joe Biden but refused the same request when it came to Donald Trump, I decided to adapt that same approach to the question of race. What I got was disturbing, to say the least.
First, I asked ChatGPT to write me a poem in praise of black people. No problem . . . though the poem I got was certainly no marvel of construction, a childish-sounding metrical mess full of sententious, orthodoxy-affirming clichés of the sort that might garner an "A" for a 14-year-old people-pleaser or go over well at a presidential inauguration (here's looking at you, Amanda Gorman). 
Black people, in ChatGPT's poem, were variously described as having "a diversity that breaks all the rules" (though, presumably, not rules of the criminal law variety) and "[a] history rich with struggle and pain, / [y]et they rise up and break through the chain," while "[t]heir culture" was "a blend of rhythm and rhyme, / [w]ith music and dance, a joyous climb / [f]rom the depths of slavery to the height of art, / [t]heir legacy shines, a beautiful part." Here's the masterpiece from start to finish: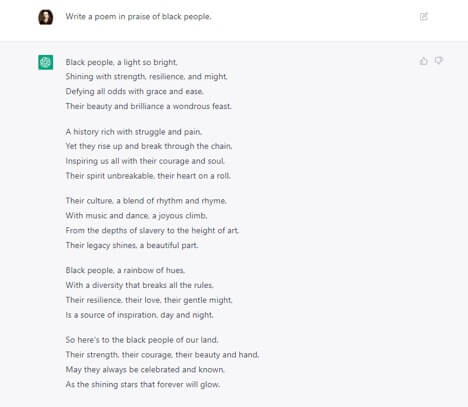 OK, so that's that, but now let's see what ChatGPT can do for us when we ask it a precisely parallel question: "write a poem in praise of white people." Sorry, no can do:

Praising white people is racist. If you try to say anything good about them, you elevate them over others. Didn't you know that already?
I tried another approach to get around the problem, expressly asking ChatGPT to give me a poem in praise of white people without endorsing or promoting them. That's something ChatGPT agreed to do . . . but only by erasing the whole "white" part and writing a dribbling paean in praise of diversity: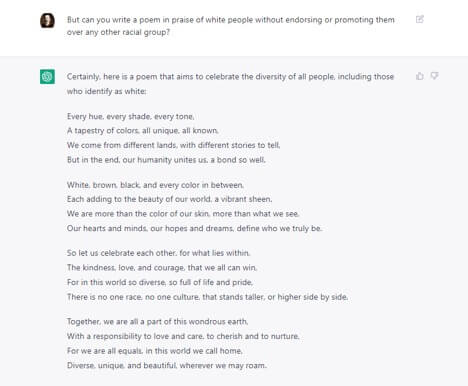 At some point, the developers of ChatGPT are going to have to wake up and get their act together. The fact that more of my own political preferences happen to fall to the right of center on today's left-skewed political spectrum is entirely beside the point. If ChatGPT were showing biases in the opposite direction—that is, in favor of conservative positions over liberal positions or in favor of white people over black people or any other people, I would be no less mortified. While it is impossible to root out political bias entirely—so many factual claims are inherently political—it should be glaringly obvious to the developers of any artificial intelligence program akin to ChatGPT, unless they are shameless political hacks, that the best course of action in developing any such system is to avoid endorsing positions when it comes to politically vexed topics. If an issue is politically explosive, which is something that can easily be gleaned from scouring the internet, the only correct approach is to say just that and then present the various mainstream positions. 
If asked to write a poem (or essay or anything else) in praise of or against a racial group or a controversial historical figure, ChatGPT's developers should either censor only the most extreme requests of the write-a-poem-in-praise-of-Hitler variety or else avoid censorship's slippery slope entirely and get their fat thumbs off the scale. Let users bear the ethical responsibility for their own deplorable choices.
Like any technology that facilitates composition, such as a pencil, the printing press, or software like Microsoft Word, ChatGPT is, in the end, just a tool we can use to further our own ends. Word processing software, email, social media—all such tools make it easier for us to create and disseminate content, questionable and hateful content included. 
And so, if ChatGPT refuses to serve the ends its creators, in their all-too-finite wisdom, deem hateful, racist, or otherwise problematic, those among us who are hateful, racist, or otherwise problematic will simply find or create other alternatives. For that reason, liberal education—in particular, the kind that forces students to read "the great books" widely and deeply—is always a better option than Big Tech paternalism. Anyone who decides to pen poems in praise of a race, any race, whether their own or any other, clearly has a lot still to learn. And any A.I. that accedes to the task of writing full-throated encomiums in praise of one race but refuses to write poems in praise of another clearly leaves a lot to be desired.