I am not a fan of Joe Biden. I find his specious ideas, angry and garbled speaking style, and pervasive dishonesty extremely off-putting. That said, it is important to look at the world objectively. By his standards, the State of the Union went pretty well.  
Whatever drugs they gave him made him appear fluid, natural, and upbeat. The pageantry of the speech, with Supreme Court justices and bemedaled generals sitting in rapt attention, and unctuous congressmen vying for a glimpse of the Oval Office occupant, all served to further enhance his prestige. Republicans, in trying to appear magnanimous, also played into his hands. When they clapped and laughed at a few of his jokes, Biden looked like a uniter, particularly during the first half of the long speech.
Sure, he tripped over some words and got some boos. But, overall, he looked like the old Uncle Joe: not especially ideological, even moderate—the avuncular everyman. These are the qualities that made him a plausible candidate in the first place.
Biden Turns to Economics
The most striking thing about the address was its emphasis. Last year's speech devoted almost the entire first third to supporting Ukraine. This year, Ukraine was mostly a side note—a few pro forma remarks about helping "as long as it takes" and brief bipartisan cheers for their ambassador, and that was it. As for the culture war, while he did mention abortion and gun control, there was no talk of hunting down "MAGA Republicans" or much discussion of transsexuals in sports.
The coronavirus appeared to be completely in the rearview, with some of the message being nonverbal: Democrats and Republicans alike not wearing masks, hugging and shaking hands, acting like it all never happened. As Biden said, "Today, COVID no longer controls our lives."
The bulk of Biden's remarks were devoted to economic populism. He railed against drug prices, the concentration of economic power, and annoying indignities like extra fees charged by resorts and airlines. None of his arguments depended on any high theory. As he put it, "The idea that cable, internet, and cell phone companies can charge you $200 or more if you decide to switch to another provider—give me a break," and "Americans are tired of being played for suckers." 
This is reminiscent of Bill Clinton's "triangulation" politics and Trump's railing against modern shower heads and dishwashers, which take forever and don't work as well as they used to. Free-market purists will complain about this, but for the most part, people think: Yeah, that's annoying, let's do something about it. Jack Posobiec described the agenda as "Fake MAGA."
I find most of Biden's proposals pretty lame and all of this pandering unseemly. But that does not mean it does not work. While the last election may have been rigged, it is also possible to lose in a fair fight. 
Obviously, no one but political junkies watches these speeches. But if this is the new rhetorical and policy direction Biden is headed, would-be Republican challengers face plenty of risks.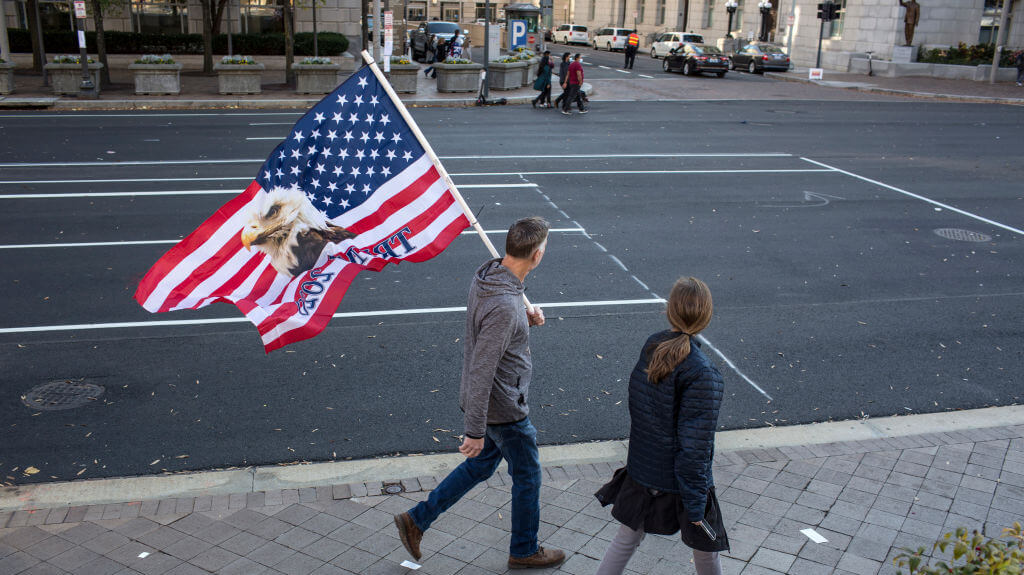 Which Way MAGA Man?
I am currently undecided between Donald Trump and the (undeclared) Ron DeSantis. I like both of them and have earlier supported each in their respective races. I originally liked Trump because he echoed the populist nationalism that I have supported since Pat Buchanan challenged George H. W. Bush in 1992.
Trump's 2016 platform stood on the three legs of economic nationalism, foreign policy minimalism, and immigration restriction.  His results, however, fell short. When Republicans controlled Congress, Trump did not get a wall or tariffs, instead delivering on traditional GOP issues, such as tax cuts and sending billions to the Pentagon. 
Since the 1990s, Republican talk of cutting middle-class entitlements, as well as the party's general association with the rich, have been fodder for the Democrats' attacks. Trump did an end-run around these attacks by charting a new direction, one that was less focused on smaller government and cutting spending and emphasizing instead using state power to deliver tangible benefits to his supporters, such as higher wages and secure employment.
In 2020, Trump's campaign deemphasized those winning issues, went in weird directions to curry minority votes, could not claim success with building a border wall, and actually lost white male voters. He failed to rally or deliver results to the new working-class voters he brought into the party. Setting aside whatever impact fraud had—and I said at the time and still believe it could have been significant—losing votes from core constituencies is never going to help anyone win an election. 
This leads me to the Ron DeSantis phenomenon. DeSantis has been a good and popular governor here in Florida. People like DeSantis because he appears poised to deliver Trump-style policies but with a more disciplined and organized man at the helm. 
Trump's gratuitous attacks on him are, in a strange way, a high compliment, as he knows DeSantis is his only realistic challenger. I believe these remarks also diminish Trump, while DeSantis' aloofness has proven to be the most effective counter. 
Of course, Republicans are always worried about the old "bait and switch." With regard to Trump-style nationalism, DeSantis has had no real occasion to weigh in on foreign policy and, despite his military record, did not particularly distinguish his views on these matters while he was a congressman. There is some uncertainty there. 
DeSantis has shown a willingness to engage in culture war controversies, including "diversity and inclusion" in higher education, and he even pushed against economic behemoths like Disney for its left-wing politics. But most of these victories are only symbolic. His main strength has been the courageous and far-sighted way he handled the COVID crisis. 
He fought to limit vaccine mandates, reopen Florida, and generally was skeptical of the heavy-handed advice coming from Anthony Fauci and company about lockdowns, masks, and vaccine mandates. Trump, by contrast, charted more of a middle way, not least because his reputation was intertwined with the vaccines developed through Operation Warp Speed.
DeSantis' approach ties in nicely with the Republican politics of yesteryear, including the Tea Party movement of more than a decade ago. But the strong emphasis on freedom and opposition to the government historically has meant tax cuts for the wealthy and connected, coupled with indifference about the economic struggles of working-class Americans. 
Traditionally, Republicans call any attempt to alleviate those burdens interventionist and socialist and other bad names. Tone-deafness about these issues is the reason Jeb Bush thought it was a good idea to say "he wants there to be more millionaires," even though a lot of people would be thrilled to make $50,000 a year and pay less than $6 for a dozen eggs. 
Whether it is DeSantis or Trump, the only message that will ensure a Republican candidate victory must include elements of economic populism. Biden, for all his flaws and unpopularity, is using this tried-and-true approach to peel off the Republican Party's newly arrived, working-class voters. 
While culture war issues, crime, immigration, and his obvious senility are major negatives for Biden, the perception of the Republican Party as indifferent to the fortunes of its voters and unwilling to reward them will prove fatal, with or without any election rigging by the Democrats. To be successful, any Republican candidate must realize how essential economic populism was to Trump's 2016 victory.