James O'Keefe, the founder and chairman of Project Veritas, was put on paid leave from his non-profit journalism enterprise on Wednesday amid what some are calling an attempted "hostile takeover" being executed by certain board members.
The Project Veritas Board of Directors will reportedly decide whether to remove him from his leadership position in a meeting scheduled for Friday.
Project Veritas put out a statement Wednesday evening, saying that the board is conducting an "internal evaluation to assure our long term success."
"Like all newsrooms at this stage, the Project Veritas Board of Directors and Management are constantly evaluating what the best path forward is for the organization," the statement read.  "There are 65+ employees at Project Veritas dedicated to continuing the mission to expose corruption, dishonesty, waste, fraud, and other misconduct in both public and private institutions," the statement read. "To our supporters: We hear you, we care about you, and we will never give up."
Project Veritas' Official Response to Today's News Reports

Despite what the Corporate Media tries to portray about our organization, know this: We have never been more motivated and dedicated to our mission than now. pic.twitter.com/sB7Cz97b5M

— Project Veritas (@Project_Veritas) February 9, 2023
Earlier Wednesday, according to New York Magazine's Intelligencer, Veritas' executive director, Daniel Strack sent an internal message to Project Veritas employees saying that O'Keefe would be taking "a few weeks of well-deserved PTO."
In the message, Strack reportedly referred to what he called "a distracting time" at the organization and said that a board meeting had been held to discuss "the health of the organization." Strack added that while "we have not come up with final solutions yet we have made a few immediate decisions."
Strack was formerly the managing director (MD) at Goldman Sachs, but was ousted after less than three years. He reportedly joined Goldman in 2001, made MD in 2013 and left the company in September of 2016.
According to reports, O'Keefe recently fired two top Project Veritas executives—Chief Strategy Officer (CSO) Barry Hinckley and Chief Financial Officer (CFO) Tom O'Hara—due to their alleged  insubordination. O'Hara, according to his Project Veritas bio, has over 25 years of experience in business, accounting, financial and reporting operations. He joined the organization in October of 2018.
Hinckley, who has pronouns in his LinkedIn bio, became CSO at Project Veritas in November of 2022.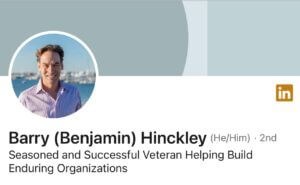 According to the Intelligencer, the board of directors then voted to rehire the executives, and put O'Keefe on paid leave.
Reportedly,  Project Veritas is divided between "a group of employees who are perceived to be loyal to O'Keefe, including his communications adviser, R.C. Maxwell, and the board, which has been dissatisfied with what it perceives as O'Keefe's mismanagement."
A letter dated February 6 was circulated at Veritas featuring eleven pages of testimonies from anonymous  employees criticizing O'Keefe, with one staffer allegedly calling him a "power-drunk tyrant."
Hinckley, according to the Intelligencer,  later wrote a message to the staff saying he had "stood up to a bully" and had lost his job as a result.
An anonymous source from the pro-O'Keefe camp, shared his version of events with a Veritas insider.  The source alleged that Matt Tyrmand, a member of the board, O'Hara, and Hinckley led "a six-and-a-half hour struggle session versus James where they subjected him to constant derision and insults."
During the board meeting, according to the source, "about ten employees aired their grievances about James, which essentially boiled down to him being a tough boss to work for. At the end of this six hour struggle session, Tyrmand and fellow board member John Garvey put him on leave and stripped him of all authority."
The source reportedly added: "It was literally a Stalinesque kangaroo court trial. The thing that is so very profound to me that no one seems to grasp: John Garvey and the rest of the Board did NOTHING to stop it. Matt Tyrmand had it all scripted. All six f—king hours."
Tyrmand declined to comment on O'Keefe's ouster when contacted by the Intelligencer.
When asked specifically if O'Keefe was being ousted, he replied: "I just said I was walking into a meeting and this was not the appropriate time. What don't you understand about that?" He did not respond to subsequent phone calls. Two other board members did not respond to phone messages.
O'Keefe has yet to respond to media inquiries about the situation, nor has he put out a statement to explain what is happening.
Conservative supporters of Project Veritas have rallied around O'Keefe on Twitter, saying the organization would never survive without him as its leader.
There's really no point in paying attention or donating to Project Veritas unless James O'Keefe is there.

— Election Wizard 🇺🇸 (@ElectionWiz) February 9, 2023
Project Veritas without James O'Keefe would be like MyPillow without Mike Lindell.

It won't work.

— Brigitte Gabriel (@ACTBrigitte) February 9, 2023
Project Veritas without James O'Keefe would be

WORSE THAN:

Van Halen without David Lee Roth
Apple without Steve Jobs
CNN without Ted Turner
Trumpism without Trump
Two and a Half Men without Charlie Sheen

Keep him at all costs

— Darren J. Beattie 🌐 (@DarrenJBeattie) February 9, 2023
I stand with James O'Keefe @JamesOKeefeIII #StandWithJamesOKeefe

— Juanita Broaddrick (@atensnut) February 9, 2023
James O'Keefe is Project Veritas. Period. If the board tries to fire him as rumors suggest then they'll soon find out people will move their donations to whatever new name @JamesOKeefeIII does his investigations under. I don't know what genius came up with the idea to try a coup… https://t.co/xGxw1klfwV

— Robby Starbuck (@robbystarbuck) February 9, 2023
WITHOUT James O'Keefe, we wouldn't know more about the following:

– ACORN
– Ashley Biden's Diary
– COVID mutations for new vaccines
– Woke Indoctrination in schools
– Corruption in the FBI/DOJ

And MUCH MORE.

James is a fighter, and a hero for what he and his team have done.

— Ryan Fournier (@RyanAFournier) February 9, 2023
Project Veritas without James O'Keefe is like like Fox News without Tucker Carlson.

It won't work.

— Collin Rugg (@CollinRugg) February 9, 2023
James O'Keefe, founder and CEO of Project Veritas, has been placed on paid leave by the organization's board of directors as they consider removing him from leadership position.

Project Veritas without James O'Keefe doesn't sound like a lot of fun, you guys.

— Ian Miles Cheong (@stillgray) February 8, 2023
You take James O'Keefe away from Project Veritas and there will be no Project Veritas.

— Ryan Fournier (@RyanAFournier) February 9, 2023
If Project Veritas board removes James O'Keefe, NEVER support them again…

This is tyrannical..

— Matt Couch (@RealMattCouch) February 9, 2023
Forces inside Project Veritas put @JamesOKeefeIII on paid administrative leave and tomorrow they will vote to fire the organization's founder and CEO. James O'Keefe IS @Project_Veritas, removing him will destroy the company. Read more:https://t.co/VSPCxy8CZE

— @amuse (@amuse) February 9, 2023
Update:
Tim Pool revealed the contents of the 11-page disgruntled employee letter on his podcast Thursday. The relevant section begins 14 minutes in. Hat tip commenter Rhys.
Update:
"A law firm representing a large group of significant Project Veritas donors" reportedly sent a Cease and Desist Demand Letter to the board on Friday:
"The big wig donors to Project Veritas are not taking the board actions against James O'Keefe lying down," a source allegedly said.
🚨🚨🚨EXCLUSIVE🚨🚨🚨: I have obtained a Cease and Desist Demand Letter sent to the @Project_Veritas Board of Directors by a law firm representing a large group of significant PV donors.

RT!!! pic.twitter.com/PHo9vGvYt7

— Swig 🇺🇸 (@OldRowSwig) February 10, 2023
Update:
A Project Veritas donor refutes allegations made in the 11 page memo concerning O'Keefe's interactions with her.
BREAKING: Project Veritas donor Dianna Remmers refutes claims in the employee memo, says it misrepresented her interactions with James pic.twitter.com/STLgZheQ6o

— Jack Posobiec 🇺🇸 (@JackPosobiec) February 11, 2023