Rep. Marjorie Taylor Greene (R-Ga.) tore into three former Twitter executives during a House Oversight and Reform hearing on Wednesday, telling them that she was glad they were fired from the platform.
Twitter's former chief legal officer Vijaya Gadde, former deputy general counsel James Baker and former head of trust and safety Yoel Roth, appeared before the committee hearing titled "Protecting Speech from Government Interference and Social Media Bias, Part 1: Twitter's Role in Suppressing the Biden Laptop Story."
The former executives are among several top Twitter officials who left the company or were fired after Elon Musk bought the platform.
Greene, who spent all of her allotted time speaking, rather than asking questions, sounded like she had a personal score to settle, tearing into Roth especially for allowing child porn to flourish on the platform, while conservatives like her were banned.
"You can consider your speech cancelled during my time because you cancelled mine," Greene told the former Twitter execs,  before calling them out for banning her personal campaign account during an election year.
"January 2, 20[2]2, you permanently banned my Twitter account. This is the account where I would put my campaign ads on, raise money on, fight back when attacked with lies, and be able to talk with my voters in my district. But you banned it," MTG declared.
She noted later, "you didn't ban or shadowban my opponent. No, you did that to me," and that was wrong, and it was against the law."
MTG accused the trio of coordinating with the Department of Homeland Security (DHS), FBI, CIA, and other outside groups to censor conservatives by permanently banning or shadowbanning their accounts.
"You were censoring and wrongfully violating our First Amendment free speech rights," MTG said. "Guess what? None of you hold security clearances. None of you are elected. And none of you represent 750,000 people like I do."
Greene went on to blast the former execs for censoring doctors who were trying to tell the truth about COVID treatments, parents trying to blow the whistle on radical school LGBTQ or CRT policies, and people who questioned the legitimacy of the 2020 election.
"Guess what? That's Americans' First Amendment right," MTG said.   "You abused the power of a large corporation to censor Americans!" she fumed.
Twitter BANNED and CENSORED me, the President of the United States, and countless conservative Americans.

Twitter interfered in our elections and they broke the law! pic.twitter.com/yq8YganAuV

— Rep. Marjorie Taylor Greene🇺🇸 (@RepMTG) February 8, 2023
Rep. Nancy Mace (R-S.C.) also touched on Twitter's censorship of medical opinions, asking Gadde what her medical credentials were to be censoring the speech of highly trained doctors.
.@RepNancyMace: You're not a doctor, right?

Gadde: No I'm not.

Mace: What makes you think you or anyone else at Twitter have the medical expertise to censor actual, accurate CDC data?

Gadde: I'm not familiar with these particular situations.

Mace: Yeah, I'm sure you're not. pic.twitter.com/GJaoVwAoGu

— MRCTV (@mrctv) February 8, 2023
"I'm so glad that you're censored now," Greene told the former execs. "I'm so glad that you've lost your jobs. Thank God Elon Musk bought Twitter."
She went on to rip Roth for his "inability" to remove child porn from the platform, while Twitter was censoring conservatives.
"Here's something that DISGUSTS me about you," she said. "In your doctorial dissertation entitled 'Gay Data,' you argued that minors should access to Grindr, an adult male, gay hook-up app. Minors? Really?" she said with disgust.
Yoel Roth, who wrote his dissertation at Penn on the gay dating app Grindr, censored highly esteemed medical professionals like Dr. Peter McCullough, Dr. Robert Malone, and Dr. Jay Bhattacharya in the middle of a health crisis.

What a nightmare. pic.twitter.com/DchWc9hC6n

— kanekoa.substack.com (@KanekoaTheGreat) February 8, 2023
She noted that when Elon Musk took over Twitter, he quickly banned over 44,000 child porn accounts.
"You permanently banned my Twitter account but you allowed child porn all over Twitter," MTG continued. "Twitter had become a platform, you said, 'connecting queer young adults.' You also wrote on Twitter in 2010, 'can high school students ever meaningfully consent to sex with their teachers?'"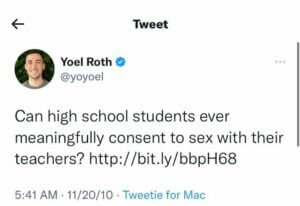 She noted that in 2021, a 12-year-old boy and his mother announced a lawsuit against Twitter "because Twitter was benefitting from, and refused to remove a lewd video featuring this boy and another minor."
"That is repulsive!" she declared. "But you banned me."
Greene held up a series of tweets that were deemed "misinformation" by Twitter, including a tweet sharing VAERS data on COVID vaccine injuries, which she noted comes from the CDC's own website. In another tweet that allegedly ran afoul Twitter's rules, MTG simply stated that she didn't think that non-FDA-approved vaccines or masks should be mandated.
"Guess what? A lot of people agreed with me, but you called that COVID misinformation," she scolded. "By the way, I'm a member of Congress, and you're not."
MTG said she was also dinged for tweeting that the controversial vaccines should not be forced on the military.
"You want to know something? Republicans stopped that in the NDAA [National Defense Authorization Act]," she said.
When alerted that her time was up, Greene told the trio, "and your time is expired."
Before Elon Musk bought Twitter, Yoel Roth was in charge of "Trust & Safety" at the company while child porn was all over the platform.

Is this why? pic.twitter.com/u2vUTq6nvw

— Rep. Marjorie Taylor Greene🇺🇸 (@RepMTG) February 8, 2023