The Satanic Temple (TST) has opened a free abortion clinic in New Mexico that is named after Supreme Court Judge Samuel Alito.
The tiresome provocateurs, known for protesting religious expression in public spaces, reportedly offer prescription drugs that induce abortion to those "who wish to perform The Satanic Temple's religious abortion ritual."
"TST is proud to expand reproductive options for our members. This is just the beginning," said Erin Helian, executive director of campaign operations for the group. "We will remain steadfast as we continue the fight to uphold reproductive justice in the United States."
Abortion in New Mexico is legal up to the point of birth, except in the city of Hobbs, where a local ordinance was passed in November 2022 banning abortion clinics from operating.
Lucien Greaves, the founder of the Satanic Temple, claims not to believe in a supernatural Satan, but instead uses "the literary Satan as a metaphor to promote pragmatic skepticism, rational reciprocity, personal autonomy, and curiosity."
The Satanic Temple alternately poses as "scientific rationalists" or as devout adherents of a serious religion—however it suits their objectives.
In May of 2022, the group filed legal challenges against states that restrict or ban abortions, claiming that abortion procedures constitute religious rituals for its adherents.
TST released a statement at the time declaring that "in states that outlaw abortion but grant exceptions for instances of incest and rape, members should be permitted a religious exception to perform TST's religious abortion ritual."
"States that outlaw abortion and do not grant exceptions present more significant challenges, but TST has a number of plans that we will be undertaking quite soon," the statement continued. "First, we will be suing the FDA to permit TST access to Mifepristone and Misoprostol for use under medical supervision as part of our religious abortion ritual."
TST said its online clinic in New Mexico will provide medication abortion pills through the mail "for those who wish to perform TST's Abortion Ritual."
The group's religious abortion ritual is meant to "exempt TST members from enduring medically unnecessary and unscientific regulations when seeking to terminate their pregnancy," according to TST's website.
The ritual involves the recitation of two of our Tenets and a personal affirmation that is ceremoniously intertwined with the abortion. Because prerequisite procedures such as waiting periods, mandatory viewing of sonograms, and compulsory counseling contravene Satanists' religious convictions, those who perform the religious abortion ritual are exempt from these requirements and can receive first-trimester abortions on demand in states that have enacted the Religious Freedom Restoration Act.
Their satanic abortion ritual reportedly "spans the entirety of the pregnancy termination and includes the abortion itself."
It involves the woman looking at herself in the mirror, and reciting a "rhythmic affirmation" asserting her autonomy and her decision. It's described as a Satanic "destruction ritual"—in the sense that feelings of doubt and guilt are destroyed.
The group is calling its online abortion clinic "The Samuel Alito's Mom's Satanic Abortion Clinic," after the U.S. Supreme Court justice who wrote the majority opinion for the Dobbs v. Jackson Women's Health Organization case in June 2022, which overturned Roe v. Wade.
"In 1950, Samuel Alito's mother did not have options. The clinic's name serves to remind people just how important it is to have the right to control one's body and the potential ramifications of losing that right," the group said.
The website features an animated picture of an older woman—purportedly depicting Justice Alito's mother—outside the abortion clinic saying the words, "If only abortion was legal when I was pregnant."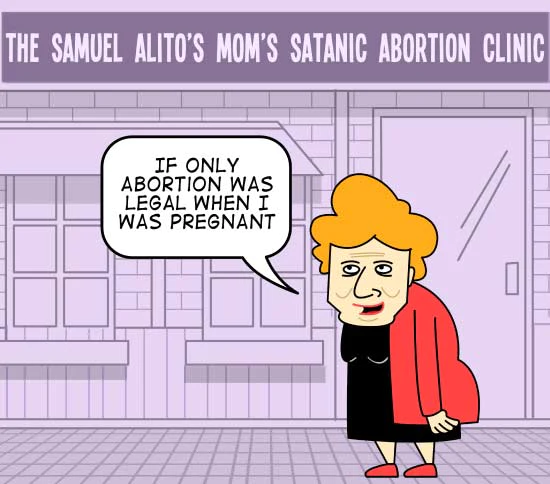 The executive director of Right to Life in New Mexico told KOB4 that TST's announcement is "just an egregious thing."
"They're trying to make it a religious right so that they can use, I guess, the First Amendment right to practice, but that's different, freedom of speech and religion," Ethel Maharg said.
TST's abortion clinic endeavor is one of several of the group's ongoing campaigns, which include "After School Satan," "the Satanic Representation Campaign," and "Satanic Good Works."
According to the the group's website, TST launched the online abortion clinic "to protect the bodily autonomy of our members. As part of our commitment to protecting our members' civil rights and ensuring that our religious rituals can be performed without government interference, the clinic represents one of the most important steps we have taken."
The group says their mission is "to encourage benevolence and empathy among all people." In truth, however, TST is an anti-Christian hate group whose agenda includes wiping all vestiges of Christianity out of public life.
The After School Satan clubs were launched to combat Christian "Good News" clubs. TST is also known for placing a bronze "Baphomet" statue in front of the Oklahoma Capitol to protest a statue of the Ten Commandments.
In May of 2014, they planned to host a Satanic black mass at the Harvard extension school, allegedly using a stolen consecrated Eucharistic host. The Black Mass is "a magical ceremony and inversion or parody of the Catholic Mass that was indulged in ostensibly for the purpose of mocking God and worshiping the devil." It is a rite that often involves human sacrifice as well as obscenity and blasphemy of horrific proportions.
Aurora Griffin, the Harvard student who led the effort to have the Black Mass kicked off campus, described the scene as she was arriving at the church.
I got back to Harvard from the studio just in time for the Holy Hour at St Paul's. As the town car from Fox pulled into the Church parking lot, a group of pentagram-tattooed, heavily pierced, angry people surrounded it. They threatened to violate or kill me, hissing their words and advancing toward me menacingly.

These were the Satanists. Their event had been "indefinitely postponed", and they were furious. Looking into their dead eyes and beholding their inhuman expressions, I felt a combination of fear and pity. These poor souls were in the grip of an otherworldly evil, not the spirit of rational or political protest.
TST addresses the question of abortion access for those who don't live in New Mexico on the abortion clinic's  "frequently asked questions" page.
Regardless of where you live, if you are in the state of New Mexico during your video consultation and when you perform your abortion ritual, you will have abided by the law. However, if you travel to a state where abortion is illegal and need follow-up care, there may be some risks.

Unfortunately, we don't have enough information to know how state laws will be enforced. We believe that the religious nature of our care neutralizes this risk, but state courts must affirm this, and we are working toward attaining that confirmation.
TST says its clinic is funded by donations from supporters, and will provide the abortion pills for free—for women willing to perform their Satanic ritual.