Pfizer Director Dr. Jordan Trishton Walker had a very public meltdown in a New York City restaurant earlier this week when confronted by Project Veritas founder James O'Keefe about the shocking comments he made on undercover video about mutating viruses for profit. Walker reacted violently, physically assaulting O'Keefe and his staff and smashing O'Keefe's iPad when the muckraker tried to show him the undercover recordings.
Project Veritas released the bombshell video Wednesday night, featuring Walker explaining how the company was exploring ways to get around the ban on gain-of-function research by doing "directed evolution" research to get ahead of a new COVID strain.
Walker admitted in the undercover video that the COVID virus likely sprung from the Wuhan Lab,  and referred it as a "cash cow" for Pfizer. "Either way, it's going to be a cash cow," he said. "COVID is going to be a cash cow for us for a while going forward. Like obviously!"
He also admitted that pharmaceutical companies and government regulatory agencies, such as at the Food & Drug Administration [FDA], have mutual interests that are not in the best interest of the American people. He told the Veritas journalist that Big Pharma is "a revolving door for all government officials."
Dr. Robert Malone, inventor of mRNA technology appeared on Fox News' "Tucker Carlson Tonight" to react to yesterday's explosive revelations.
"The buried lede," Malone said, "is the implicit acknowledgement that they cannot construct vaccines fast enough—the virus is outrunning them and they're having to resort to extraordinary measures."
The vaccinologist said that it was an acknowledgement that Pfizer was "admitting defeat of their vaccine technology and their platform and campaign."
"They're saying that 'we have to go so far out on the edge that we're really crossing the line, we're breaking the law, but we have no other choice because our technology is not meeting the need, that we're not able to produce vaccines fast enough to get ahead with these virus mutations,'" Malone said.
Dr. Robert Malone on Pfizer's "Directed Evolution"

"It appears that they are recapitulating exactly what was done at the Wuhan Institute of Virology"@TuckerCarlson @RWMaloneMD pic.twitter.com/UanKjpPfP7

— Chief Nerd (@TheChiefNerd) January 27, 2023
When O'Keefe confronted Walker about his comments at the restaurant, the doctor got up out of his chair and started frantically arguing with the journalist as he calmly asked him questions.
"I was trying to impress a person on a date by literally lying!" Walker exclaimed.  "I'm not even a scientist—I came from a consulting firm!" he added. "I literally was on my third date with a guy, and like normal men, you lie to impress a date!" he insisted.
Project Veritas has confirmed that Walker was a doctor and researcher in charge of research and development at Pfizer.
We've obtained internal Pfizer docs verifying Jordan Walker as Pfizer Director, Research & Development Strategic Operations

Graduated Yale 2013

Doctor Med at U of Texas Southwestern medical school.

His supervisor reports to Mikael Dolsten who reports to Albert Bourla, CEO pic.twitter.com/7t0tAzHUo6

— James O'Keefe (@JamesOKeefeIII) January 26, 2023
He also has worked as a medical consultant for Boston Consultants, according to a deep dive into his background by Coffee and Covid.
Boston Consulting Group often lends or places professionals with Fortune-100 companies like Pfizer, so that would make sense. Walker's now-deleted Apollo profile confirms his work for BCG and indicates he started working for Pfizer in 2021.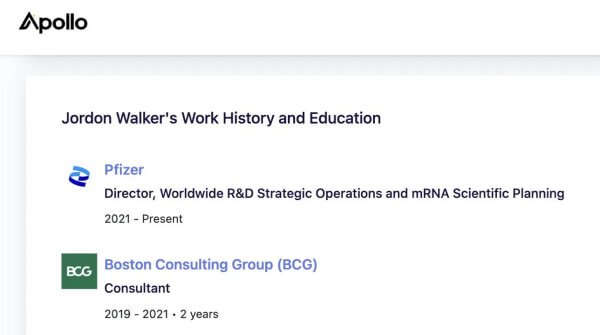 "Mutating viruses? Do you not work for Pfizer?" O'Keefe asked.
Walker objected to being filmed, threatened to call the police, and continued to rail against Project Veritas.
"Why are you doing this to someone who's just working at a company that's trying to literally help the public!" he exclaimed, changing his story slightly. "This is absurd!"
O'Keefe was put in an awkward position because the restaurant manager wanted him to leave, but Walker wanted the Project Veritas crew to stay because he was calling the police on them.
"It's pretty remarkable that they call the police on us every time we show up and ask questions. Every time," O'Keefe said. Walker told the restaurant employees to lock the door so the Project Veritas crew couldn't leave. "Don't let them leave, I feel unsafe," Walker said.
The doctor walked away from O'Keefe at one point and began filming one of the restaurant employees in the kitchen with his iPhone camera.
"I don't know why he's filming her," O'Keefe said.
While Walker was still milling around the kitchen, O'Keefe asked him if Pfizer was doing the "directed evolution" experiments or not, but Walker was on the phone with the police, and didn't answer.
When O'Keefe and his crew tried to leave, they found that the door was locked.
"Could you please let us leave, ma'am?" O'Keefe asked the manager. As Walker grew more agitated, O'Keefe repeatedly asked the manager to open the door so his team could leave.
As the muckraker was talking to the manager, Walker approached O'Keefe, grabbed the iPad from him, and promptly dropped it on the floor.  As a Veritas staffer tried to restrain the doctor, they both lost their balance and fell on the floor.
"You can't just record people like that!" Walker exclaimed from the floor. O'Keefe's cameraman stood on the iPad to keep Walker from grabbing it again, but Walker, still on the floor, was able to wiggle it free.
"He hit my head!" Walker exclaimed after he bumped his head on the floor during the struggle for the iPad. "Do not record me!" he cried, purposefully smashing the iPad again on the floor. Then  he ran through the restaurant, holding the iPad like a football, but he fumbled it and it fell to the floor for a third time, allowing the cameraman to retrieve it.
Walker repeatedly tried to get the iPad back, lunging at the Veritas staffers and playing the victim when they pushed back. "Stop! Let go of me, now you're hurting me!" he wailed. "It is not okay to record people like that! It is not!"
As the Veritas crew were leaving, he whimpered, "what is going on here? You can not just record people like that!"
The cameraman continued to film Walker's meltdown from outside the restaurant, as O'Keefe and the rest of the crew were heading to their cars.
After O'Keefe and the rest of the crew had left, the cameraman filmed Walker running out into the street to stop a vehicle that he thought was O'Keefe's. When the police finally arrived, they were shown the video, and said they would have arrested Walker if O'Keefe had been around to press charges.
In this video:
-I was locked in a restaurant (possible Unlawful imprisonment)
-I was Assaulted
-Had our IPad destroyed
-Pfizer director said "I'm literally a liar"
-He confirmed hes Boston Consulting and Pfizer
-He said he's trying to "help the public"
– pic.twitter.com/kIMCREEyyN

— James O'Keefe (@JamesOKeefeIII) January 27, 2023
Pfizer has yet to comment on the Project Veritas videos.
Gregg Re, a producer for Fox News' Tucker Carlson Tonight, tweeted late Thursday afternoon that Fox had tried calling and emailing Pfizer all day, but the company refused "to answer any questions."
"This is the company people trust to mess with their RNA," he said.  "Just incredible."
In the opening for his show Thursday night, Carlson pointed out that the media should be pursuing this huge story, but that's not happening.
"In the 24 hours since Project Veritas posted this footage, it has been viewed more than 12 million times on Twitter," Carlson noted. "So the public is very interested, why wouldn't they be? But the media are not."
TUCKER CARLSON: "@Project_Veritas just released…video of a Pfizer Executive bragging…about how his company conducts a kind of Frankenstein science – Manipulating COVID viruses for profit…

The public is very interested…but the media are not." pic.twitter.com/WxDfx4WzMZ

— Daily Caller (@DailyCaller) January 27, 2023