Back in 1958, Esquire magazine tapped Art Kane to photograph jazz greats. The shoot took place at 17 East 126th Street, between Fifth and Madison Avenue in Harlem. Jazz musicians are by nature an unpredictable lot, but 57 managed to show up. They were: 
Red Allen, Buster Bailey, Count Basie, Emmett Berry, Art Blakey, Lawrence Brown, Scoville Browne, Buck Clayton, Bill Crump, Vic Dickenson, Roy Eldridge, Art Farmer, Bud Freeman, Dizzy Gillespie, Tyree Glenn, Benny Golson, Sonny Greer, Johnny Griffin, Gigi Gryce, Coleman Hawkins, J. C. Heard, Jay C. Higginbotham, Milt Hinton, Chubby Jackson, Hilton Jefferson, Joe Thomas, Wilbur Ware, Dickie Wells, George Wettling, Ernie Wilkins, Mary Lou Williams, Lester Young, Osie Johnson, Hank Jones, Jo Jones, Jimmy Jones, Taft Jordan, Max Kaminsky, Gene Krupa, Eddie Locke, Marian McPartland, Charles Mingus, Miff Mole, Thelonious Monk, Gerry Mulligan, Oscar Pettiford, Rudy Powell, Luckey Roberts, Sonny Rollins, Jimmy Rushing, Pee Wee Russell, Sahib Shihab, Horace Silver, Zutty Singleton, Stuff Smith, Rex Stewart, and Maxine Sullivan.
As we roll into 2023, only two remain: Sonny Rollins and Benny Golson. Golson was born on January 25, 1929, which makes him 93.
Benny is second from the left in the top row, wearing glasses. If the name seems unfamiliar, you likely have already heard his work. Benny wrote music for "M*A*S*H," "Mission Impossible," and scored several television specials. But that was not his claim to fame. 
"He had it all," according to vibraphonist Terry Gibbs, 98. "Very good arranger, very good tenor player." Golson came up through big bands and formed influential combos such as the Jazztet. The tenor man composed tunes such as "Whisper Not," "Killer Joe," and "I Remember Clifford," in memory of Clifford Brown, the great trumpeter who died in a car crash in 1956.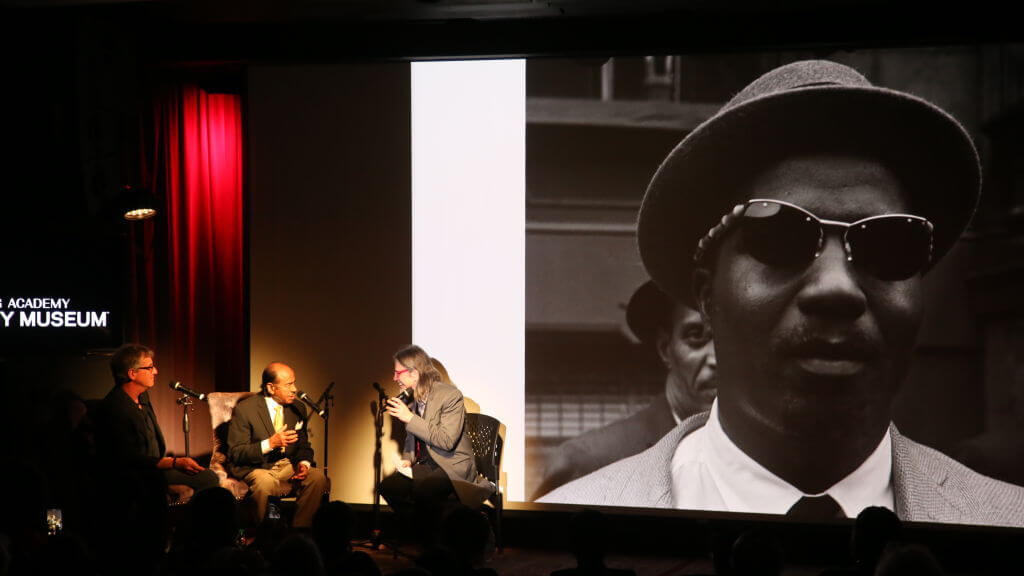 Golson's genius at turnarounds comes through in "Blues March," "Five Spot After Dark," and "Along Came Betty," a challenge for any soloist. His compositions have become jazz standards, and Golson remained active in recent years. 
On that August day in 1958, Sonny Rollins wore sunglasses and stood directly behind pianist Marian McPartland. Born on September 7, 1930, Rollins started on alto saxophone but made his mark on tenor. If you put out an album titled "Saxophone Colossus," you better have your chops in order.
Sonny did, on albums such as "Way Out West," where he stretches out on cowboy songs and jazz standards alike. His body of work includes "Tenor Madness," "The Bridge," and "Alfie," based on his music for the 1966 film with Michael Caine.
Rollins' harmonic genius shows up in tunes such as "Blue Seven," packed full of tri-tones.
On solos, Sonny appears to be painting himself into a corner, but he always escapes and resolves. His compositions "St. Thomas" and "Airgein," "Sonnymoon for Two," "Pent-up House," and "Oleo" have become jazz standards. 
Here's the late Michael Brecker, the sax soloist on Paul Simon's "Still Crazy After All These Years," busting up "Oleo," based on the famous "rhythm changes." In similar style, trumpeter Chet Baker and friends do justice to "Pent-up House."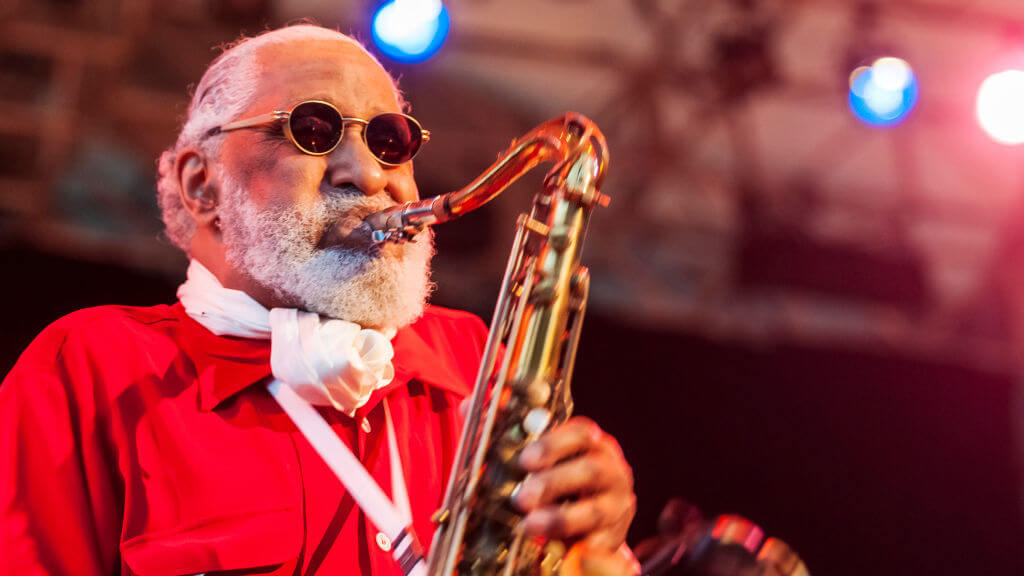 Sonny tears up Noel Cowards' "Some Day I'll Find You," and at the age of 75 he was cranking out multiple choruses of blues, each one fresh and swinging, and performing two hours without a stop. By 1958, he had already earned his place in the famous photo. For information on the others, get the take of Terry Gibbs, who knew many and performed with some.
Coleman Hawkins made "Body and Soul" famous "without ever playing one note of the melody." Tenorist Johnny Griffin was "scary" and "I don't think any tenor players wanted to get on stage with him." Bassist Charles Mingus "would explode and hit a few people. He and I got along great!" 
Gibbs worked opposite Thelonious Monk and says that "Monk was Monk! Let's put it that way." Monk took the descending minor chords often found in the turnaround and put them up front in "Ask Me Now." The great John Coltrane, not present in the photo, rehearsed long and hard before performing Monk's "Trinkle Tinkle." 
According to Gibbs, Marian McPartland was "a very good piano player and also a sweetheart of a person." Pianist Horace Silver ("Song for My Father") "was one of the biggest talents that ever played in my band and one of the nicest people. We were very close until he died."
Dizzy Gillespie "was one of the stars, along with Bird, in that music called bebop. He was way ahead. First, Charlie Parker, and then Dizzy, were way ahead of anybody in the folks who knew the bebop language. [Pianist] Bud Powell also. Those three are the most responsible for that music."
The only instrument made specifically to play jazz is the full drum kit. Gene Krupa, captured in the 1958 photograph, was the first drummer to play the full kit on a recording. Here's Gene throwing down with Buddy Rich back in the day. Art Blakey, captured in the photo, is another drum virtuoso of Jazz Messengers fame.
Gibbs also knew Lester Young, who "probably set a style that tenor players copied the most." Pianist Mary Lou Williams didn't get much attention, but the "Piano Jazz" program with Marian McPartland confirms that Mary Lou could hold her own with anybody in the famous photo. Benny Golson and Sonny Rollins, the two left standing, also outlived a great American musician who passed away last August.
Joey DeFrancesco played Hammond B-3 organ from the age of four, memorizing Jimmy Smith's "The Sermon" when he was five. Joey could also burn it up on trumpet and tenor saxophone and even defend himself on a song. 
As fellow organist Pete Fallico put it, "I always used to say that God gave Joey enough talent for 10 musicians." Like Charlie Parker, Clifford Brown and many others, Joey DeFrancesco would have been right at home in the class of '58. They are all jamming now in the great beyond.