Christmas would not be Christmas without its seasonal meats and treats. The traditional English observance of the holiday was so tied to breads, cakes, and meat pies that the Italians once had a phrase for being overwhelmed with work: Ha più da fare che i forni di Natale in Inghilterra— "He has more to do than the Christmas ovens in England." But the English do not have a monopoly on Yuletide feasting. 
Christmas Eve: The Meatless Meal
For centuries, the Christmas Eve dinner was one of the most important family meals of the year; it was also a time to extend hospitality to those who had no families of their own. Steeped in ritual and expectation, the dinner straddled the fence between the penitence of Advent and the joy of Christmas. Because December 24 was a day of fasting and of abstaining from the meat of warm-blooded animals, it was long the custom to have a special seafood meal the night before Christmas.
In some parts of Italy, Cenone or Christmas Eve Supper usually consists of 12 courses in honor of the Apostles, but the content of those courses varies from region to region and family to family. In southern Italy, the meal is called the Feast of the Seven Fishes. One favorite is capitone or eel sauteed in onion and shallots; another is fritto misto or "mixed fry," deep-fried fish, vegetables, or fruit. Other courses of a traditional Italian Christmas Eve dinner can consist of pasta with a meatless sauce like gorgonzola or anchovy. In Abruzzi (in southern Italy), the feast includes insalata de arance, an orange salad made with orange slices and black pepper marinating in olive oil.
Portugal observes the meatless tradition with bacalhau or salt cod, although some regions prefer polvo or octopus, either with rice or roasted.
A traditional Mexican meal includes a "salad of the Good Night" (ensalada de Nochebuena), marinated fish (seviche), and fried cakes (buñuelos). Armenians have a simple meal of fried fish, lettuce, and boiled spinach—for according to legend, that was what Our Lady ate the night that Christ was born.
In Provence (southern France), the Gros Souper or Big Supper consists of aioli, a delicious garlic mayonnaise served with fish, snails, and vegetables. For dessert there are 13 different treats: fruits, nuts, chocolates, and so forth. Thirteen is considered a lucky number in some places, for it is the sum of Christ and the Apostles.
In Slavic lands, the Christmas Eve meal (Wigilia in Polish) cannot begin until the first star in the night sky is sighted; it is usually the responsibility of the youngest child to keep watch for it. Stalks of grain are placed in the four corners of the room for a bountiful harvest, and hay is spread out under the tablecloth in honor of the manger. In Poland, the meal begins with grace and the breaking of a rectangular Christmas wafer called opłatek ("offering"). The father breaks off a piece and passes the remainder to the rest of the family until everyone has a piece. As the wafer is passed around, prayers are said for loved ones. The ritual symbolizes the unity of the family in Christ as well forgiveness and reconciliation. In parts of Ukraine, a wheat porridge called kutia serves a similar function. The 12-course meal in honor of the Apostles can consist of various soups such as borscht and fish like herring and carp: some Poles buy a live carp a couple of days earlier and let it swim around in their bathtub for maximum freshness. For dessert, they enjoy a compote made of 12 different fruits (again in honor of the Apostles).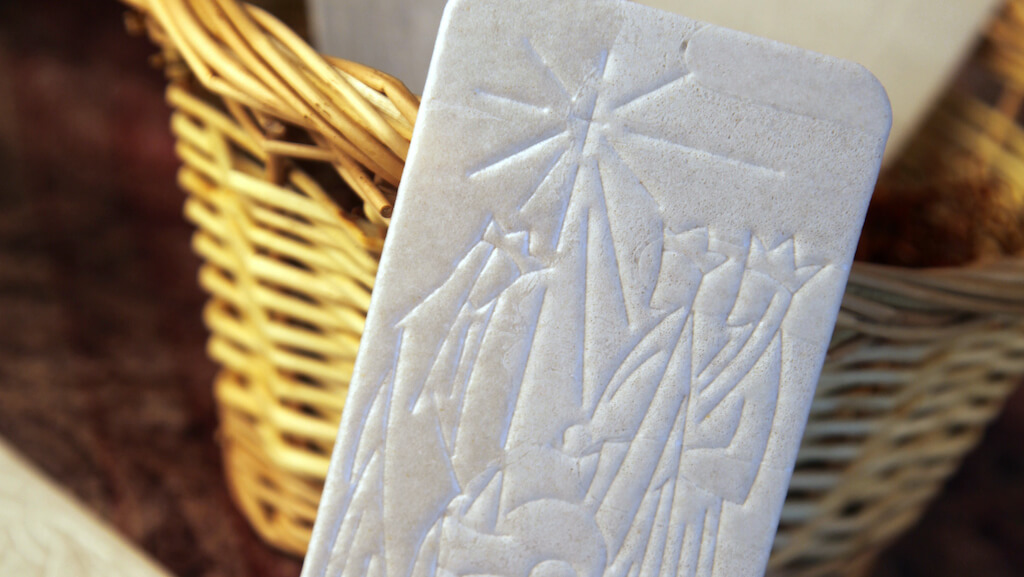 Breads and Cakes
The prominence of wheat products on the Christmas table can be traced to the age before Christ, when the peoples of Europe used the period around the winter solstice to pray for a good crop in the upcoming year and to honor the deceased ancestors who had bequeathed them their fields. Symbolically significant breads and cakes were baked, and wheat was displayed around the home. With the spread of Christianity came a purging of pagan customs, but many of the old treats were retained or modified. Most countries have some sort of traditional Christmas cake baked on Christmas Eve and eaten during the season.
In Ireland, circular caraway seed cakes for each member of the household were so popular that the Gaelic name for Christmas Eve is Oidhche na ceapairi—the "Night of Cakes."
In some parts of Germany, cakes were adorned with a figure of the Christ Child made from sugar; today, Christollen, a bread made with butter, sugar, almonds, and raisins, is popular.
In Slavic countries, white wafers blessed by the priest and eaten with syrup or honey are imprinted with scenes of the Nativity and distributed by the father during the Christmas Eve dinner as a symbol of love and peace. In Lithuania these are called "bread of the angels" and in Poland, as we saw above, opłatki. Lithuanians also have kūčiukai or Christmas cakes, small poppy-seed loaves that are served on Christmas Eve and left out overnight for deceased loved ones.
In France and French Canada, small round loaves (pains d'habitant) are baked for Christmastide. In southern France, the Christmas loaf (pain calendeau) is cut into four pieces and eaten only after the first quarter has been given to a poor person.
In Hungary, folks eagerly await a large rolled cake filled with poppy seeds and walnuts called mákos és diós kalacs.
The Greek Christopsomo (Christ bread) is a round loaf decorated with a cross of dough and agricultural symbols meant to invoke prosperity. It is eaten on Christmas Eve, although a loaf is sometimes left out in the hope that Christ Himself will come for it.
Vánočka is plaited bread similar to brioche that is enjoyed in the Czech Republic and Slovakia. It is traditionally made with three braids placed over one another that are said to represent the Infant Jesus wrapped in swaddling clothes. Slovenia, on the other hand, has a potato bread called krompirjev kruh, which is moist with a crusty outer layer.
In Italy, panettone and pandoro are the favored sweet breads for the season. Panettone, which means "luxury cake," has been around since the 1500s, and pandoro ("golden bread") was developed in the Middle Ages. Prior to developments in mass production, both were enjoyed only by the elite.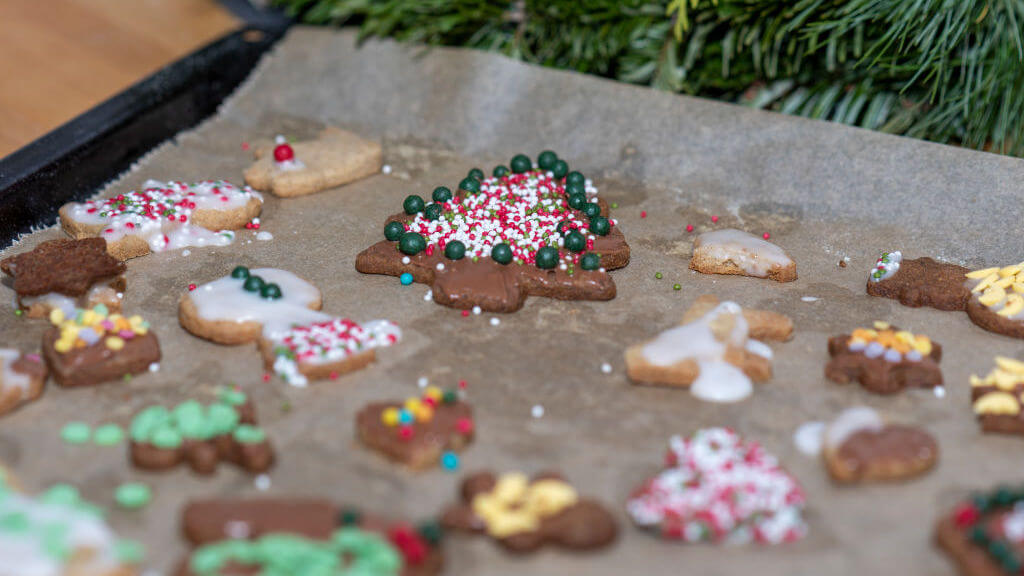 Other Bready Treats
Many Christmas desserts are substitutes or descendants of older Yuletide bread traditions. We already explained England's famous Christmas pudding. Here are a few more highlights from around the world.
Germany can boast of several Christmas treats including: Bethmännchen, a marzipan pastry made with almond, powdered sugar, and rosewater; Dominostein, a multilayered sweet covered in dark chocolate; Magenbrot, a small sweet glazed biscuit; and Rumtopf, a mixture of fruit, rum, and sugar in a stoneware pot. Spekulatius, Spritzgebäck, and Springerle are different kinds of hard biscuit or cookie. The generic name for German Christmas cookies is Weihnachtsplätzchen.
Spain also has at least a dozen different Christmas delights, but the oldest and most famous of all is polvorón, a kind of shortbread invented in Seville in the 16th century by nuns. Polvorón remains a popular Christmas dessert in Spain and her former colonies, as does turrón, a nougat confection made with honey, sugar, egg, and toasted almonds. Also popular in Spain are roscos de vino de Navidad or Christmas wine donuts, made with olive oil, sweet muscat wine, and powdered sugar.
The oldest Christmas cookies in Scandinavia are pepper nuts (pepper nodder in Denmark and peppernotter in Sweden), which owe their existence to the medieval love of holiday spices. Drommar are light and airy cookies while krumkake are delicate, paper-thin wafers. Sandbakelser or sand tarts are Norwegian almond cookies baked in decorative molds. Also popular in northern countries are deep-fried treats such as Norway's fattigmann ("poor man's cakes"), Sweden and Norway's flower-shaped rosettes, and Denmark's delicious donut holes called aebleskiver, which are served to visitors between Christmas and New Year's Eve.
In Greece, melomakarona (honey cookies) and kourabiedes (sugar-coated butter cookies) take pride of place during Christmastime. Made from local ingredients such as oil, honey, oranges, and nuts (which are among Greece's most popular food products), they have been around since ancient times.
Potica is a delicious nut roll made of walnuts, sugar, tarragon, quark, hazelnut, and poppy seed. It is traditionally served in Slovenia during both Christmas and Easter. Romania enjoys a sweet bread called cozonac, while Bulgaria has koledna pitka, which contains a lucky silver coin.
Provence, France, enjoys a sweet bread made with floral water called pompe de Noël either as a Christmas Eve dessert or for Christmas breakfast. France and French Canada also make a rich cake of whole wheat, brown sugar, and dates called carreaux aux dattes.
Finland has pulla, a delicious flaky cardamom roll, and Norway has julekake, a cake made with cardamom, raisins, and candied citrons that goes well with butter and brown goat cheese.
Finally, the United States has the simple sugar cookie, cut into various holiday shapes and covered in icing or sprinkled with variously colored sugars.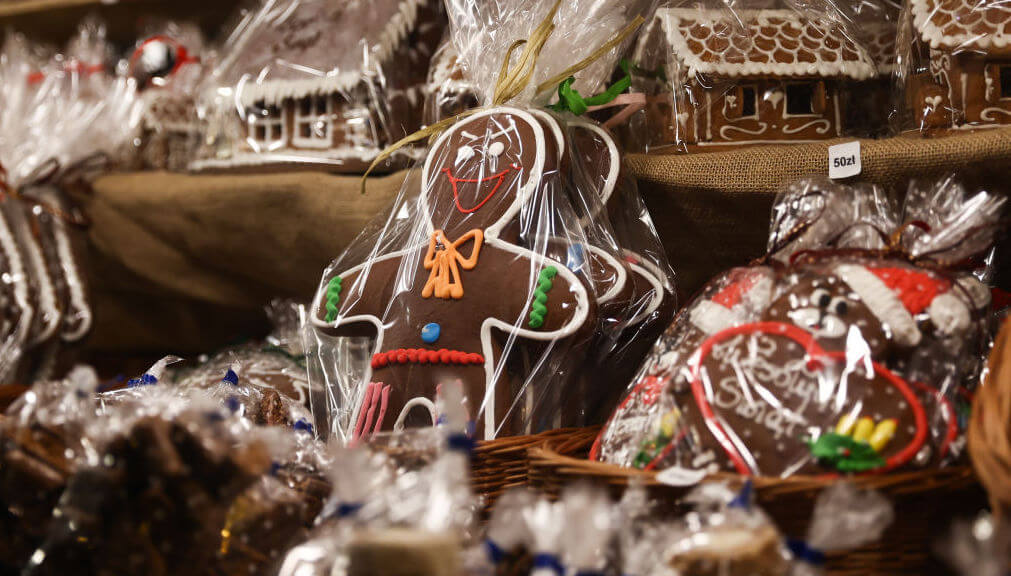 Gingerbread
Two other breads deserve separate mention: gingerbread and fruitcake. 
In antiquity and the Middle Ages, ginger was valued for its medicinal properties: it was used to treat flatulence, indigestion, and hangovers; and as a preservative. It was also popular, of course, as a food flavoring. Tradition credits an Armenian monk named St. Gregory of Nicopolis with teaching priests in Bondaroy, France, how to make gingerbread in A.D. 992. The confection became popular at festivals and fairs, and over time it became associated with Christmas markets and celebrations. Today almost every European country has its own version of gingerbread. Gingerbread men are said to have been invented by Queen Elizabeth I of England, who made them resemble important foreign dignitaries. German Lebkuchen are honey-sweetened gingerbread cookies; Nuremberg, the "Gingerbread Capital of the World," has been making them since 1395. In the Nordic countries, folks enjoy pepperkaker (Norway), pepparkakor (Sweden), brunkager (Denmark), piparkökur (Iceland), piparkakut (Finland), piparkoogid (Estonia), and piparkūkas (Latvia). Poland has a Torún gingerbread that has been made in that city since the thirteenth century as well as other regional variations. Perník is a popular gingerbread biscuit in the Czech Republic at Christmas. Cut into different shapes (hearts, stars, and animals), it is also used as a Christmas tree decoration.
As for the gingerbread house, it may have begun as a marketing gimmick to attract customers at Christmas markets. Another theory is that it was inspired by the witch's house in the Grimm Brothers' fairy tale "Hansel and Gretel": to this day, the German word for gingerbread houses is Hexenhäusle or "witches' houses." But pious legend, as always, has the most charming explanation. Apparently there was a fourth Wise Man who fell ill as he was following the Christmas star and was taken in by a kindly rabbi in Syria. The rabbi told his guest that he had his students make houses of bread as a way of sustaining their hope in the Messiah, who would be born in Bethlehem (Hebrew for "house of bread"). The Wise Man gave the rabbi his chest full of ginger roots (which he had planned on giving to the Infant Jesus) and suggested that he and his students add ground ginger to their houses for flavor and as a preservative.
Whatever the origins, the gingerbread house is a cherished tradition in many countries. In Scandinavia, the pepparkakorhus is the centerpiece of the table and often a family project. In 2013 the Texas A&M Traditions Club in Bryan, Texas, built the world's largest gingerbread house. The completely edible edifice was a full-sized (39,000 cubic feet) house capacious enough for a family of five. The club sold tickets for a tour (and a chance to meet Santa Claus) and donated the proceeds to the nearby St. Joseph's Hospital.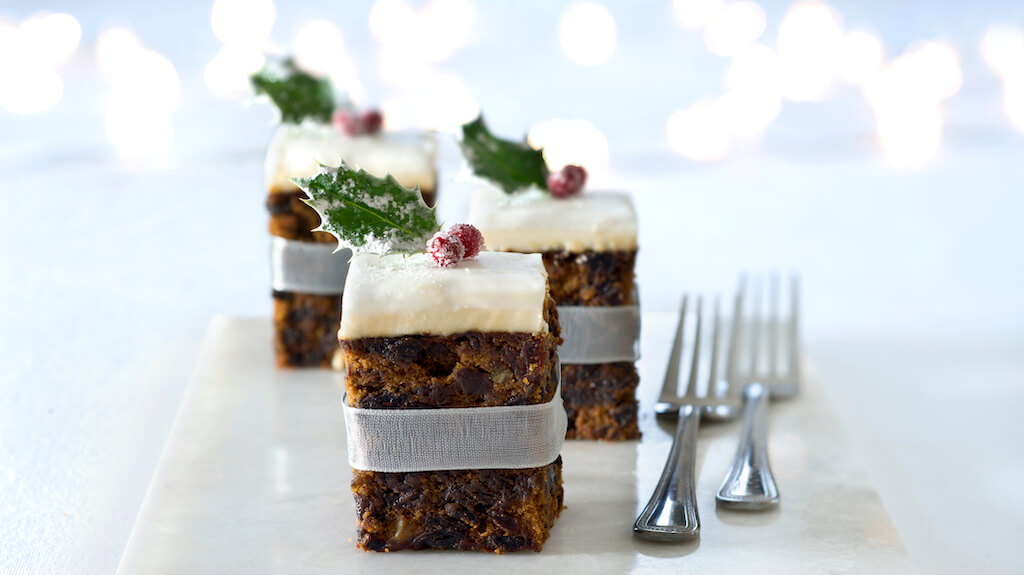 Fruitcake
Fruitcake has been around since Biblical times: Abigail, for instance, brought King David "two hundred cakes of pressed figs" (1 Samuel 25:18), and given fruitcake's notoriously long shelf life, perhaps one of those cakes is still out there. In the Middle Ages, fruitcakes were for festive occasions such as weddings and Christmas. Many cultures enjoy them year-round, but some associate them especially with Christmas and Epiphany. Poland has its keks, Portgual bolo Rei, Romania cozonac, and Chile pan de Pascua. Germany has several versions of stollen, which we described in the "Breads and Cakes" section above (there is a thin line between fruitcake and sweet bread).
The United Kingdom has a wide assortment of regional fruitcakes that range from light to moist and rich. They are typically covered in marzipan, icing, and decorations such as holly, snowmen, or robins. England's tastes rubbed off onto most of the Commonwealth countries such as Canada, New Zealand, and India, all of which enjoy fruitcake at Christmas. In the English-speaking Caribbean, "black cake" is made with mixed fruits, rum, and wine and given as a gift between Christmas and New Year's. Black cake can be prepared months ahead of time and is more closely related to the English Christmas pudding than anything else.
In the United States, mail-order fruitcakes from companies such as Collin Street Bakery in Corsicana, Texas, and The Claxton Bakery in Claxton, Georgia, are a popular option. Because these are Southern producers with easy access to nuts, American fruitcakes are typically rich in this ingredient—hence the expression "nuttier than a fruitcake." 
The mass production of fruitcakes, combined with their longevity, has led to this traditional treat's being the butt of many a joke. Johnny Carson liked to quip that there was only one fruitcake in the world that was passed from family to family. Manitou Springs, Colorado, hosts a Great Fruitcake Toss every January in which contestants toss small fruitcakes or devise contraptions such as air cannons to hurl an old fruitcake through the air. Categories include distance, speed, accuracy, and balance. Fruitcakes can be brought from home for the event, but the organizers also make preservative-free fruitcakes that, after they have served their purpose, go to a pig named Jezebel.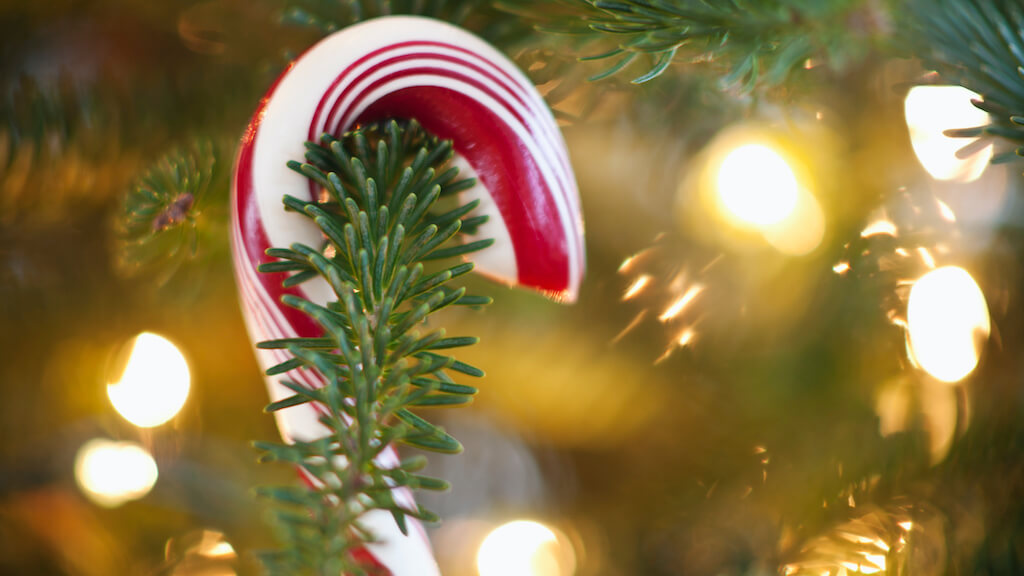 Candy Canes
No one is certain when or why candy canes came about, but one of the more plausible stories is that they were invented in 1670 by the choirmaster of Cologne Cathedral in Germany as a way of keeping his young singers quiet during a long Christmas pageant. The clever elder made a hard candy resembling a shepherd's crook, and because of the shape, the treat eventually became an easy and popular way to decorate the Christmas tree. Later, pious imagination would ascribe other qualities to the candy cane. Its shape was said to resemble the "J" in Jesus, the red stripe His blood, and the white either His purity or the minty Biblical herb hyssop (which was used at the Crucifixion).
Chestnuts
1946 was the year that Nat King Cole first sang the iconic words penned by Robert Wells and Mel Tormé: "Chestnuts roasting on an open fire." For Americans at the time, the distinctive aroma of roasting chestnuts was a familiar part of Christmases past. But already by 1946, the delicious holiday treat was sadly becoming a distant memory.
The American chestnut tree (Castanea dentata) reaches heights of 100 feet and produces acorn-sized nuts in late autumn. A source of food and furniture for centuries, the majestic trees could once be seen from Maine to the Mississippi and from the Appalachians to the Ohio Valley. It is estimated that in 1900 there were 4 billion chestnut trees in North America, which was almost half the trees in the forests on the East Coast.
Then, in 1904, a gardener at the New York Zoological Park noticed that a chestnut tree was afflicted with a strange blight. An Asian chestnut tree planted in Long Island had brought with it a deadly disease to which its American cousin was especially susceptible. Within 40 years, nearly all 4 billion American chestnuts were dead. Today Castanea dentata is listed as a critically endangered species and mostly survives outside its historic range, where the blight is less virulent. Chinese and European chestnuts are still available for consumption, but they are a pale imitation of their American native. Whereas the American chestnut tastes like a carrot raw and like candy when cooked, the other chestnuts are as bland as a potato, better for stuffing than for snacking. Fortunately, scientists are working on cross-breeding the American chestnut tree with the Chinese, which is highly resistant to blight. Some day in the future there may be a return to the smells and tastes of the past.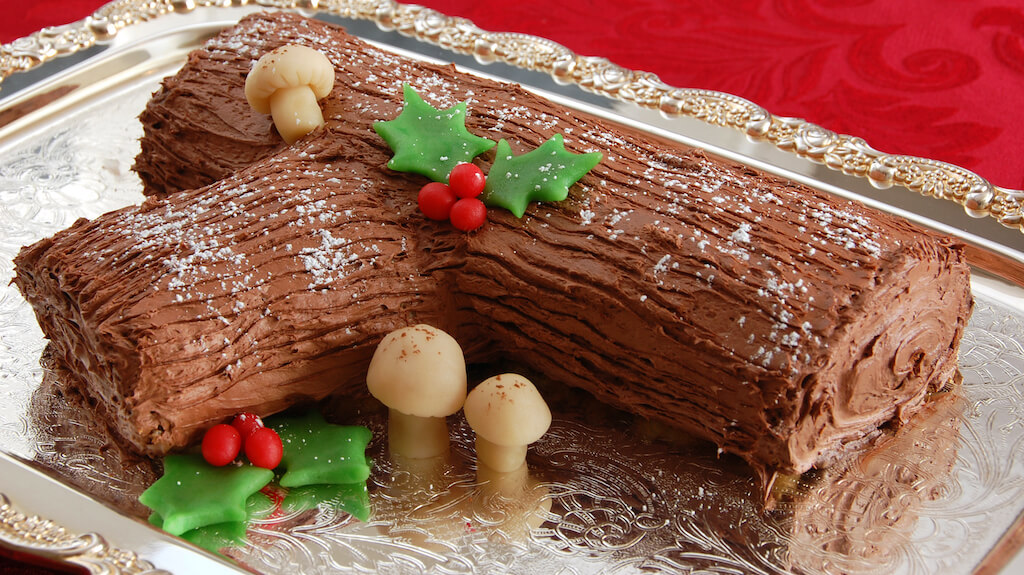 Christmas Day: Réveillon Meal
Réveillon, which comes from the French word, "to awaken," is used to denote Christmas Eve and also the meal held in the wee hours after returning from Midnight Mass. Great French foods such as boudin (blood sausage), oysters, and roast turkey grace the table, while in French Canada there is a delicious meat pie called tourtière and a green ketchup called "chow chow." The dinner is traditionally concluded with a pastry called a bûche de Noël (Christmas log).
The Main Course
The Feast of the Nativity calls for great feasting at the table. The traditional Christmas Day dinner varies according to nationality, but it is generally marked by hearty and delicious dishes.
The English have preserved the medieval tradition of eating goose and plum pudding, but by the time Dickens wrote a Christmas Carol in 1844, they had also adopted the American custom of roast turkey.
Both goose and turkey are popular in many parts of continental Europe, while the Scandinavians prefer some kind of pork, such as ham or spareribs. That goes for Icelanders, too, but they also like ptarmigan, a game bird similar to grouse. The main dish in Greece is roast turkey, but with a Mediterranean twist: it is stuffed with rice and chestnuts.
Germans enjoy goose, rabbit, duck, Krustenbraten (crispy pork roast), potato dumplings, and sausage stuffing. Jamaicans, on the other hand, prefer curried goat, while New Zealanders like lamb roasted or barbecued in an underground pit.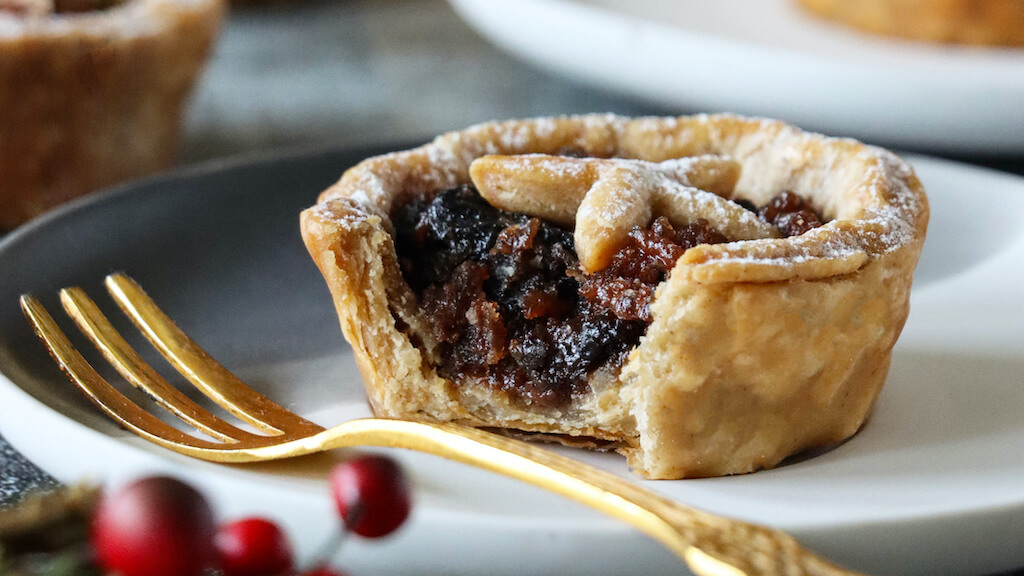 Mince Pie
And then there is mince pie, the sweet dessert that began as a savory meat dish. During the Middle Ages it was popular in the Middle East to mix meat, fruit, and spices. Crusaders brought this technique back with them, and before long mincemeat pies were all the rage. Early recipes called for beef tongue, chicken, eggs, raisins, orange and lemon peel, sugar, and spices such as cinnamon, cloves, and nutmeg. But cooks were versatile, using whatever was available. That could include wild game such as venison and, on one memorable occasion, whale: For Christmas in 1861, James Swan prepared a mincemeat pie from a piece of whale meat given to him by the Makah Indians in what is now Washington State. Swan's fears about how his concoction would be received were allayed when his guests devoured the first serving and asked for more.
Because of their expense, mincemeat pies were only eaten on special occasions, and as the "Christmas pie" they had a special significance. The ingredients were seen as a symbol of the Magis' gifts to the Infant Jesus, and the pies were baked in a large, oblong shape to represent the manger in Bethlehem. (Such pies tend to sink in the middle, creating a manger-like appearance.) Sometimes a figure of the Infant Jesus was placed on top. At dinner, the "baby" was removed and the "manger" was eaten. The Puritans were not happy with this devotion, and when they came to power in the 17th century, they condemned the practice as idolatrous. The mincemeat pie survived the persecution but only by changing to its now familiar circular shape.
During the Victorian era, the pie became smaller, sweeter, and less carnal. Today's mince pies contain no meat (although they are still made with animal products such as suet) and are roughly the size of a cookie.
Christmas Drinks
Christmas celebrations have long been associated with drinking, which is one of the reasons that the Puritans despised the holiday. Wine is an essential part of the Christmas dinner in Mediterranean countries, while northern European nations typically enjoy beer and ale; indeed, for centuries they have made special brews for the occasion. Christmas beer or ale is defined as a seasonal beverage available only during Christmastime. It is usually strong in alcohol and includes "Christmas-y" ingredients like orange, cloves, vanilla, and cinnamon.
Here are some more signature Yuletide libations.
Mulled Drinks
Winter is the perfect time for something mulled—that is, a drink that has been heated and to which sugar, spices, and fruits have been added.
In German-speaking countries, glühwein or "glow wine" (from the hot pokers once used to warm it) is a traditional holiday favorite that consists of red wine, sugar, oranges, lemons, and spices such as cinnamon, star anise, cloves, and vanilla. One variation with great visual appeal is feuerzangenbowle or "fire punch." Mulled wine without sugar is placed in a metal bowl. A sugar loaf soaked in rum is then placed on a bridge stretching over the bowl and set alight. The sugar loaf is enveloped in a blue flame and slowly melts into the bowl.
In Scandinavia, glögg (Swedish and Icelandic) or gløgg (Norwegian and Danish) is the key Christmas beverage. The common ingredients are red wine, sugar, and spices such as cardamom, ginger, cinnamon, cloves, and bitter orange, but each nation has its own distinctive approach. In Sweden, the drink is served with a spoon to scoop out the fruits and nuts; in Norway, the wine is spiked with a shot of aquavit; and in Denmark, it is fortified with port.
In England, a "wassail" was originally a toast. The Old English wæs hail means "Be in [good] health!" and the proper response is drinc hail or "Drink [good] health!" Eventually, the word's meaning migrated to what was being drunk. The first wassails were mulled ales served in large multi-handled communal bowls and featuring ingredients such as roasted apples, eggs, sugar, nutmeg, cloves, and ginger. Later on, hot cider became the more common base.
One popular wassail is Lamb's Wool. The curious name is probably due to the fuzzy appearance of the peeled and roasted apples, but it is also a nice tie-in to the Lamb of God, who is the reason for the season. Lamb's Wool can be made with ale, cider, or both, and there is even a nice little ditty to remind you of the other ingredients:
Next crowne the bowle full of
With gentle Lambs wooll,
Adde sugar, nutmeg, and ginger,
With store of ale too,
And thus ye must doe
To make the Wassaile a swinger.
And if, where you are, the weather at Christmastime is too hot for something mulled, do what tropical Jamaica does. Sorrel Punch is a tart, dark red punch served cold that consists of red wine, white rum, and hibiscus (sorrel) tea brewed with ginger, pimento, cinnamon, and other spices.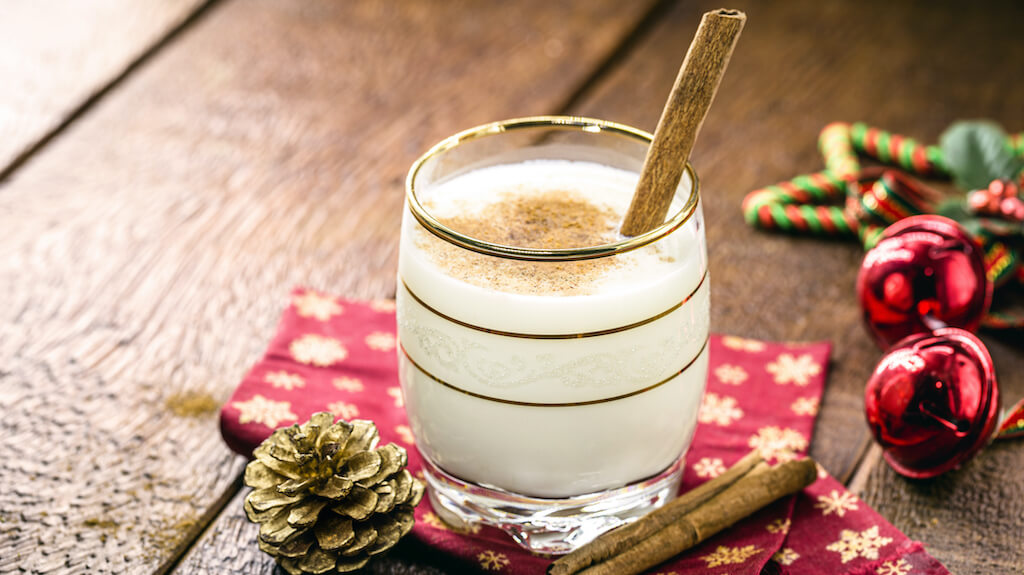 Dairy Drinks
Besides the fruit of the vine, Christmas imbibers turn to the dairy for something in their glass. Perhaps the original idea behind consuming these calorie-rich drinks was to pack on an extra layer of insulation during the cold winter months (which would subsequently be lost during the Great Fast of Lent).
Eggnog has been a popular Christmas drink in the English-speaking world for at least 200 years. Made with milk, cream, eggs, and sugar and sprinkled with nutmeg, it can be served without alcohol or with brandy, rum, whiskey, or bourbon, and it can be served cold or warm. The name eggnog may come from the warm version: according to one theory, the "nogg" in "eggnog" is a variation of the Scottish term "nugg," which means "ale warmed with a poker." The Scots themselves, however, prefer their own Auld Man's Milk, made with eggs, sugar, and scotch. Named after Robert Burns's "Auld Lang Syne," it is especially popular at their New Year's Eve blowout known as Hogmanay.
The Tom and Jerry is a variation of eggnog that is always served hot. Now a classic Christmastide mixed drink, it was invented as a promotional product. Pierce Egan came up with it in the 1820s to promote his book and play about two friends named Tom and Jerry, and we suspect that the drink, in turn, was the inspiration behind the names of the famous cartoon cat-and-mouse duo from the 1940s. To go from friends to a drink to frenemies is perhaps an appropriate journey, at least if the friends drink too much.
Germany's version of eggnog is called eierlikör. Its claim to fame is that it is thick enough to eat with a spoon, which is why it is diluted with a sweet white wine like a Riesling and some rum, brandy, or whiskey.
Dutch advocaat is an egg-based liqueur similar in flavor to eierlikör. According to legend, a distiller was trying to duplicate a drink that Dutch colonists were enjoying in Brazil. The original recipe included avocados as a thickening agent (hence the name), but the distiller used the more easily obtainable egg.
Lithuania's aguonų pienas—"poppyseed milk"— does not contain milk, but we might as well talk about it here. Poppy seeds are soaked in hot water overnight before being crushed or "milked." Cool water, honey, and viryta (a potent spiced honey liqueur) are then added.
In Venezuela, ponche crema has been produced commercially since 1900. The cream-based liqueur is a holiday drink served cold in small cups as an aperitif. Cuba, on the other hand, prefers crema de vie, made with condensed or evaporated milk, vanilla extract, sugar, egg yolks, white rum, and a sprinkle or stick of cinnamon.
Rompope is a vanilla liqueur made from egg yolk, sugar, milk, cinnamon, and alcohol. Named after the Spanish version of eggnog (rompon), the beverage was invented by nuns from the Santa Clara Convent in Puebla, Mexico. According to one story, the nuns wanted something to serve their guests; according to another, they had used hundreds of egg whites to shellac some newly painted sacred images in their church and wanted to put the yolks to good use (which they certainly did). Whatever the reason, the drink was a success. Rompope is enjoyed year round in Mexico and throughout Central America, but it is especially associated with the Christmas season.
For a lighter touch, tropical Puerto Rico has coquito or "little coconut." The holiday drink is made from coconut milk, coconut cream, sweetened condensed milk, and rum or pitorro, the local moonshine.
In Chile, cola de mono or "monkey's tail" is made with coffee, sugar, milk, cloves, and aguardiente, a sweet sugar-cane alcohol. A favorite at Chilean Christmas parties, it is said to have been invented in the 1900s by a clever fellow after the wine ran out at a party. (Not exactly the miracle at the Wedding of Cana, but we'll take it.) Ecuador, on the other hand, uses aguardiente to make canelazo, a hot drink that also includes cinnamon sticks, boiled water, passionfruit juice, and lemon juice.