A former Australian health official who initially promoted the COVID "vaccines" emerged this week as the country's most prominent public health figure to raise the alarm about the risks associated with the mRNA shots.
In a bombshell submission to the Australian Parliament's Long COVID inquiry, Dr Kerryn Phelps, the former president of the Australian Medical Association, went public with the "devastating" injuries she and her wife suffered after receiving the shots, and argued that the true rate of adverse events is far higher than believed due to underreporting and "threats" from medical regulators.
"This is an issue that I have witnessed first-hand with my wife who suffered a severe neurological reaction to her first Pfizer vaccine within minutes, including burning face and gums, paraesethesiae, and numb hands and feet, while under observation by myself, another doctor and a registered nurse at the time of immunization," the 65-year-old said in the 18-page statement.
Paraesethesiae is defined as a tingling or prickling, "pins-and-needles" sensation that often occurs in the arms, hands, legs, or feet.
Phelps said her wife, Jackie Stricker-Phelps, continues to suffer "devastating" adverse effects a year and a half later, "with the addition of fatigue and additional neurological symptoms including nerve pains, altered sense of smell, visual disturbance and musculoskeletal inflammation. The diagnosis and causation has been confirmed by several specialists who have told me that they have seen 'a lot' of patients in a similar situation."
"We did a lot of homework before having the vaccine, particularly about choice of vaccine at the time. In asking about adverse side effects, we were told that 'the worst thing that could happen would be anaphylaxis' and that severe reactions such as myocarditis and pericarditis were 'rare,'" she said.
Dr. Phelps also went public with the vaccine injury she suffered after her second dose of Pfizer in July 2021, "with the diagnosis and causation confirmed by specialist colleagues."
"I have had CT pulmonary angiogram, ECG, blood tests, cardiac echogram, transthoracic cardiac stress echo, Holter monitor, blood pressure monitoring and autonomic testing," she said.
"In my case the injury resulted in dysautonomia [autonomic nervous system disorder] with intermittent fevers and cardiovascular implications including breathlessness, inappropriate sinus tachycardia [irregular heartbeat] and blood pressure fluctuations," she added.
Dr. Phelps said she reported their vaccine injuries to the Therapeutic Goods Administration (TGA) but it "never followed up."
Dr. Phelps joins Dr. Aseem Malhotra, a British cardiologist, and Professor Angus Dalgeish, a British oncologist, both of whom became vaccine critics after initially supporting the mRNA shots.
The respected doctors' past advocacy for the COVID jabs make their current conclusions difficult to dismiss.
Dr. Phelps—initially a vocal supporter of Australia's draconian lockdown, mask and vaccination mandates—was still recommending the jabs as late as  March of 2022.
I spoke with @BenFordham this morning on @2GB873
The pandemic is not over.
20087 new cases in NSW in the past day.
Vaccination, ventilation, avoid crowds, wear an N95 mask to protect yourself and others.
And a reminder-even vaccinated, you can get #covid19 more than once https://t.co/TXWK9UHg6D

— Prof Kerryn Phelps AM (@drkerrynphelps) March 16, 2022
In January of 2022, Dr. Phelps recommended that children be barred from attending in-person school unless they were vaccinated.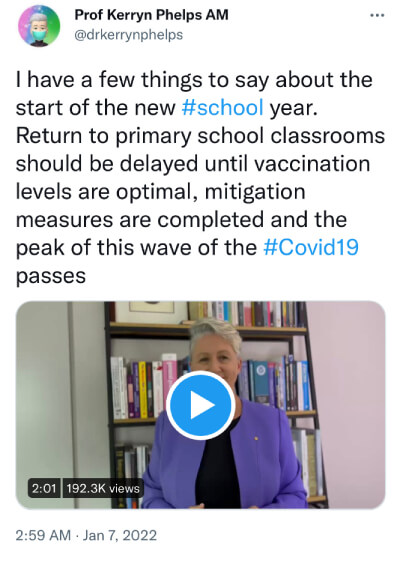 In her submission, Dr. Phelps also revealed that she had spoken with other doctors "who have themselves experienced a serious and persistent adverse event" but that "vaccine injury is a subject that few in the medical profession have wanted to talk about."
"Regulators of the medical profession have censored public discussion about adverse events following immunization, with threats to doctors not to make any public statements about anything that 'might undermine the government's vaccine rollout' or risk suspension or loss of their registration," she explained.
The Australian Health Practitioner Regulation Agency (AHPRA), which oversees Australia's 800,000 registered practitioners and 193,800 students, last year warned that anyone who sought to "undermine" the national Covid vaccine rollout could face deregistration or even prosecution.

AHPRA's position statement said that "any promotion of anti-vaccination statements or health advice which contradicts the best available scientific evidence or seeks to actively undermine the national immunization campaign (including via social media) is not supported by National Boards and may be in breach of the codes of conduct and subject to investigation and possible regulatory action".

Earlier this year, Australian musician Tyson 'tyDi' Illingworth said he had been told privately by doctors that they feared being deregistered if they linked his neurological injury to the Moderna vaccine.
Dr. Phelps said she had heard many stories of vaccine injury from "patients and other members of the community" who struggle to find doctors willing and able to help them.
"They have had to search for answers, find GPs and specialists who are interested and able to help them, spend large amounts of money on medical investigations, isolate from friends and family, reduce work hours, lose work if they are required to attend in person and avoid social and cultural events," she said.
"Within this group of vaccine injured individuals, there is a diminishing cohort of people who have symptoms following immunization, many of which are similar to Long COVID (such as fatigue and brain fog), but who have not had a Covid infection. These people would be an important subset or control group for studies looking into the pathophysiology, causes of and treatments for Long COVID. It is possible that there is at least some shared pathophysiology between vaccine injury and Long Covid, possibly due to the effects of spike protein."
She added that "in trying to convince people in positions of influence to pay attention to the risks of Long COVID and reinfection for people with vaccine injury, I have personally been met with obstruction and resistance to openly discuss this issue".
"There has been a delay in recognition of vaccine injury, partly because of under-reporting, concerns about vaccine hesitancy in the context of managing a global pandemic, and needing to find the balance between risks and benefits on a population level," she said.
"Reactions were said to be 'rare' without data to confirm how common or otherwise these reactions were. In general practice I was seeing cases, which meant other GPs and specialists were seeing cases too. Without diagnostic tests, we have to rely largely on clinical history."
Dr Phelps also said there was concern some adverse events could "cause long-term illness and disability", but data was limited because the "global focus has been on vaccinating as many people as quickly as possible with a novel vaccine for a novel coronavirus."
"Because of this, all of the studies that have been published so far are either small, or case studies only," she added.
"The burden of proof seems to have been placed on the vaccine injured rather than the neutral scientific position of placing suspicion on the vaccine in the absence of any other cause and the temporal correlation with the administration of the vaccine," the doctor lamented.
Dr. Phelps also noted (as prominent cardiologist and vaccine critic Dr. Peter McCullough has said for over a year) that there has been "a misconception" that myocarditis—the  heart inflammation associated with the Pfizer and Moderna mRNA vaccines—is 'mild', 'transient' and 'mostly in young males,' when there are many cases where myocarditis is manifestly not mild, not transient and not confined to the young male demographic."
She said that until medical authorities acknowledge and recognize post-vaccination syndrome or vaccine injury, "there can be no progress in developing protocols for diagnosis and treatment and it is difficult to be included in research projects or treatment programs."
Because the need for a post-vaccination treatment protocol wasn't being met in the United States, Front Line Critical Care Alliance (FLCCC) founders Dr. Paul Marik and Doctor Pierre Kory in May established their  I-RECOVER Post-Vaccine Treatment Protocol.
"There's no disease in medicine that you can't treat. It's never too late," Marik said at the time. "These vaccine-injured people are suffering and we need to do something."
Phelps appears to be thinking along the same lines in Australia.
"It has also meant a long and frustrating search for acknowledgment and an attempt at treatment for many individual patients," she said.
"People who suffer Covid vaccine injury may present with a range of symptoms, and results of standard medical tests often come back normal. And like patients with Long COVID, they too are also asking the medical profession and public health systems for help."