Sam Brinton, the former Department of Energy "nuclear waste guru" who has been charged with stealing women's suitcases in two different states, was released on bond  following a court appearance in Las Vegas on Wednesday. ​
Bail was set at $15,000 on a felony grand larceny charge after Brinton allegedly swiped a $320 piece of luggage from Harry Reid International Airport in July.
Judge Joe Bonaventure warned the nonbinary "kink activist" to "stay out of trouble" as a condition of the bail, and he was released after cash bond was posted, according to KLAS. Brinton had no comment for the media following his court appearance.
The mugshot from his arrest in Nevada was released on Wednesday.
🚨 BREAKING: MUGSHOT RELEASED of Non-binary Biden nuclear official Sam Brinton after arrest for multiple luggage theft charges pic.twitter.com/ugUFHcgfe4

— Benny Johnson (@bennyjohnson) December 14, 2022
A felony warrant was issued for Brinton on December 9, after Las Vegas police recognized him in media reports about the Minneapolis-St. Paul luggage heist.
In the Nevada case, a woman who had traveled from Dulles International Airport to Reid airport on July 6 said she was unable to find a piece of her luggage that she had checked with United Airlines, KLAS reported.
She filed a police report four days later. The luggage was described as gray with a hard shell, and an "Away" brand "Bigger Carry-On" model valued at $320, documents said.

The woman told police her stolen property had a total value of more than $3,670, and included jewelry, makeup, contact lenses and clothing, documents said.

A Las Vegas Metropolitan police officer reviewed surveillance video and "observed several nonverbal cues, or body language anomalies, from the suspect, which caught his attention," according to the warrant.
"Specifically, Brinton pulled the victim's luggage from the carousel and examined the tag. Then placed it back on the carousel, looking in all directions for anyone who might be watching, or might approach. Pulling it back off the carousel and demonstrating the same behavior by looking around before walking away with it quickly," the warrant said.
Brinton's "unique" tee shirt—featuring a rainbow colored atomic nuclear symbol—also helped give him away, the arrest warrant said.
"On his page I located a post which was dated 07/06/22, the same day of the theft," the officer wrote. "The post was a selfie picture of Brinton who appeared to be in an airport. Brinton was clearly wearing the same exact white T-shirt with a large, rainbow colored atomic nuclear symbol design on the front as seen on video at Hairy Reid International Airport."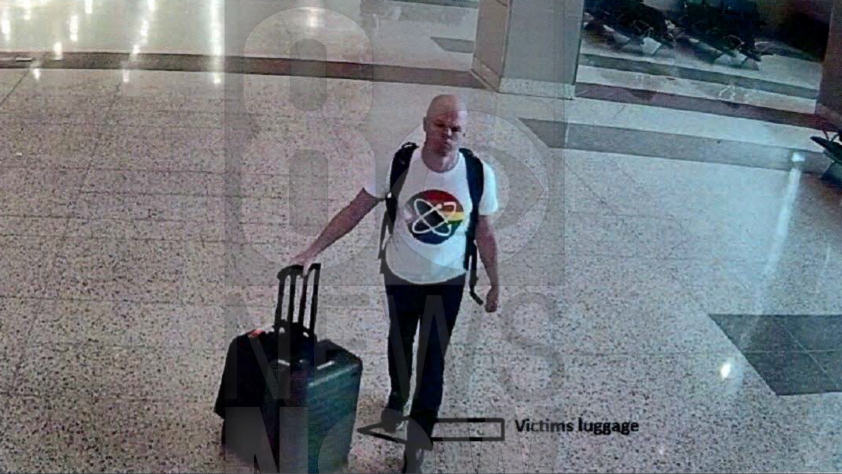 Brinton was charged in October with the felony theft of a woman's designer suitcase from the Minneapolis-St. Paul (MSP) Airport.
According to the criminal complaint, Brinton allegedly stole a navy blue Vera Bradley roller bag worth $2,325 from the luggage carousel at the MSP Airport on Sept. 16.
The defendant's first court hearing for that theft is scheduled for Dec. 19 in Hennepin County.
The out and proud pup fetishist was tapped by Joe Biden in February to be deputy assistant secretary of Spent Fuel and Waste Disposition in the Energy Department's Office of Nuclear Energy. He was reportedly placed on leave over the summer, but the DOE for weeks refused to answer media inquiries regarding Brinton's employment status following his run-ins with the law. The Department finally confirmed on Monday that Brinton had been fired.