Samuel Brinton, the Biden regime's kinky nonbinary nuclear waste guru, may still be receiving a government paycheck after allegedly stealing a woman's designer suitcase at the Minneapolis Airport, according to Fox News. The Department of Energy (DOE) refuses to answer media inquiries.
The DOE did confirm that the role-playing "pup handler" was placed on leave "over the summer," but it is currently not known if the alleged suitcase thief is still being paid, or whether he still has his security clearance.
Significantly, Brinton still has as a pinned tweet, his announcement in June that he had officially started serving as Deputy Assistant Secretary of Spent Fuel and Waste Disposition in the Biden administration.
It's official. As of June 19th, I now serve my nation as the Deputy Assistant Secretary for Spent Fuel and Waste Disposition in the Office of Nuclear Energy in the Department of Energy. pic.twitter.com/zLq3Bf97X2

— Sam Brinton (@sbrinton) June 29, 2022
In October, Brinton was charged with felony theft of a movable property without consent, and is facing a five-year imprisonment, a $10,000 fine or both.
"Sam Brinton is on leave from DOE, and Dr. Kim Petry is performing the duties of Deputy Assistant Secretary of Spent Fuel and Waste Disposition," is all a DOE spokesperson was willing to tell Fox, despite being asked multiple times if he's still being paid.
Less than two weeks ago, however, the DOE Twitter account made a point of tweeting its support of the "trans and gender-nonconforming individuals" who "are part of the DOE family." Brinton retweeted the DOE's message.
The above Nov. 20 tweet came nearly a month after the criminal complaint against Brinton was filed in Minnesota state court.
According to the October 26 complaint, Brinton allegedly stole a navy blue Vera Bradly roller bag worth $2,325 from the luggage carousel at the Minneapolis St. Paul Airport (MSP) on Sept. 16.
After the suitcase's owner alerted police, detectives reviewed video surveillance footage from the baggage claim area which showed Brinton taking the bag from the carousel, according to the complaint.
The video footage allegedly shows Brinton removing the luggage tag identifying the owner of the bag and putting it in his purse. He "then left the area at a quick pace," the complaint says. According to law enforcement, Brinton had no reason to be in the baggage claim area, as he had not checked a bag before boarding his flight from Washington, D.C.
According to law enforcement, Brinton continued to use the luggage at least two more times during subsequent trips to Washington, D.C. on Sept. 18 and Oct. 9.
When an officer called Brinton to question him about the incident, the transvestite initially denied that he stole it, but did confirm that it was still in his possession.
"If I had taken the wrong bag, I am happy to return it, but I don't have any clothes for another individual," Brinton told the officer, according to the complaint. "That was my clothes when I opened the bag."
Two hours later, Brinton called the officer back with a different story, and apologized for not being "completely honest," Fox News Digital reported.
"DEFENDANT said when they opened the bag at the hotel, they realized it was not theirs," the court filings stated. "DEFENDANT got nervous people would think they stole the bag and did not know what to do. DEFENDANT stated they left the clothes from the bag inside the drawers in the hotel room."
Brinton told police he took the suitcase because he was "tired" and thought it was his, according to the complaint. He said he brought the bag back to Washington D.C. because it would have been "weirder" to leave a bag in the hotel room, police said. Detectives also noted that no clothing was ever recovered from the hotel room drawers.
Brinton was told to return the luggage to Delta, but as of Oct. 27 the victim still had not received her bag back, according to the complaint.
Less than a month later, Biden's "nuclear waste guru," attended a fetish conference in Los Angeles, where he presented a seminar titled: "Spanking: From Calculus To Chemistry," the Daily Mail reported.
Sam Brinton: Biden's nuclear waste guru spoke at a spanking seminar weeks after bag theft https://t.co/7x2gXuzKzN

— Daily Mail US (@DailyMail) November 30, 2022
The event was titled: 'LA Leather Getaway' and was sponsored by CLAW Corp, which holds an annual conference for homosexual men who are into leather and bondage.
According to his bio on the CLAW website, Brinton—who appeared at the event under the pseudonym, NuclearNerd—has been teaching a "Physics of Kink" class at universities and community events "across the country for years."
The profile states: "They have been active in the kink world since 2013, host monthly kink parties in their dungeon in Washington, DC, and estimate they have spanked over 2,000 cute butts."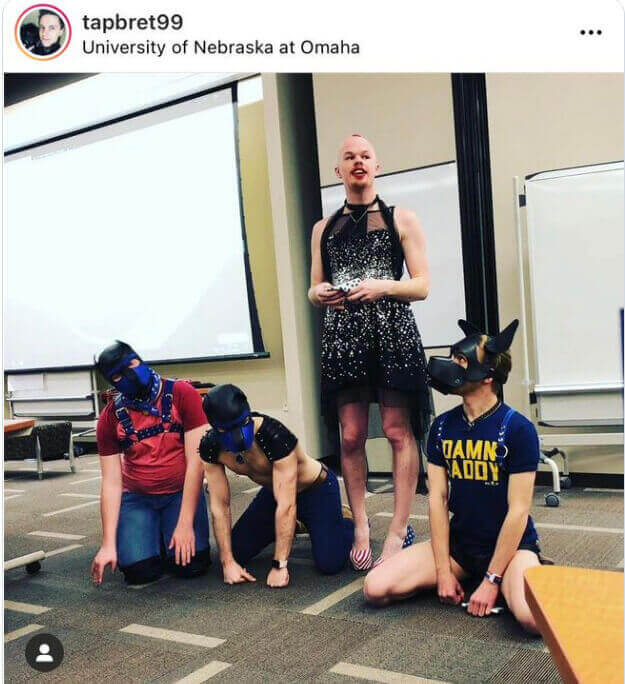 Brinton is reportedly listed in CLAW's 2019 year book under the name Sir Sam Brinton where he claimed that "physics is a pivotal part of the kink experience" in a class titled "The Newtonian physics of spanking."
In his profile, Brinton said he loves his "long term submissive husband" and loves "to keep him tied up and ready to be used as needed."
He continued: "I am sadistic but will always respect limits and am happy to push them as you need. Bondage and control are my fortes… Flogging, chastity, fisting, electro… I've done them all and will happily put a guy through them. My passion for kink comes through getting a guy to a fun submissive head space."
Brinton added: "Oh… I tend to give the best spankings you've ever received. Not cocky, just proud of my red asses."
In a 2016 Metro Weekly article titled "Puppy Love," Brinton spoke graphically about how he likes to roleplay as a "pup handler."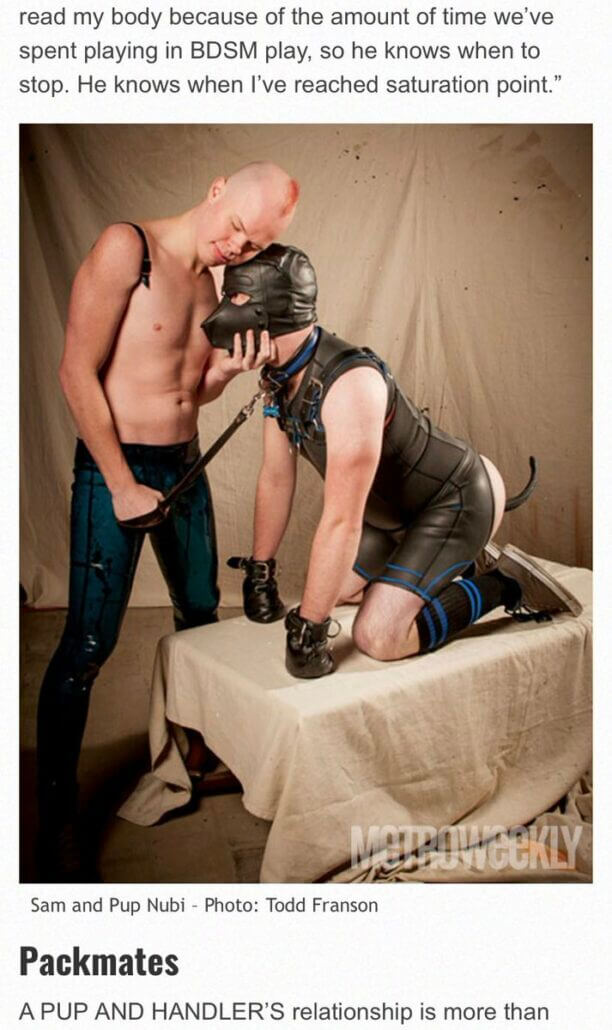 DailyMail.com also reported that that the married DOE official maintains a profile on the gay fetish hookup app, Recon.