A lawyer for Canada's public inquiry into the "Freedom Convoy" trucker protests  collapsed suddenly while questioning Ontario's deputy solicitor general on Wednesday, alarming onlookers, and delaying the proceedings.
In late January/early February of 2022, thousands of Canadian "freedom truckers" rolled into Ottawa, the nation's Capital, to protest the country's oppressive vaccine passport system. Prime Minister Justin Trudeau's issued a declaration of emergency that lasted from February 14-23, 2022.
The Canadian government established the Public Order Emergency Commission to review the circumstances that led to Trudeau's controversial declaration, and the measures his regime took to deal with the protest.
The disturbing incident was captured live onstream as Gabriel Poliquin, a lawyer who is representing the commission, questioned Mario Di Tommaso, Ontario's deputy solicitor general.
While reviewing a handwritten document, Poliquin asked Di Tommaso if "CMV" refers to commercial vehicles.
After Di Tommaso answered "yes," Poliquin grabbed a bottle of water, and then toppled over, falling to the ground with a loud crash, and prompting the witness to gasp in shock.
A low moaning sound could be heard on the livestream before it was abruptly cut.
Stunning Moment

Canadian Prosecutor Gabriel Poliquin, who is hunting down members of Freedom Convoy, collapses during hearing.pic.twitter.com/2O2HWl6LI7

— Citizen Free Press (@CitizenFreePres) November 10, 2022
The proceedings were immediately halted, and resumed several hours later with another witness.
Emergency responders were called to the Library and Archives Canada building in downtown Ottawa, while lawyers and spectators were cleared from the hearing room, CBC reported.

Mr Poliquin's condition remains unclear.

A spokesman for the inquiry told The Canadian Press it would not share further details about Mr Poliquin's health out of respect for him and his family.
Maxime Bernier, founder of the right-wing People's Party of Canada, reportedly quipped, "That's perfectly normal. It happens all the time. Nothing to be surprised about."
On Twitter, he expanded his thoughts: "In early 2020, videos of people dropping dead in China fueled covid hysteria. We know today that it was arranged. But it is now considered completely normal that it constantly happens for real in Canada and elsewhere!" he wrote.
The shocking incident happened amid the Canadian government's heavy promotion of free COVID-19 injections "to reduce the risks of severe illness and death" ahead of the winter months..
Poliquin himself has promoted the COVID vaccines in the past, proudly claiming in a June 2021 tweet to be #vaxxedtothemax.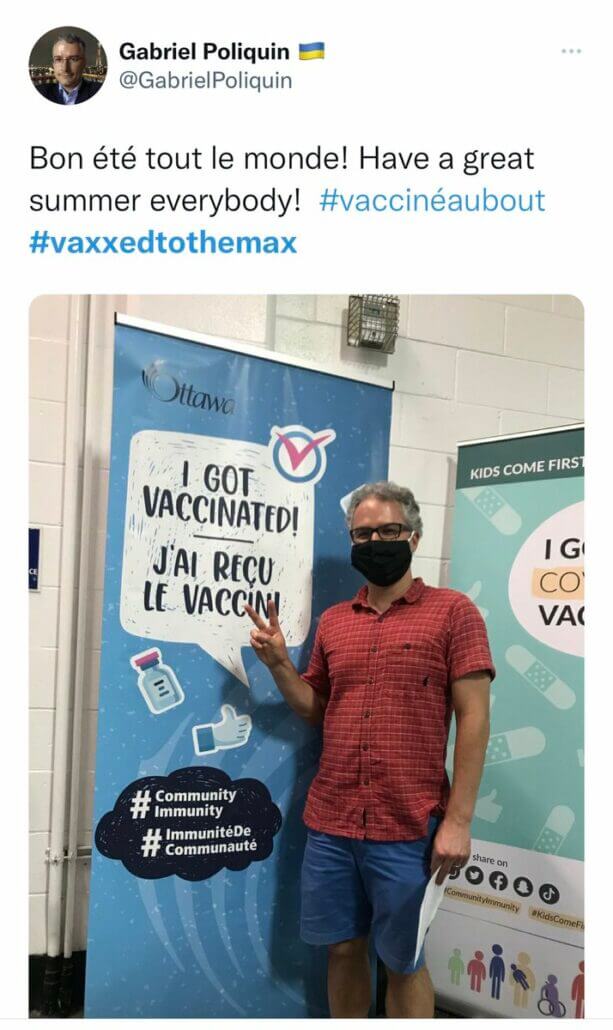 Since the introduction of the mRNA shots, video footage of athletes, entertainers, and random people keeling over, and in many cases dying, have become increasingly common.
Canadian lawyer Viva Frei slammed the media for not addressing the "elephant in the room."
"Since it seems no one from government-funded MSM is going to ask if the lawyer who collapsed yesterday during the Emergencies Act Inquiry was jabbed, 2x jabbed, boosted, 2x boosted or 3x boosted, I will: How many jabs has he had & as of how recently?" he wrote on Twitter.
Frei noted in a subsequent tweet that he was "not coming to conclusions of causation," but argued that "the unwillingness of 'journalists' to even ask the question is beyond incompetence. It is culpable."
The commission is slated to run until November 25.
Canadian Prime Minister Justin Trudeau's Liberal government invoked the Emergencies Act for the first time in the country's history on February 14 in order to dislodge protests in Ottawa and blockades of border crossings to the United States.

At their peak, the protests – led by truck drivers furious over Covid vaccination requirements for transporting freight across the border – drew 15,000 people to the capital and inspired copycat movements in other countries.
On January 31, Trudeau accused the truckers of "flying racist flags, desecrating a war memorial, insulting small business owners, and stealing from the homeless.
In a transparent attempt to delegitimize the popular protest, Trudeau had seized on media reports of two problematic flags that were seen near the Freedom Convoy—a Nazi flag, and a Confederate Flag—as well as the alleged vandalism of the Tomb of the Unknown Soldier. The flags were carried by suspected infiltrators who were not welcome at the event.
In his comments, Trudeau used the isolated incidents to smear the thousands of decent, law-abiding Canadians at the protest.
Starting on Feb 17, Canadian authorities began cracking down on the demonstrators, arresting organizers and pushing financial institutions to freeze their bank accounts. On Feb. 18, the crackdown durned violent as Canadian Mounties on horseback plowed through a crowd of Freedom Convoy protesters, and allegedly trampled two of them.
The Trudeau government's emergency powers gave it the ability to freeze the bank accounts of those suspected of supporting the Freedom Convoy blockades, without obtaining a court order.
Deputy Prime Minister Chrystia Freeland took the bank accounts offline an attempt to deprive the peaceful protesters of the funds they needed to continue their demonstration in the nation's capital.
Speaking to reporters on Wednesday, Freeland said the blockades represented "a very serious challenge and threat to our national security and our economic security." Freeland added that the Emergencies Act was necessary to "guarantee" security. "It was a very big deal," she said. "I hope and believe it is the kind of thing that happens only once in a generation, if that."
Update:
In a series of tweets Thursday afternoon, Poliquin said that he would be "up and running" soon, and thanked those who sent him well wishes, as well as the emergency responders, and hospital staff who tended to him after he fainted. Left unmentioned was what had caused his medical emergency.
Hello! As Commissioner Rouleau said this morning, I should be up and running in a few days. Thank you to those who have sent me messages of friendship and support – your humanity and compassion have meant a lot. 1/3

— Gabriel Poliquin 🇺🇦 (@GabrielPoliquin) November 10, 2022
And finally, to the @hopitalmontfort team, who were able to get me back on my feet with diligence and professionalism, all in French, you have all my gratitude. 3/3

— Gabriel Poliquin 🇺🇦 (@GabrielPoliquin) November 10, 2022