In 1984, the Democrats ran Jimmy Carter's former vice president against Ronald Reagan. The Democrats did not seem to accept or believe that Americans had turned their backs on their enlightened views about the Soviet Union, crime, and the social safety net. But they had. In perhaps the most stunning rebuke in American electoral history, Election Night 1984 delivered this map: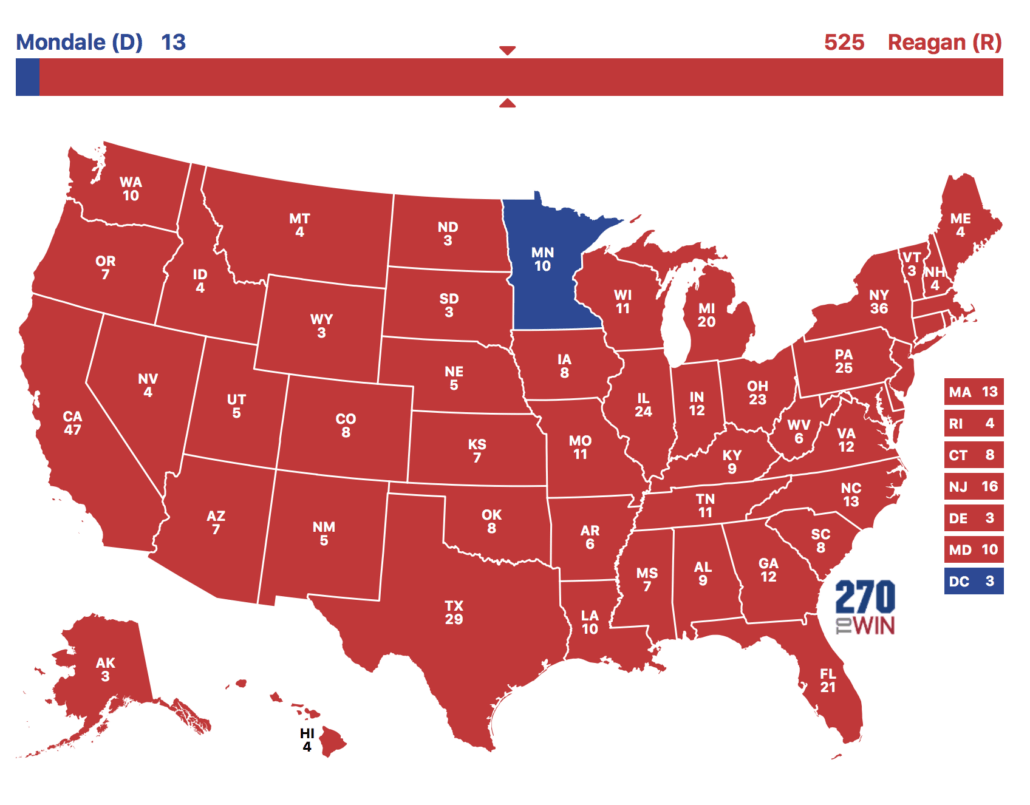 Take a moment to look at it and ponder what led every American state except Minnesota (and Washington, D.C.) to reject a return to big spending, weak law enforcement, and a defanged U.S. military. 
Reagan's reelection victory changed the Democratic Party for a long time. Not until Barack Obama arrived on the scene almost a quarter century later would another progressive, big government Democrat win the White House. Bill Clinton's midterm trouncing in 1994 put a sudden and decisive stop to the switcheroo he tried to pull after his 1992 campaign promising a moderate administration. Thereafter, Clinton signed on to Republican priorities like reforming welfare to add work requirements and a lifetime limit. Clinton still appointed left-leaning judges and promoted small and largely symbolic programs we would now consider part of the "fight" against "climate change." But the Democrats largely wilted in the face of the confident free-market Republicans.
Conventional wisdom now holds that the voters will be sending another message to Democrats in the 2022 midterm election. This isn't about the changing seat count in Congress. We need to remember and renew the cultural shift that followed the 1984 rebuke of the intellectual utopians that caused so much harm to the American people. All those pie-in-the-sky social programs cost money and that money comes out of somebody's hide. Printing money to pay for utopia crowds out the value of the dollars you receive in return for your precious time and effort. Americans learned that the hard way in the late 1970s and early 1980s. They were sick of the feel-good spending that accomplished nothing and wasted resources. 
And here we are again. And it isn't just inflation this time, but a lot of it is inflation. Your money just doesn't go as far now as it did before the Federal Reserve printed trillions of new dollars to pay for "COVID relief," and other such "rescue" programs. That's enough rescuing for now. In fact, thanks to all that spending, America needs rescuing from the rescuing.
But it's more than that. Most Americans, including some liberals, are sick and tired of the climate of political correctness. We're tired of mentally rehearsing everything we say just in case some scold might find a hook on which to hang his/her/xi/xer outrage. For a long time, it was easier just to avoid arguments and change the subject. But people have had enough.
So much of what the Left says and makes us all agree to is backwards and upside down. The weather is man-made, they say, while inflation, crime, and diesel shortages are all accidents of nature that will recede if we're patient enough. Racial strife can be ended by scolding people about the collective sins of their race. Violence is speech. Speech is violence. Mutilating the sex organs of young children is compassionate. Opposing the same is hate. And voters "endanger" democracy by trying to change the direction of government through an election. 
In the 1980s, the formerly stylish revolutionaries who seemed so alluring in the 1960s and '70s became ugly scolds. Their music, their fashion, their speeches—all of these quickly became dated and lame. In the '80s, instead of skipping classes to protest for a nuclear freeze, students focused more on career day or partying with their friends. All that enlightened leftism ceased to be cool all at once. Americans ignored or mocked the hippies and their quotes from Mao's Little Red Book. 
It's often said that politics is downstream of culture. And culture, like politics, has a lot to do with how we live. Halfway through the Biden Administration, Americans have had to make adjustments to their travel, dining, and purchasing decisions to accommodate the mirage of Democratic "progress." The first bills have come due and many more will follow. But there's no progress, much less utopia, in sight. Schools have become indoctrination factories. Everyone walks on eggshells at work. The culture has changed. It's just that the powerful have not yet been realigned to match the people they lead. Not yet. 
The revolt against the Left is underway. Legal victories on abortion and an anticipated affirmative action victory at the U.S. Supreme Court would not be possible if the Left hadn't already been losing the intellectual argument. The Left's dependence on censorship clearly signals the same. And you can see that begin to crumble, too, as Elon Musk snatched Twitter from the clutches of the woke and attorneys general have already exposed collusion between government and Big Tech to censor dissenting views.
After the voters speak, the next Congress' needs to tackle inflation. As much as I think the FBI needs to be eliminated and we deserve justice and accountability for COVID authoritarianism, inflation is the first and most pressing issue facing the country. 
By a happy coincidence, the best way to tackle inflation is to cut all of the spending that has supported the professionally outraged. A new Republican Congress would have the power of the purse. It can simply refuse to continue funding our collective suicide. Thousands of grants and programs exist for no other reason than to support or justify (directly or indirectly) the Left's social justice agenda. Stop spending money on this crap and make these people get real jobs. Stop tying up the useful labor force in nonsense jobs. Those people could be stocking warehouses and learning to weld. 
Come to think of it, maybe we should also just defund the FBI. Cut out all of those worthless, troublemaking diversity, equity and inclusion (DEI) jobs. Cut all of those "climate ambassador" jobs. Stop the obviously rigged studies on climate change and "unconscious bias." The Left and their minions will howl in protest. But most Americans will delight in knowing their own pain is finally shared by those who authored so much of the misery their countrymen have been suffering. 
Americans are ready for serious politicians who have the courage to say these things. Winning seats isn't enough. We have won the argument and now we need to act like it.