In the latest InsiderAdvantage poll of the U.S. Senate and gubernatorial races in Nevada, the Republican candidates are maintaining their leads over their Democrat opponents, with the help of independents and Hispanics.
Republican Adam Laxalt, who served as Nevada's Attorney General from 2015 to 2019, has widened his lead against Democrat Senator Catherine Cortez-Masto, with 49.8 percent of likely voters saying they would vote for him, and 43.8 percent saying they would vote for the incumbent, Cortez-Masto, in the Nevada Senate race.
White voters preferred Laxalt over Cortez-Masto 50 percent to 45.8 percent, and black voters preferred Cortez-Masto over Laxalt 73.3 percent to 26.7 percent. Those of all other races (mainly Hispanic) broke for Laxalt 56.7 percent to 27.8 percent. A large number of these voters (14.4 percent) had no opinion or were undecided, and 1.1 percent preferred another candidate.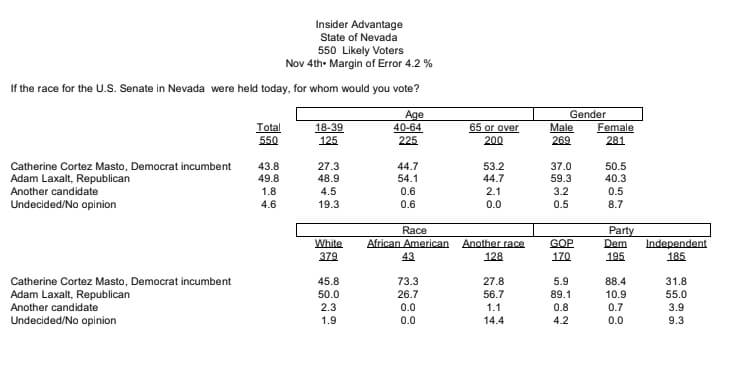 In the race for governor, Republican Clark County Sheriff Joe Lombardo is beating Democrat incumbent Steve Sisolak 48.7 percent to 43.5 percent, with 3.5 percent of likely voters opting for Brandon Davis, the Libertarian, and another 4.3 percent undecided/no opinion.
White voters favored Lombardo over Sisolak 48 percent to 47 percent, while black Americans preferred Sisolak 63.6 percent to 9.1 percent. Libertarian Brandon Davis has gained traction with black voters since the last poll, picking up 27.3 percent of their votes. Those of other races preferred Lombardo over Sisolak 64.6 percent to 26 percent. Another 9.4 percent of other races were undecided or had no opinion.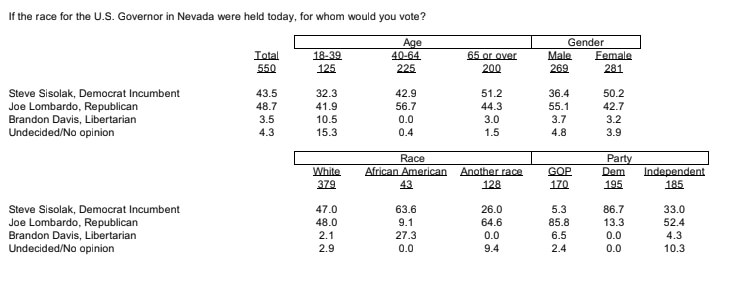 This InsiderAdvantage survey of 550 likely voters was conducted on November 4 with a margin of error of 4.2 percent.
In IA's October 23 poll, Laxalt led Cortez-Masto 48.2 to 46.3 percent, and Lombardo led Sisolak 48.5 percent to 42.8 percent.
"Voters who identify as independents and Hispanic/Latinos are breaking heavily in favor of both Republican nominees," said Matt Towery, Chairman of InsiderAdvantage.