Nevada is poised to turn red on November 8, according to a new Cygnal poll showing Republican candidates Adam Laxalt and Joe Lombardo leading their Democrat opponents five days before the election.
According to the survey of 600 likely general election voters in the Democrat-leaning state, Laxalt leads Democrat Catherine Cortez Masto 46 percent to 43 percent on the Senate ballot with 6 percent undecided and 5 percent siding with a third-party candidate.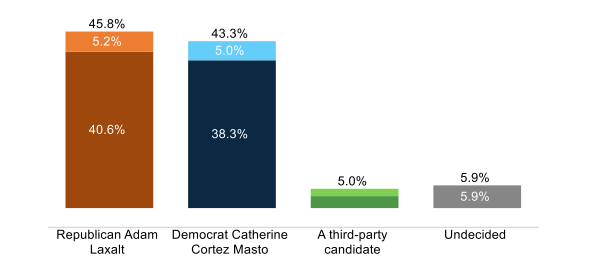 In the race for Governor, Republican Joe Lombardo leads Democrat Steve Sisolak 47 percent to 42 percent in the Silver State, with 5 percent undecided. Lombardo has a comfortable 15 percent lead among non-partisan and third-party voters, Cygnal found.
The poll also found that the GOP has an 8 point advantage over Democrats on the generic congressional ballot—49.8 percent to 42.0 percent. Another 8.3 percent of likely voters said they were unsure.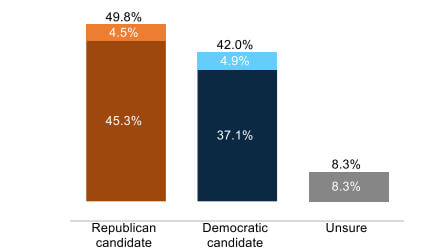 In the generic congressional ballot, Republicans have strong leads over Democrats among non-partisan and third-party voters (R+22), women age 65+ (R+14), and voters without a college degree (R+16), according to the poll. Women age 50-64 were split, while men were R+17 on the generic congressional ballot.
The Cygnal poll shows that voters in Nevada are very pessimistic about the direction of the country, with only 23 percent saying it is headed in the right direction, and 67 percent saying it is on the wrong track. Inflation was the top priority of voters, the poll found, followed by abortion rights, 12 percent, and illegal immigration, 9 percent.
Biden's favorable rating was only 42 percent, with 56 percent of Nevadans giving him an unfavorable rating. The poll indicated that a significant number Biden voters now have "voter remorse, as 40 percent of those who voted for him in 2020, now believe the United States is on the wrong track.
"President Biden is deeply unpopular, and his negative image is a weight that is dragging Nevada Democrats down," said John Rogers, a pollster with Cygnal.  "Biden's image is only at the waterline with Latino voters, and Biden is upside down with a -32 net image among non-partisan and third-party voters," he added. "With nearly half of Nevada voters saying the economy and inflation are their top priority, and 67 percent saying the country is going down the wrong track, Adam Laxalt and Joe Lombardo are in a strong position as we head towards Election Day."