The Republican candidates for the United States Senate and for governor of Nevada are leading their Democrat opponents in the Latest Insider Advantage survey of 550 likely voters.
Republican Adam Laxalt, who served as Nevada's Attorney General from 2015 to 2019, leads Democrat incumbent Catherine Cortez-Masto, 48.2 to 46.3 percent, with 2 percent preferring another candidate, and 3.5 percent having no opinion/undecided.
White voters preferred Laxalt over Cortez-Masto 51.7 percent to 43.8 percent. Those of all other races preferred Laxalt 54.6 percent to 40.5 percent.

In the race for governor, Republican Clark County Sheriff Joe Lombardo is beating Democrat incumbent Steve Sisolak 48.5 percent to 42.8 percent, with 4.1 percent of likely voters opting for Brandon Davis, the Libertarian, and another 4.6 percent undecided/no opinion.
White voters favored Lombardo 51.7 percent to 39 percent, while black Americans overwhelmingly preferred Sisolak 79.3 percent to 13.2 percent. Those of other races preferred Lombardo 53.5 percent to 38.8 percent.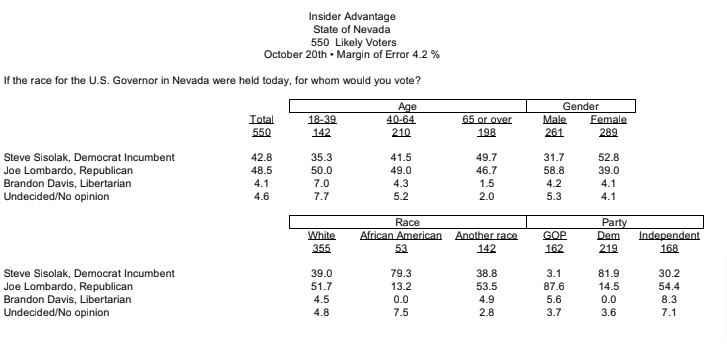 The poll was conducted on October 20th, and has a margin of error of 4.2 percent.